Posted on
Tue, Sep 20, 2011 : 9:30 a.m.
Ann Arbor goes on record opposing state ban on domestic partner benefits
By Ryan J. Stanton
The Ann Arbor City Council went on record Monday night opposing a Republican-backed effort at the state level to outlaw domestic partner benefits for public employees in Michigan.
The council offered a unanimous vote in favor of a resolution sponsored by Council Member Sandi Smith, who is openly gay. It expresses the city's opposition to two pieces of legislation approved by the state House last week in a 64-44 vote along party lines.
House Bill 4770 prohibits public employers from providing health benefits to domestic partners of public employees, while HB 4771 excludes those benefits as a subject of collective bargaining. The city of Ann Arbor offers domestic partner benefits to its employees, as does the University of Michigan and other governmental entities.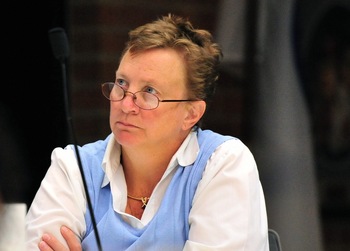 Ryan J. Stanton | AnnArbor.com
Many Democrats are calling the bills discriminatory and overreaching, while many Republicans argue enacting such a ban is a matter of fiscal responsibility and also that it reflects the will of Michigan voters who decided in 2004 to define marriage as a union between one man and one woman.
The council's resolution reaffirms Ann Arbor's commitment to a diverse and accepting culture and asks Gov. Rick Snyder not to sign "legislation that codifies such discrimination."
"The city of Ann Arbor has always been a leader in human rights," reads the resolution, noting Ann Arbor was the first city in Michigan to establish a non-discrimination ordinance and was the first to add protection for sexual orientation.
The resolution notes that employees at dozens of Michigan corporations can extend benefits to partners of either gender, including at Chrysler, Dow Chemical, DTE Energy, Ford, General Motors, Guardian Industries, Kellogg Co., Steelcase, TRW Automotive and Whirlpool.
Likewise, employees at dozens of national corporations with a presence in Michigan also offer such benefits, including AT&T, Best Buy, Comcast, Delta Airlines, General Electric, Google, Kroger, JC Penney, Macy's, Marriott, Sears, Target, Toyota and Verizon.
The resolution notes many public entities also provide health care benefits for domestic partners of either gender, including the state of Michigan, at least 10 public universities, at least five city and county governments and numerous public school districts.
Extending health care benefits eligibility to domestic partners is "crucial to attracting and keeping talent," the resolution states. It concludes by saying Ann Arbor, U-M, the state and other public employers in Michigan must be able to compete with the private sector and with public employers in other states to attract the best and brightest talent to their workforces.
Ryan J. Stanton covers government and politics for AnnArbor.com. Reach him at ryanstanton@annarbor.com or 734-623-2529. You also can follow him on Twitter or subscribe to AnnArbor.com's e-mail newsletters.