Posted on
Tue, Nov 22, 2011 : 2:45 p.m.
Ann Arbor City Council gives preliminary approval to Greenbelt expansion
By Ryan J. Stanton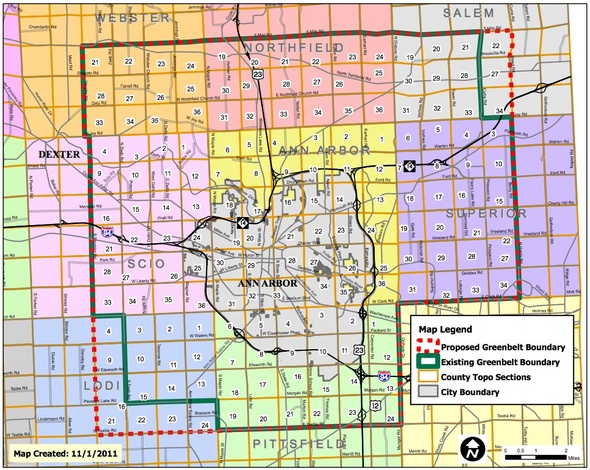 Ann Arbor
officials are considering an
expansion of the Greenbelt district boundaries
one mile east into Salem Township and one mile west and south into Lodi Township.
The Greenbelt Advisory Commission recommended the expansion plan at its Sept. 14 meeting, and GAC Chairman Dan Ezekiel, a local science teacher, appeared before the Ann Arbor City Council Monday night to lobby for its approval by council.
"The result would be to add seven sections in Lodi and three sections in Salem, and a section is a square mile," Ezekiel told council members.
The council voted 9-1 to give initial approval to the expansion, with dissent from Council Member Jane Lumm, an Independent representing the 2nd Ward.
The plan comes back for final approval Dec. 5.
Ezekiel said Lodi Township has partnered with the city on purchase of conservation easements, and Salem Township recently passed a purchase of development rights ordinance and allocated a sum of money for land preservation.
By expanding the Greenbelt boundaries in those townships, Ezekiel said, there is potential for more partnerships to leverage the city's Open Space and Parkland Preservation millage funds.
He said the townships support the expansion.
"Lodi Township doesn't have a lot of money, but they helped to make those PDRs happen," he said of the purchase of development rights on two farms. "And Salem Township, believe it or not, has committed $1 million of their own money over the next five years."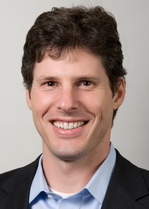 Ezekiel said GAC actually thought about bringing forward a more ambitious expansion proposal, which he supported, but Council Member
Carsten Hohnke
, D-5th Ward and a member of GAC, cautioned against that. Hohnke spoke in favor of the more modest expansion plan at Monday's meeting.
"The original boundaries were not determined by a great deal of science," Hohnke said, adding the city has learned a lot since the boundaries were formed. "This again just smooths out the boundaries that were amended by this body in 2007."
Ezekiel noted there were no set boundaries for the Greenbelt dictated by the millage voters approved in 2003. Rather, the boundaries were set by council under ordinance and last expanded in 2007 by one mile in four townships: Scio, Superior, Webster and Pittsfield.
The city's Greenbelt program has preserved about 3,200 acres of land surrounding Ann Arbor, the goal being to counter urban sprawl and preserve sustainable farming.
The city pays for Greenbelt purchases using proceeds from the Open Space and Parkland Preservation millage, which brings in more than $2 million annually from city taxpayers.
The Greenbelt program was approved by Ann Arbor voters in November 2003, at a time when a significant amount of development activity was occurring around Washtenaw County and farmland was being sold for development.
Ann Arbor voters authorized a 0.5-mill tax for 30 years, which provides funds for parkland acquisition within the city and the preservation of open space, agricultural land, and other natural habitats outside the city in a designated Greenbelt district.
The purchase of development rights keeps the property in the hands of the owner but ensures the land can't be developed and will remain preserved as open space.
Ezekiel said the Greenbelt program has exceeded all expectations and the expansion of the district is another positive step forward.
"I really believe the Ann Arbor Greenbelt will be a treasured asset 100 years from now and real legacy from today's Ann Arborites," he said. "Together, we have preserved 27 properties around the near periphery of the city. We've currently preserved 3,200 acres, which is five square miles. The amount of city funds spent so far is approximately $18 million."
With that money, Ezekiel said, the city has leveraged another $19 million in matching funds from various sources, including the federal government, Washtenaw County, several townships, nonprofit land conservancies, land owners and private organizations.
"The 3,200 acres preserved so far counts only the land using city funds," Ezekiel noted. "But as the city helped get the ball rolling, many other agencies have either stepped up or initiated land preservation efforts within the Greenbelt area, so there are thousands of other acres that have been preserved without city funds."
Ezekiel said most of the properties preserved with city funds are farms, which remain under private ownership and in active cultivation. There are three properties under the county's ownership that have public access and were preserved partially with city funds, he said.
"That's the Meyer Preserve in Superior Township, the very popular Scio Woods Preserve in Scio Township, which is new, and also the Fox Science Preserve in Scio Township," he said.
He said thousands of school children from Ann Arbor Public Schools, including his students, visit the Fox Science Preserve every year on field trips to collect rocks and fossils.
The city accepted a $2,500 donation toward the Greenbelt program Monday night from Cherry Republic, which recently opened up a new shop in Ann Arbor.
A representative for the company said Cherry Republic, a Michigan-based retailer established in 1989, has donated hundreds of thousands of dollars to support farmland efforts, whether that be preservation or helping young farmers start up an agricultural business.
Council Member Margie Teall, who was present for part of Monday's meeting, was not in attendance when the vote was taken on the Greenbelt expansion.
Ryan J. Stanton covers government and politics for AnnArbor.com. Reach him at ryanstanton@annarbor.com or 734-623-2529. You also can follow him on Twitter or subscribe to AnnArbor.com's e-mail newsletters.