Posted on
Wed, Oct 19, 2011 : 9:28 a.m.
Ann Arbor's Greenbelt total: 3,200 acres after latest purchase
By Ryan J. Stanton
The city of Ann Arbor will add another 30 acres of property to its Greenbelt for $140,367 following action taken by the Ann Arbor City Council.
The council voted unanimously Monday night to approve the purchase of development rights on the Duane Thomas and Judith Lobato farm property in Scio Township.
"This works out to about $4,500 per acre for the taxpayers in the city to preserve this land just outside of our city limits in perpetuity, so I'm excited about this," said Council Member Carsten Hohnke, D-5th Ward and a member of the Greenbelt Advisory Commission.
The purchase of development rights keeps the property in the hands of the owner but ensures the land can't be developed and will remain preserved as open space.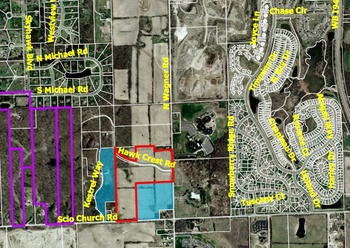 Courtesy of City of Ann Arbor
The city's Greenbelt program now has preserved about 3,200 acres of land surrounding Ann Arbor, the goal being to counter urban sprawl and preserve sustainable farming.
The city pays for Greenbelt purchases using proceeds from its Open Space and Parkland Preservation Millage, which brings in more than $2 million annually from city taxpayers.
The Greenbelt program was approved by Ann Arbor voters in November 2003, at a time when a significant amount of development activity was occurring around Washtenaw County and farmland was being sold for development.
Ann Arbor voters authorized a 0.5-mill tax for 30 years, which provides funds for parkland acquisition within the city and the preservation of open space, agricultural land, and other natural habitats outside the city in a designated Greenbelt district.
An appraisal for the latest 30-acre purchase was completed in January and the fair market value of development rights was determined to be $189,000. The landowners agreed to make a donation of 50 percent of the fair market value, or $94,500, city officials said.
In addition to the $94,500 the city is paying for the development rights, another $45,867 is going toward due diligence, closing and endowment costs.
Ginny Trocchio, one of the administrators of the Greenbelt program, offered an explanation of the latest purchase in a memo to council members.
"The easement is for the purpose of preservation of the property's agricultural use, including the protection of prime, unique or important soils, by preventing any use that would significantly impair or interfere with the agricultural value," Trocchio wrote.
Other Greenbelt purchases so far this year:
$804,392 for the 128-acre Lee and Lori Maulbetsch farm in Northfield Township
$1.34 million for the 218-acre Nancy Geiger and Rose Ann Geiger farm in Salem Township
$583,187 for the 115-acre Nancy Geiger and Rose Ann Geiger farm in Northfield Township
$699,992 for the 110-acre William Lindemann and Karen Weidmayer farm in Lodi Township
The city leveraged more than $1.2 million in federal farmland protection grants toward three of those purchases. It didn't get grant funding toward the latest 30-acre purchase, nor did it get grant funding for the 115-acre property in Northfield Township.
The city is holding a bus tour this Saturday of farm and open space properties that have been protected by the Greenbelt program. The registration deadline already passed.
Ryan J. Stanton covers government and politics for AnnArbor.com. Reach him at ryanstanton@annarbor.com or 734-623-2529. You also can follow him on Twitter or subscribe to AnnArbor.com's e-mail newsletters.