Posted on
Tue, Jan 22, 2013 : 5:58 a.m.
Ann Arbor has 4,100 acres of protected land under its Greenbelt after 2012 purchases
By Ryan J. Stanton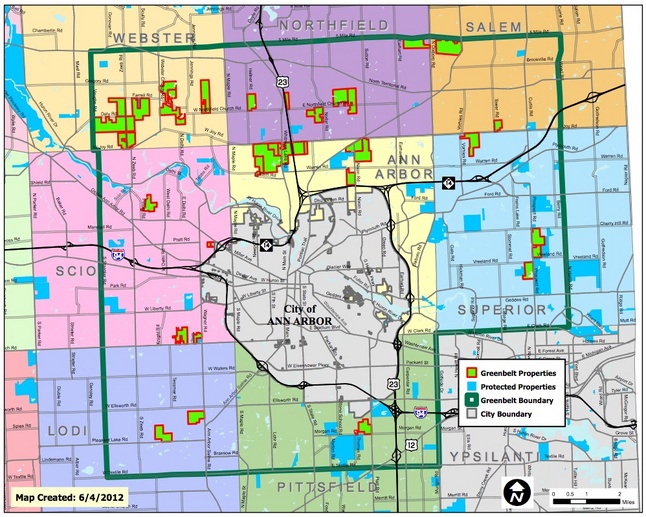 City of Ann Arbor
Ann Arbor
officials have released a year-end progress report on the city's
Greenbelt Program
, celebrating the protection of nine additional properties in 2012.
Those properties comprise 671 acres of farmland, natural areas and open spaces surrounding the city, bringing the total area of land preserved under the Greenbelt to 4,100-plus acres.
"The city has now protected more than six square miles of farmland and open space within an hour's bike ride from downtown," said Dan Ezekiel, chairman of the Greenbelt Advisory Commission.
The city pays for Greenbelt purchases using proceeds from a millage that brings in more than $2 million annually from city taxpayers.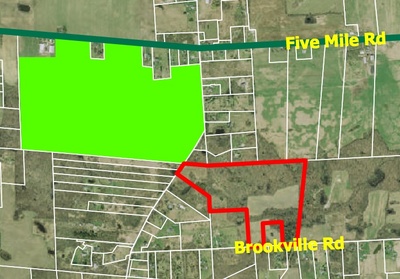 City of Ann Arbor
The purchase of development rights keeps the property in the hands of the owner but ensures the land can't be developed and will remain preserved as open space.
The Greenbelt program, partly intended to stop urban sprawl, was approved by Ann Arbor voters in November 2003 at a time when a significant amount of development activity was occurring around Washtenaw County and farmland was being sold for development.
Ann Arbor voters authorized a 0.5-mill tax for 30 years, which funds parkland acquisition in the city and preservation of open space, agricultural land and natural habitats outside the city in a designated Greenbelt district.
City officials believe the properties help sustain a vibrant agriculture economy, provide scenic views, protect critical habitat and help protect the Huron River Watershed — the city's primary source of drinking water.
"We're especially thrilled with the quality of the most recent development rights acquisitions, as they include two farms that grow produce for local consumers, as well as a farm whose new owner plans possible you-pick and conservation of high-quality woods and wetlands onsite," Ezekiel said.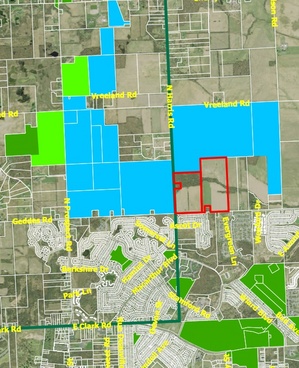 City of Ann Arbor
The projects were made possible due to partnerships with other local farmland and open space preservation millages (Ann Arbor Township, Washtenaw County Natural Areas Preservation Program, Lodi Township, and Salem Township) along with efforts of the Southeast Michigan Land Conservancy and donations from three landowners.
The Greenbelt Program also completed two transactions using grant funds from the USDA-Natural Resource Conservation Service's Farm and Ranchland Protection Program.
In total for 2012, the program leveraged the city dollars with an additional $1.75 million from local and federal sources, the city reported.
"We partnered with Washtenaw County, the federal government, landowners, and local townships in bringing these latest projects to fruition, with a total match of 54 percent to the city's investment," Ezekiel said.
December was the busiest month for land protection in 2012, with the Greenbelt Program completing the purchase of development rights easements on four properties. All of the city's Greenbelt purchases are approved by the Ann Arbor City Council.
The development rights to a 25-acre farm owned by Suzanne and Robert VanNatter in Webster Township came at a cost of $126,867, which was entirely covered by the city.
The farm is located along Joy Road in a block of more than 1,100 acres of farmland already protected in Webster Township. The VanNatter family grows many varieties of vegetables that it sells at the Dexter Farmers Market and a roadside stand at the farm.
The development rights to a 90-acre farm owned by Robbin Alexander on Northfield Church Road in Webster Township came at a cost of $394,417 (with $226,837 paid by the city).
Alexander also is the owner of the Alexander Farm Market on Whitmore Lake Road and North Territorial and grows a variety of vegetables for his farm market. The farm also is located in the large block of farmland already protected in Webster Township.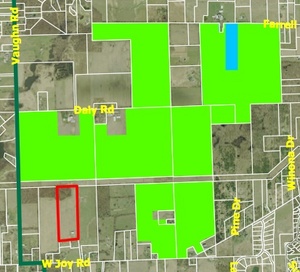 City Ann Arbor
The development rights to a
136-acre farm
owned by
Robert Schultz
along Harris Road and Geddes Road in Superior Township came at a cost of $523,567 (with $294,247 paid by the city).
Schultz is a longtime farmer in the area and has completed PDR easements on his land first through the state, then with the Southeast Michigan Land Conservancy, and finally the city of Ann Arbor.
"This property is a very productive farm, and I don't like to see such property destroyed by development," Schultz said. "I think the best use for the property is to stay committed to agriculture. It gives me a good feeling to know that this will be farmland forever."
The development rights to a 73-acre farm along Pontiac Trail and Brookville Road in Salem Township came at a cost of $199,367 to the city, while Salem Township and Washtenaw County each contributed $64,200 toward the purchase price and the land owner donated $32,100.
The property was recently purchased by Dan Hornback and his wife, Amy, who hope to use some of the farm fields for pumpkin growing.
For more information, visit www.a2gov.org/greenbelt.
Ryan J. Stanton covers government and politics for AnnArbor.com. Reach him at ryanstanton@annarbor.com or 734-623-2529. You also can follow him on Twitter or subscribe to AnnArbor.com's email newsletters.