Posted on
Sun, Aug 14, 2011 : 5:59 a.m.
Not an idle threat: Ann Arbor considers ban on idling vehicles
By Kyle Feldscher
A driver pulls up to the U.S. Post Office in downtown Ann Arbor and leaves the car running in a parking spot to go in and drop off a package in the outgoing mail.
Another driver walks outside before leaving for work on a winter morning and starts their car to try and warm the car up before leaving for the office
Upon returning, both drivers - in these typical Ann Arbor scenarios - could find a $100 ticket pinned under a windshield wiper under a new ordinance that would ban idling vehicles in the city.
The new law is being recommended to the Ann Arbor City Council Monday by the City of Ann Arbor Environmental Commission.
The proposed ordinance would make a $100 ticket the minimum punishment for a driver who leaves a vehicle running while unoccupied for any amount of time or running for five minutes while occupied. For commercial vehicles, that minimum fine increases to $500.
Council Member Margie Teall, D-4th Ward and a member of the city's environmental commission, said the main goal of the ordinance is to educate people on how idling affects the environment.
Enforcement, she said, would follow.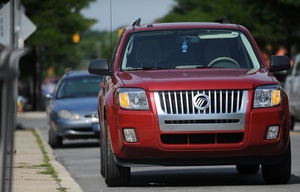 Angela Cesere | AnnArbor.com
"We're not intending at all to come after people about this," she said. "What we really want to do is educate the public and enforce at some point down the road when people have had a chance to take it all in."
The ordinance would not apply in many situations, such as if a vehicle is idling due to traffic, at the direction of law enforcement or when idling is necessary to operate defrosters, heaters and air conditioners to prevent any kind of health problem.
In addition, vehicles will be allowed to idle to provide heat when the temperature is below zero degrees.
There would be a six-month grace period after the ordinance is passed for city officials to run an educational campaign about the new ban.
• To view city documents related to the ordinance, click here. •
Teall said the ordinance has been in the works since at least 2002, with discussions taking place on the Environmental Commission and among local activists. She said the City Council directed city staff to draft an ordinance a few years ago and the proposed ordinance being brought back before the council is the result of that direction.
Exceptions to the proposed ordinance
Here are some exceptions to the proposed ordinance
A motor vehicle is forced to remain stationary because of traffic, under direction from law enforcement.
Idling is necessary to operate defrosters, heaters or air conditioners to prevent a safety or health emergency
Idling is necessary to provide heat to an occupied vehicle when outside temperature is below 0 degrees
Motor vehicle designed to carry 16 or more passengers can idle to maintain a comfortable cabin temperatures for up to five minutes before departure
Idling is necessary when a vehicle is immobilized beyond an operator's control
Emergency or law enforcement vehicles can idle in preparation for duty
A licensed security provider idles in the course of performing security actions
Armored vehicles can idle in the course of business
Idling is allowed when necessary for any maintenance, service, repair, inspection, research and development or diagnostics
The new ordinance might actually help out some local taxicab companies, one driver said. Fred Peebles of Blue Cab Company in Ann Arbor said the ordinance could affect companies not based in Ann Arbor.
Peebles said out-of-town companies often idle on streets near bars to attract customers, whereas local companies often just respond to customers' calls.
With the promise of a $500 ticket deterring competitors from idling at the curb waiting for customers, Peebles said he would expect many out-of-town, unlicensed companies to stay out of Ann Arbor.
"It won't affect our business, but it will effect the out-of-town taxis," Peebles said, adding that Main Street and South University Avenue can become so clogged with cabs waiting for customers coming out of local bars that traffic almost has to stop.
A ban on idling wouldn't be unique to Ann Arbor, according to documents provided by the city.
There are many cities from around the country that have idling bans in place, including major cities like Chicago, Washington D.C. and New York City. Towns such as Aspen, Colo. and Cambridge, Mass. have officials patrol the streets looking for cars that are idling in order to enforce their bans.
Teall said looking at other cities around the country and how they've approached their idling bans was a major influence on city officials when shaping the ordinance.
"It was great and very interesting to see. It shows how we are not always at the cutting edge of things," she said. "It makes it easier, I think, for people to vote on something when they know it's been successful in other cities."
One of the major benefits city officials see from putting in an ordinance banning idling is the possible effects on the environment and air quality.
Estimates from the Hinkle Charitable Foundation, an advocate for environmental education, show that eliminating five minutes of idling each day can, depending on engine size, decrease the amount of gasoline burned by a vehicle each year by between 10 and 20 gallons, reduce the amount of money spent on gasoline by between $30 and $60 and results in between 220 and 440 pounds of carbon dioxide not being emitted to the atmosphere.
One of the popular arguments against turning a car off as opposed to idling is the argument that turning a car off and restarting a car is bad for the engine and a waste of gasoline. Not true, according to the U.S. Environmental Protection Agency and the Hinkle foundation.
The EPA and Hinkle foundation both estimate that the annual wear and tear from turning a vehicle off and on again in order to reduce idling amounts to between $9 and $10. The Hinkle Charitable Foundation study states that idling a vehicle for longer than 10 seconds is actually worse for the engine than turning the car off and restarting it.
Here are some previous moves:

Greet Fleets policy - Prohibts using unnecessary idling by all vehicles in the city's fleet to reduce gasoline and diesel use by 10 percent by 2012.
UM Plant Operations idling guidelines - Requires all drivers of plant operations vehicles to turn off the ignition of their vehicle if they will be away from it for more than five minutes or they don't know when they will return
One of the areas that the city point to as a growing concern is around schools, with documents stating recent studies showing elevated levels of air toxins like benzene at schools.
Ann Arbor schools spokesperson Liz Margolis said district officials were unaware of the proposed ordinance and has reached out to city officials to see how it would be enforced on school grounds.
Margolis said many parents do idle their vehicles while waiting for their students to be released from school and would need time to educate parents in the district.
"AAPS is aware of the environmental issue and we support those, but we would ask for time to educate our families if this is passed," Margolis said.
The Environmental Commission's resolution recommending the ordinance is on the agenda for the City Council's meeting at 7 p.m. Monday at the Ann Arbor Municipal Center, 301 E. Huron St.
Kyle Feldscher covers K-12 education for AnnArbor.com. He can be reached at kylefeldscher@annarbor.com or you can follow him on Twitter.