Posted on
Wed, Jun 13, 2012 : 12:02 p.m.
Ann Arbor immigration advocates take fight to Lansing in advance of Friday court hearing
By Ryan J. Stanton
Ann Arbor-area immigration advocates are meeting with administrators in Lansing today to push for a state policy that allows foster children to be placed with undocumented relatives.
"We're trying to pursue policy here," said Laura Sanders, co-founder of the Washtenaw Interfaith Coalition for Immigrant Rights.
"We would like to see a policy that's modeled after the Illinois policy, which allows for the state to look at each situation case by case, and allows for undocumented relatives to be licensed to provide kinship foster care for the children," she said.
Sanders and fellow advocates heightened public attention around the issue in April when they went on the record talking about two cases in Washtenaw County in which parents were detained for being in the country illegally. In both cases, the parents fought unsuccessfully for custody of their children who were shuffled into foster care.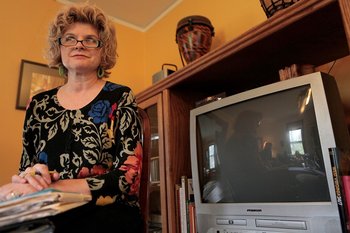 Chris Asadian | AnnArbor.com
One of those cases involves an 11-year-old boy who has been in foster care for two years while his mother has been in a federal detainment facility in Texas for being in the country illegally.
The boy, who is a U.S. citizen living in the Ann Arbor area, has relatives in Washtenaw County who want to bring him into their homes, but they've been denied custody because of their immigration status.
WICIR has gotten the Child Advocacy Law Clinic at the University of Michigan Law School involved in the case.
State Rep. Jeff Irwin and Sen. Rebekah Warren, both Ann Arbor Democrats, have written letters to the Michigan Department of Human Services, asking officials to review the case and seriously consider placing the boy with his family.
A motion is going before Judge Donald Shelton in Washtenaw County Circuit Court at 9 a.m. Friday. The mother's attorney, Marsha Kraycir, is requesting that the judge place the boy with his aunt and uncle who are in the country illegally and live in the Ann Arbor area.
Shelton told AnnArbor.com in April there is no clear guidance in the way of federal or state policy on these matters, but he doesn't believe it makes sense to place a child with relatives who could be deported any day for being in the country illegally.
"We figure he's going to rule against it unless he's had some miraculous change of heart," Sanders said. "But that means then that we'd have some avenue for appeal."
David Akerly, a spokesman for the Michigan Department of Human Services, told AnnArbor.com in April there is nothing spelled out in state policy that explicitly says the state cannot place a child with a relative who is in the country without legal permission.
However, he said, the state is required to choose and document a prospective living situation in which the relative can provide safety and stability for the child, without the likelihood of being arrested. The relative also must be willing to engage actively with service providers and the court system, and they need to have a verifiable, legal income.
"Those could be very problematic in this situation," Akerly wrote in an email. "There is a list of past criminal conviction that would preclude someone from being considered as a relative provider, but being an illegal alien is not among them. However, the reality of the situation would probably make this a less likely 'typical' situation, indeed."
Sanders put it this way: "In Michigan, there is no policy, so they're just making these decisions based on these administrators' best guesses of what to do."
Ryan J. Stanton covers government and politics for AnnArbor.com. Reach him at ryanstanton@annarbor.com or 734-623-2529. You also can follow him on Twitter or subscribe to AnnArbor.com's email newsletters.