Posted on
Sat, Jan 28, 2012 : 4:30 p.m.
Ann Arbor schools want kindergarten roundup to be more warm and welcoming
By Danielle Arndt
Parents in Ann Arbor can expect a renewed focus on their needs and less emphasis on filling out paperwork at this year's kindergarten roundups.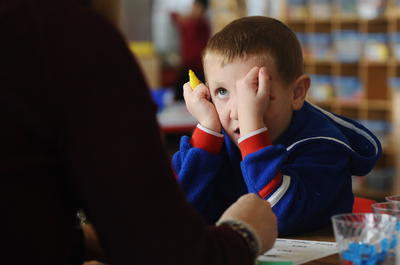 Melanie Maxwell I AnnArbor.com
Principals and administrators across
Ann Arbor Public Schools
have been meeting to develop a more uniform approach to roundup programs district wide.
David DeYoung, Wines Elementary School principal, said the concept is simple: blending each building's individual identity with a consistent and welcoming message.
"We have 20 different elementaries, but at some level what all of us want to share with the community is what makes our schools, as a unit, unique," DeYoung said. "And that is the overall quality product we have here at AAPS."
DeYoung was a member of the group behind the push for more uniformity.
Deputy Superintendent of Instructional Services Alesia Flye said other aspects being emphasized are ensuring students themselves are welcomed at the roundups, rather than being excluded by parent-only events. She said building tours also were stressed.
"You wouldn't think you would have to say, 'Show them around.' But a lot of these things have never been discussed in a group setting before," she said.
Carpenter Elementary School Principal Charles Davis found it immensely beneficial to hear what the other buildings do for their kindergarten roundup programs. He plans to check out a few in person prior to Carpenter's Feb. 28 event.
The annual roundups will kickoff Sunday with an open house at Ann Arbor Open. They will continue through March.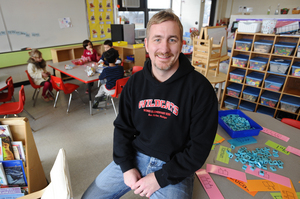 Melanie Maxwell I AnnArbor.com
DeYoung said nothing the district is recommending is "way out there" or brand new, but principals and administrators alike are aiming for a more user-friendly and friendlier, in general, process.
"We really want to express a warm, intimate feeling," he said. "We want (parents and children) to have a good sense of what kindergarten is going to be like and what to expect and to place a little less importance on getting the paperwork done that night. … We want to fill (parents) needs more than ours."
Details about curriculum and the structure and routines that help the individual elementaries run will be shared, he added.
Kindergarten roundups may be just the first step for parents waiting on school-of-choice or in-district-transfer information from AAPS.
Spokeswoman Liz Margolis said the district is in discussions right now about in-district transfers, or children who apply to attend a school other than their assigned school. School of choice designations will not be made until April.
She said the number of spots that will be opened to transfers and in which grades will be announced in February.
Davis said he does not feel kindergarten roundups ever were competitive between schools in the district, but he does believe Ann Arbor has a certain need to compete with the private and charter schools in town.
Last year Carpenter had nearly 100 parents attend the roundup and 81 kindergarteners enroll. Carpenter, which is one of just six elementaries at AAPS to offer all-day kindergarten, was a school of choice last year.
Click here for a complete kindergarten roundup schedule.
Staff reporter Danielle Arndt covers K-12 education for AnnArbor.com. Follow her on Twitter @DanielleArndt or email her at daniellearndt@annarbor.com.