Posted on
Fri, Nov 13, 2009 : 4:45 p.m.
Ann Arbor kindergartners tour the city in search of urban fairies
By Erica Hobbs
Students in Kathleen Wright's kindergarten class at Ann Arbor's Lakewood Elementary School got a lesson in fairies today.
The 22-member class, with the help of a few chaperones, toured downtown Ann Arbor in search of the city's mysterious fairy doors.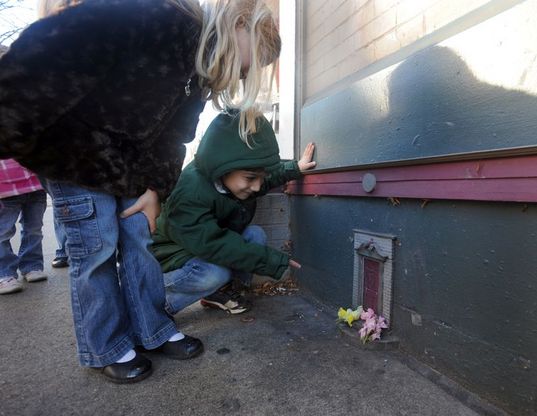 Lon Horwedel | AnnArbor.com
"I've been into fairies since I was a little kid growing up," Wright said.
Wright and husband, Jonathan led the tour, starting at the small door near the Selo-Shevel Gallery on Liberty Street near Main Street, before making stops at the pencil-sized doors at The Ark, Red Shoes and Peaceable Kingdom. The kids ended their adventure at Sweetwaters Café, where they enjoyed "fairy snacks" of tiny sandwiches, miniature Oreos, and raspberries served with thimble-sized cups of lemonade.
Lon Horwedel | AnnArbor.com
"(The fairies) were cool," five-year-old Audrey Bremer said. "I saw three worker fairies and a basement."
Jonathan Wright, a self-proclaimed "fairyologist" and graphic designer, is the man behind the mysterious doors that have been popping up around the city since 2005.
"The first one appeared in our house in 1993," he said smiling. "I think it's coincidental. A lot of the places the fairies go, I like too."
The tour, now in its fifth year, is part of a larger, cross-curricular class project.
"(It) allows kids to learn through science, art, reading, story-telling and writing with a big emphasis on imagination," Kathleen Wright said in a letter to parents.
Wright said the class starts its two-week endeavor by studying natural habitats, which includes learning about the homes of animals in Michigan and how people live worldwide.
After visiting the fairy doors downtown, the students use what they've learned on natural habitats to create their own fairy houses using glitter, paper and recycled objects before writing stories about the lives of their fairies and how they use their homes.
"It really opens them up from just the image of a Tinkerbell fairy," Wright said. "It kind of just expands their whole thinking."
For more information on the fairy doors of Ann Arbor visit www.urban-fairies.com.

Erica Hobbs is a freelance writer for AnnArbor.com. Reach the news desk at news@annarbor.com or 734-623-2530.