Posted on
Mon, Oct 17, 2011 : 5:40 p.m.
Ann Arbor lawmaker calls for investing state budget surplus in creating jobs
By Ryan J. Stanton
State Rep. Jeff Irwin, D-Ann Arbor, joined fellow House Democrats today in issuing a call for putting an expected Michigan budget surplus toward creating jobs.
It was reported last week that Michigan's state government might have brought in more money from taxes and fees than previously expected in the fiscal year that ended Sept. 30. Now being debated is what to do with the cash, which is estimated to total $285 million or more.
Irwin and other Democrats issued a statement today arguing that Michigan's persistent high unemployment rate indicates the resources would be best used getting people back to work right away, fixing roads and promoting clean energy efforts.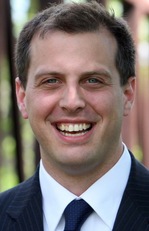 "Every tool, every resource at our disposal, needs to be dedicated to reducing unemployment," Irwin said. "Investing in good roads and energy efficiency projects provides good jobs and has the added benefit of saving consumers and the state millions in car repairs and wasted energy."
Senate Majority Leader Randy Richardville and other Republicans in Lansing have urged caution, though.
"Money gets spent real fast around here, before we ever get it in some cases," Richardville told the Associated Press last week.
The governor's budget office is expected to close the books on the recently completed 2010-11 fiscal year in December. The AP reported that officials from the state treasury and the nonpartisan House and Senate fiscal agencies will come up with consensus revenue forecasts in January that also will help build upcoming state spending plans.
State Reps. Jim Townsend, D-Royal Oak, and Stacy Erwin Oakes, D-Saginaw, joined Irwin in raising concerns today that GOP leaders might put the money in a rainy day fund.
"If they haven't noticed, it's raining cats and dogs," Irwin said. "Unemployment is going up. This is a rainy day. Our rainy day fund is for times just such as these and we have projects ready that will put people to work. It's a no-brainer that we should be making those investments."
Irwin said he's also concerned the GOP might try to use the surplus money to fund obligations such as the pension fund for retired lawmakers.
"Maybe it's the wrong time for legislators to focus on making sure their own retirement is well funded," he said.
The Democrats argue the Republican-controlled Legislature should consider the "Michigan Jobs Now" plan they introduced in June in the form of House Bill 4758. They say the legislation the GOP failed to consider would have invested in proven job-creation activities such as transportation infrastructure improvements and clean energy efforts across the state.
The Democrats also are pushing to restore money stripped from schools and have introduced a constitutional amendment to prevent future raids of the School Aid Fund.
Ryan J. Stanton covers government and politics for AnnArbor.com. Reach him at ryanstanton@annarbor.com or 734-623-2529. You also can follow him on Twitter or subscribe to AnnArbor.com's e-mail newsletters.