Posted on
Wed, Apr 27, 2011 : 2:27 p.m.
Ann Arbor looking for new administrator who can deal with labor unions, citizens and university officials
By Ryan J. Stanton
Ann Arbor is looking for a new city administrator who knows how to communicate not only with city staff and council, but also labor unions, university officials and the community at large.
The city especially is looking for an administrator with successful involvement in an "aggressive collective bargaining environment," according to a job description posted on the city's website.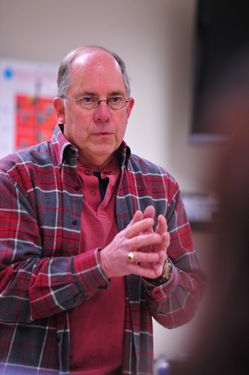 Ryan J. Stanton | AnnArbor.com
Because Ann Arbor is home to the
University of Michigan
and partners with the university on certain initiatives, the city wants an administrator with experience with a major university and developing positive working relationships with senior university administrators.
Ann Arbor's search for a new city administrator continues next Tuesday with two stakeholder meetings where city officials want to hear from citizens and the business community.
City Administrator Roger Fraser is retiring on Friday to take a job as deputy state treasurer. Tom Crawford, the city's chief financial officer, will step in as interim city administrator until the city can find someone to permanently fill the position.
The stakeholder meetings are scheduled to take place inside the lower level conference room at the county administration building at 200 N. Main St. The first meeting at 6 p.m. is for the business community. The second meeting at 7 p.m. is for residents.
The meetings are intended to provide an opportunity for feedback regarding the new city administrator's role and responsibilities.
Onsite public interviews with selected candidates are expected to take place in June. Specific dates will be announced on the city's website at www.a2gov.org.
The city recently began advertising the position and is accepting applications from both internal and external candidates.
According to the job description, the city is looking for someone with a bachelor's degree in public or business administration or related field, though a master's degree is preferred.
Candidates must have experience as a city administrator or manager in a city with a population of more than 50,000 or as county administrator in an urban county.
The job description also states candidates must have experience in a "multi-cultural environment where issues are openly debated" and in positions that required active community contact and open communications between citizens, council and staff.
Another stated requirement is "the physical ability to walk, stand, stoop, bend, reach, pull, push, lift, finger, feel, grasp, talk, see, hear and perform repetitive motions."
The city's search committee is recommending a salary range of $145,000 to $150,000. Fraser currently makes a base salary of $145,354, but his total income from the city has pushed nearly $160,000 in recent years due to bonuses awarded by council.
Ryan J. Stanton covers government and politics for AnnArbor.com. Reach him at ryanstanton@annarbor.com or 734-623-2529. You also can follow him on Twitter or subscribe to AnnArbor.com's e-mail newsletters.