Posted on
Wed, Jul 25, 2012 : 5:57 a.m.
Ann Arbor man shows off precision baseball hitting at Burns Park
By Pete Cunningham

Major League Baseball hitters are normally classified into one of two categories. A power-hitter is known for home run prowess, like Jose Bautista. A player who hits for average, like Joe Mauer, is more concerned about reaching base safely.
A few, like Miguel Cabrera, fall into both categories.
A "precision hitter" -- that is, a hitter who can hit a ball at a random target from various distances -- isn't a label that many seek.
But that's exactly what Ann Arbor's Ron Reed calls himself. Reed, armed with his 33-inch white ash Louisville Slugger, can consistently hit a baseball wherever he wants to.
The 63-year-old Reed is no Major Leaguer, but a precision hitter he certainly is.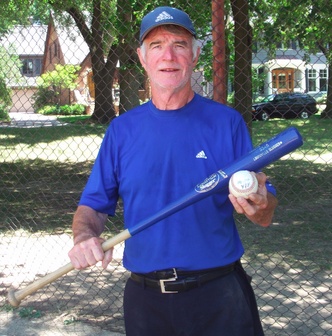 Pete Cunningham | AnnArbor.com
With a satchel full of baseballs strapped around his waist, Reed frequents parks around Ann Arbor where he, for his own amusement, hones the skill of being able to hit a baseball wherever he wants.
"I'm a precision hitter," Reed says at Burns Park in Ann Arbor on a hot afternoon.
"I can hit for power, or a line drive, and hit it right where I'm aiming," says the white-haired Reed, fast in his speech, pointing at trees in the park, benches and baseball backstops, quite proud of his ability to pick them off with consistency.
Reed tosses a ball in the air and hits it into a tree about 80 yards from where he stands. A few don't go as high as he'd like, but his line is rarely off. After Reed does a few hits, some tougher shots are in order.
I stand on a park bench more than 100 yards away, and he's able to scatter the balls around me. Reed's bat is worn, cracking at the barrel, and the balls he's using are worn, too -- causing a little more variation in flight than he says he's accustomed to.
"The density's out of the baseball," Reed says, presenting a ball that looks as though it's been used in about 100 sandlot games. "It's been hit too many times. It's like a marshmallow, so it starts to curve."
Reed says he hits 300 to 400 balls a week, and his callused hands, bag full of broken bats and sun-weathered face serve as proof. Before using any ball, Reed writes "J.F.J." just under the trademark in marker, which stands for "Just for Jesus."
"He's the one giving me the talent so I put his name, his initials, on every ball, in honor of him," Reed says. J.F.J is also stitched on his satchel.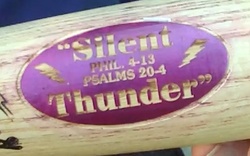 Pete Cunningham | AnnArbor.com
Reed also laser burns J.F.J. on his bats, along with two crossed baseball bats with a tennis net stretched between them and the name "Glenn" above. And he adds his favorite Bible verses,
Phillipians 4:13
, and
Psalms 20:4
.
Reed says thinking of his son Glenn -- who he says is now in a mental hospital, and loves tennis and baseball -- and the Bible verses adds to the joy he feels when he's at the park.
When Reed hits the ball just right, he knows it. The sound is softer than the shots that spray, and he turns his head with a proud smile.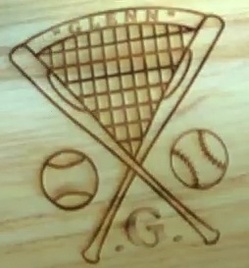 Pete Cunningham | AnnArbor.com
"That's some precision hitting right there," Reed says. As the ball soars exactly where Reed says it will, his sunburned cheeks scrunch up with a proud smile.
Not everyone is happy with Reed. After he hits a ball toward the fence of a tennis court from more than 100 yards away at Burns Park -- just as he said he would -- Reed is accosted by a married couple playing tennis.
The tennis players accuse Reed of hitting the baseballs at them. They loudly swear and scream obscenities across the park and call him names that should not be repeated.
The police are called, and officers come out to Burns Park to tell Reed not to hit in the direction of the tennis courts.
After the altercation, Reed hits balls with his back to the fence, but away from the court. As the couple hits tennis balls into the fence behind him, Ron never accuses them of hitting balls at him.
The tennis-playing couple declined to be interviewed for this story.
The incident upsets Reed to tears and he says he might stop going to Burns Park because of it. He says at Elbel Field on the University of Michigan campus, where he normally goes, he's never bothered. But the layout of Burns Park is ideal for his precision hitting, he says.
"I'm not trying to hit their tennis court. Let them have their game, I'm a gentleman, I'm respectful to everyone over here," Reed says. "I don't know why the guy started running his mouth and being rude."
Once Reed calms down from the incident, he has one last trick to show. He lines up his bag and crosses two bats above it.
"I'm going to put (the ball) right up between there and sometimes the good Lord even puts it right up on top of the bag … isn't that sweet?" Reed says.
From roughly 60 yards away, Reed knocks over the bats on his second try, and his smile returns.
Precision hitting.
Contact Pete Cunningham at petercunningham@annarbor.com or by phone at 734-623-2561. Follow him on Twitter @petcunningham.