Posted on
Tue, Oct 30, 2012 : 4:35 p.m.
Ann Arbor man working to direct Sandy relief efforts for at-risk populations
By Amy Biolchini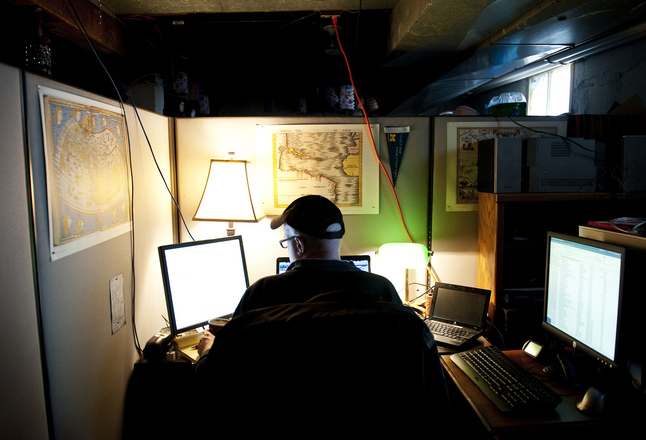 Daniel J. Brenner | AnnArbor.com
For the past four days,
Andrew Schroeder
of
Ann Arbor
has rarely had time to sleep.
Working out of a basement office in his Olivia Avenue home, Schroeder has been on the forefront of disaster relief efforts for Sandy as it turned from a hurricane to a superstorm.
As the director of research and analysis for Direct Relief International, Schroeder is charged with tracking the status of about 300 community centers and non-profit health clinics that have patient populations of about 7 million people in the path of the storm.
The clinics mainly serve poor and under-insured populations, which Schroeder said are often the hardest hit by extreme weather events. A large proportion of the patients served by the clinics are mothers with young children.
Schroeder, who took a brief break Tuesday morning to speak with AnnArbor.com, said he's worked disaster response efforts for major storms that occur annually across North America, beginning with Hurricane Katrina in 2005. He's already spent countless hours analyzing the situation — and the storm has barely cleared the East Coast.
With Hurricane Sandy, Schroeder said the scale of the storm mixed with the high density populations on the East Coast will result in a lot of expensive property damage and has resulted in a "pretty serious situation."
A number of clinics in the path of the storm surge in New York City and Atlantic City, have had to close because they've been overwhelmed with floodwater or have completely lost power, Schroeder said. Tuesday, he was unsure just how many health clinics and community centers had been rendered unusable.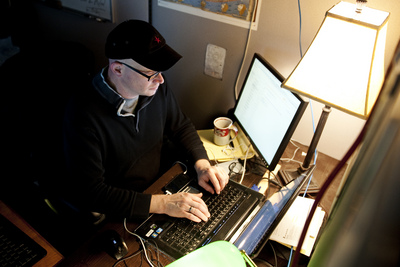 Daniel J. Brenner | AnnArbor.com
People that would routinely visit those clinics for medical supplies like asthma inhalers or insulin to treat chronic conditions will have to go to other clinics, Schroeder said, and it's his job to find out where those people are going, so more supplies can be mobilized to clinics that are handling a higher number of patients.
"We're working on understanding what the needs are for primary care physicians," Schroeder said.
Drug companies, including Pfizer and Abbott, have opened up their inventories in response to Hurricane Sandy, Schroeder said.
Atlantic City has been devastated by Sandy, Schroeder said, and two of the main clinics in the downtown area have been completely flooded out — and the next closest clinics are about 25 to 30 miles away.
"Nonprofit clinics are tough to run under normal situations," Schroeder said, explaining the challenge of helping patients using the clinics manage chronic conditions in emergency situations. "People without cars are very vulnerable in these situations."
Though the initial storm event has a big impact and many people initially go to health clinics with injuries, helping people with intensified economic needs manage their chronic conditions during the recovery from the hurricane will be the biggest challenge in the long term, Schroeder said.
"The likelihood that they are affected for a long period of time is relatively high," Schroeder said.
Many times, people have difficulty recovering from a storm event because their economic struggles are intensified by their dislocation, he said.
Without a viable form of transportation, people may not be able to get to the health care they need. In New York City, where the storm has crippled multiple forms of mass transit, Schroeder said it will be particularly challenging for some people to get to open health clinics.
Long-term care facilities for the elderly could also be facing difficulties, he said. "If you can't get the power back on and you can't move …" Schroeder said.
Amy Biolchini covers Washtenaw County, health and environmental issues for AnnArbor.com. Reach her at (734) 623-2552, amybiolchini@annarbor.com or on Twitter.