Posted on
Tue, Aug 16, 2011 : 12:05 p.m.
Ann Arbor mayor announces members of medical marijuana advisory board; dispensary fee set
By Ryan J. Stanton
The city of Ann Arbor took two more steps forward Monday night in its quest to regulate medical marijuana businesses.
Mayor John Hieftje announced the names of three residents expected to serve on a new five-member Medical Marijuana Advisory Board and provide policy direction to the Ann Arbor City Council over the next few years.
Meanwhile, the City Council voted unanimously to establish a new $600 fee that dispensary owners must pay to apply for a medical marijuana dispensary license from the city.
Council Member Sabra Briere, D-1st Ward, noted the application fee represents the cost of city staff time to review license applications, but it's not the same as a licensing fee. She said a licensing fee has not been determined or discussed by council yet.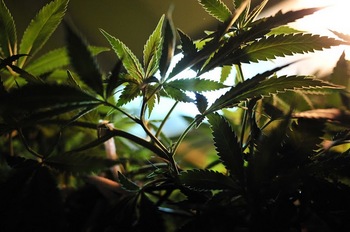 Ryan J. Stanton | AnnArbor.com
Being appointed to three-year terms on the advisory board, starting Sept. 6, are
James Kenyon
,
Patricia O'Rorke
and
John McKenna Rosevear
. Briere also will serve as a council representative on the board, which now just needs a local physician to be complete.
"I'm looking for people who are not associated with the marijuana business obviously," Hieftje stressed. "We need a physician and one who is not associated with the business and is not writing prescriptions for patients, and I asked the same question of the applicants for the other positions just to be sure that they weren't part of that business."
In his application to serve on the advisory board, Rosevear identified himself as the author of an article called "The Wild West" that appeared in the Ann Arbor Observer in November 2010. In that capacity, he said, he was able to enter most of the marijuana dispensaries in the city.
"In 1965, I wrote 'Pot: A Handbook of Marihuana,' went to the penitentiary in 1966, and the book was published in 1967," Rosevear also wrote in his application, acknowledging that today he's a state-registered medical marijuana patient.
Kenyon is a computer engineer who works as the information technology director at Optimization Group Inc. in Ann Arbor. He wrote in his application he's "generally interested in seeing medical marijuana work out — don't want to see 'bad actors' remove a useful tool."
He went on to state that he thinks medical marijuana is managing migraines "far better" than mainstream pharmaceuticals.
O'Rorke, an office manager and bookkeeper for Shoestring Enterprises Inc. in Ann Arbor, wrote in her application that she's just interested in doing something good for her community and, with a background of working with lawyers, she believes she can evaluate fairly.
Hieftje said he expects the advisory board will meet a couple of times early on to discuss its mission and then may only meet a couple of times a year after that.
He said the city's medical marijuana licensing ordinance kicks in at the end of this month, but he has no new details about the licensing process dispensaries will have to go through.
Under the licensing ordinance, an application for a dispensary license must be submitted to the city and reviewed by various city staff, including the clerk's office, police, planning and the attorney's office. To cover staff costs associated with reviewing applications, the planning department recommended the $600 application fee that was approved Monday night.
Wendy Rampson, the city's planning manager, said the fee will cover about nine hours of staff time across the four departments.
Local medical marijuana activist and attorney Dennis Hayes addressed the City Council at the start of Monday's meeting and expressed support for the application fee.
"I would encourage you to pass such a fee, simply because — as all things implemented that are new and different — you incur substantially more expenses in getting them organized and together," he said. "I think this is going to be well implemented, and intelligently so, and serve as a useful and productive example to the rest of the state."
Ryan J. Stanton covers government and politics for AnnArbor.com. Reach him at ryanstanton@annarbor.com or 734-623-2529. You also can follow him on Twitter or subscribe to AnnArbor.com's e-mail newsletters.