Posted on
Sun, Dec 18, 2011 : 5:58 a.m.
Ann Arbor mayor on next year's budget: 'We won't be making any cuts in the police department'
By Ryan J. Stanton
The retirement of nine senior members of the Ann Arbor Police Department — each with 23 years of experience on average — leaves city officials looking to hire.
Mayor John Hieftje said the city plans to quickly fill those vacancies. But beyond that, city officials are talking about increasing police staffing levels in the spring.
If that happens, that would reverse a long trend of continued cuts that have significantly reduced the city's police force over the last decade.
"I said last May when we concluded the budget that it was our job to see no more cuts in the police department, and we're going to be able to do that," Hieftje said.
Ryan J. Stanton | AnnArbor.com
"We're not going to be making the cuts that were predicted in next year's budget," he said. "And the second task that I'm determined to get done is to actually bring in a few more police officers so that we can make sure we have a few more downtown when the weather gets warm."
Police Chief Barnett Jones said in an email on Friday he believes the department's full-time employee count now sits at 167, and 118 of those are sworn officers.
The department had more than 240 full-time employees a decade ago.
The City Council approved trimming 13 positions from the department's budget earlier this year, and a tentative plan for next year involved cutting 12 more in the spring.
But thanks to an estimated $500,000 savings from the upcoming outsourcing of the city's police dispatch operations, and potentially as much as $450,000 in savings from recent concessions made by the police officers union, suddenly the $1.1 million budget reduction target Jones was looking at for next year doesn't look as daunting.
"So we can say unequivocally at this point — at least I can certainly say, and I think the council members are with me on this — that we won't be making any cuts in the police department that are called for in our budget for next year," Hieftje said. "Even though crime is down, and crime is way down, we want to hold the line on the police department."
Ann Arbor officials say they didn't experience the rush of retirements they thought might be coming before the end of this calendar year.
In all, only 10 of about 700 full-time city employees are hanging up their hats this month, including the nine in the police department.
The other employee retiring is an administrative support specialist in the community services division.
"We were expecting more retirees out of our management and nonunion staff, and that did not occur as of Dec. 31," said City Administrator Steve Powers.
Ann Arbor officials originally thought there might be more retirements because newly negotiated employee contracts take effect Jan. 1, and retirement benefits for those who retire after that point will be less than if they retire by the end of the year.
A handful of other city employees announced their retirements in recent months, including Sue McCormick, the city's public services area administrator. Roger Fraser, who was the city's top administrator for nine years, also left last spring to take a new job with the state.
That loss of institutional knowledge has left the city in a transitional period, and for the first time in recent memory, the City Council cancelled its annual December budget retreat this month.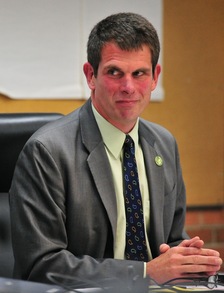 Ryan J. Stanton | AnnArbor.com
That's to give Powers, who started on the job Sept. 15, more time to get up to speed. The council still plans to discuss and act on the proposed 2012-13 budget like it traditionally does in the spring, but Powers acknowledged earlier this month — due to his learning curve — he wanted the council to hold off on having its annual budget retreat this month.
Craig Hupy, Ann Arbor's field operations manager, is taking over for McCormick as interim public services administrator effective Dec. 17, Powers said.
While the city has seen a notable loss of institutional knowledge, Hieftje said he isn't worried about the retirements in the police department.
"They've been here a long time and they were going to retire at some point anyway," he said. "I don't think the chief and the deputy chiefs are really concerned about that. I think they're looking forward to having some new officers coming into town."
And it's likely there'll be savings in payroll as new officers are expected to hire in at a lower rate of pay.
Hieftje said the last he had checked the city had more than 400 applications for police officer positions. He said first dibs go to those officers laid off earlier this year.
"We're going to be able to choose from a large pool of experienced officers, so nobody will be green," he said. "Nobody will be just out of the academy, as far as I can tell at this point. It's possible, and if there are a few of those, that's fine. But we're going to be keeping several veteran officers with us — folks with 20 years in — and I think they're going to pick it up."
Ryan J. Stanton covers government and politics for AnnArbor.com. Reach him at ryanstanton@annarbor.com or 734-623-2529. You also can follow him on Twitter or subscribe to AnnArbor.com's email newsletters.