Posted on
Tue, Jan 24, 2012 : 5:57 a.m.
Ann Arbor mayor: City Council is in no hurry to push through countywide transit expansion
By Ryan J. Stanton
Rich Sheridan, CEO of Ann Arbor-based software firm Menlo Innovations, told City Council members Monday night expanded transit will help him recruit talented employees.
"I get around the country, and I see that the places that people who work for firms like mine are attracted to are places that have very strong transit systems," he said.
"When I went to Portland, Oregon, I saw the ladies outside the airport terminal directing me to the downtown commuter rail system," he added. "I was a bit stunned by what they had there, and when I asked one of the citizens how was it that they approved that, they said, 'Oh, there was a big fight about this and we weren't sure anybody would use it.'"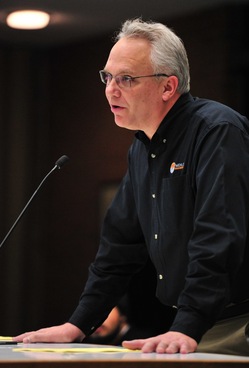 Ryan J. Stanton | AnnArbor.com
But he said people were jam-packed "almost like sardines" in the system.
Sheridan was among nearly 40 people who weighed in on the proposed countywide expansion of transit services during a two-hour public hearing before the City Council.
The council took no final action at Monday's meeting but spent about an hour making a series of amendments to a four-party agreement that lays the framework for creating a new countywide transit agency replacing the Ann Arbor Transportation Authority.
The council plans to resume discussions and possibly vote on the agreement at its Feb. 6 meeting.
Most of the people who addressed council Monday night seemed generally supportive of expanding transit services throughout Washtenaw County. But while some were outright in favor of moving ahead with the four-party agreement, others expressed skepticism and urged the council to exercise caution given the magnitude of the decision.
"The AATA and its consultants have spent a lot of time reaching out to the community to ask what kinds of services people want," said Ann Arbor resident Rita Mitchell.
"I applaud their efforts for involvement of the community, but I'm concerned that at those meetings there may have been wonderful brainstorming sessions that ended up sounding like a promise of great services that may not be within the financial reach of the community."
Ann Arbor resident Vivienne Armentrout asked council members whether it's fair that Ann Arbor residents are likely to shoulder most of the burden of taxation to support a new countywide authority. She also raised questions about the viability of an expanded system.
Mayor John Hieftje said the city isn't rushing ahead with anything. He noted the talks of expanding transit services throughout the county have been around for years.
"I don't think there's anybody on council who is in a hurry to get this done," he said. "I'm not against taking whatever time is needed to make sure that we get it right."
Ann Arbor is being asked to enter into a four-party agreement with the AATA, Washtenaw County and Ypsilanti to initiate the process of morphing the city's transit agency — the AATA — into a new countywide authority under Michigan Public Act 196 of 1986.
Council members stressed that even after approval of the four-party agreement, the council still could decide to opt out later, and residents will have a chance to vote on a funding proposal before any countywide transit authority becomes operational.
The series of amendments made to the agreement Monday night are mostly an attempt to clarify the process, said Council Member Christopher Taylor, D-3rd Ward.
"It has made more clear the opportunities for the city to pull back from the regional transportation plan if it chooses to do so in the future," he said.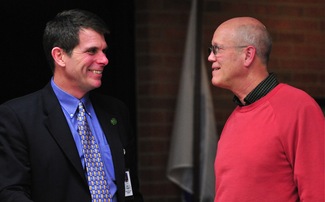 Ryan J. Stanton | AnnArbor.com
One of the approved changes makes it so the Ann Arbor and Ypsilanti city councils will get a chance to vote on the articles of incorporation for the new authority.
It also makes it clear that no transfer of assets to the new authority from AATA can occur unless a number of conditions stated in the agreement have been met first.
"If the four-party agreement is approved, then the conversation is just beginning," Taylor said. "We'll get the fully fleshed-out funding plan from AATA, the fully fleshed-out service plan from AATA, we'll have an opportunity to review the incorporation articles, we'll have an opportunity to opt out of the authority in the statutory period, and we'll have the opportunity to decline to terminate the AATA agreement with the city."
Ypsilanti Mayor Paul Schreiber was among those who addressed the City Council during Monday's public hearing.
"I really appreciate AATA service to Ypsilanti and the residents of Ypsilanti appreciate it," he said. "As a matter of fact, they appreciate it so much they voted 3-to-1 to institute basically a 1-mill charter millage that would go toward transit service."
Schreiber said that 3-to-1 vote in November 2010 to pay for AATA services speaks volumes about how much the Ypsilanti community values public transit.
"What this countywide plan does, it stabilizes our service," Schreiber said.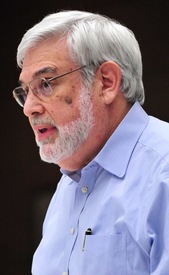 AATA Chairman
Jesse Bernstein
noted 22 municipalities throughout the county are participating in the countywide expansion process.
The implementation of the AATA's 30-year transit master plan will occur in five-year periods with specific goals and objectives, Bernstein said.
"Funding must be in place as we decide which elements of the vision get implemented in the first five years," he said. "We asked leading finance experts from business, government, higher education and banking to look at the vision, the services we need to move forward toward this vision, and recommend the funding and service plan for the first five years."
Bernstein said the funding comes from several sources, including the University of Michigan and Eastern Michigan University.
"Their needs and the needs of businesses in general are an integral part of this plan," he said "The needs of the disadvantaged in the county are also part of the equation."
York Township resident Bill Lavery introduced himself to council members as one of the members of the unincorporated countywide transit board, also known as the "u196 board."
In preparation for creating a new countywide transit agency, Washtenaw County has been divided into eight districts represented by 15 delegates. The u196 board is expected to recommend bylaws and a service plan for the new system.
Lavery represents the South Central District, which includes Milan, Saline and the townships of Lodi, York and Saline.
"I circled through them today and they are supportive of the planning process that's under way and appreciate your work," he told council members.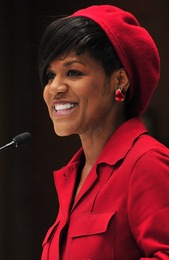 Ann Arbor school board member
Simone Lightfoot
encouraged council members to consider the opportunity to collaborate with Ann Arbor Public Schools on bus services.
She said the district is expecting to cut about $15 million from its budget again this year, and that's bound to impact the ability to transport students. She said the district still is reeling from having to consolidate its transportation with the Washtenaw Intermediate School District.
"I look forward to this particular effort moving forward so that we can sit and work with AATA to figure out how we can transport our children," she said.
State Rep. Jeff Irwin, D-Ann Arbor, also spoke at Monday's public hearing and lobbied for expanded transit services.
"We do have some holes in our service plan here in the city of Ann Arbor," he said, calling the current AATA services on nights and weekends "horrible."
"If we do find a way to thread this needle and make all the interests happy and have countywide service, it's really going to serve to further cement Ann Arbor as the economic center of this region," Irwin said.
Julie Steiner, executive director of the Washtenaw Housing Alliance, said the community cannot wait for expanded transit services.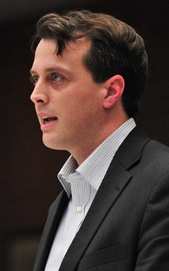 "We have people who cannot get to the jobs that are slowly starting to come back because they're not within the sphere of where our buses currently go," she said. "We have people who cannot get to child care. We have people who cannot pick up their children from school."
Council Member Jane Lumm, an Independent who represents the 2nd Ward on council, tried unsuccessfully Monday night to amend the four-party agreement so that voter approval by Ann Arbor residents would be required before the city could pledge its full faith and credit for any projects taken on by the new countywide transit authority.
Only Council Member Stephen Kunselman, D-3rd Ward, supported her amendment, but he suggested it should apply only to capital projects costing $50 million or more.
Other council members said they weren't sure why the city would make voter approval of individual projects a requirement when the city regularly pledges its full faith and credit for a wide range of capital projects, including utility system improvements.
"We do that regularly because we want to keep the system moving and keep things being built on time and on schedule," Hieftje said.
Lumm later lamented that her amendment "went down in flames."
Ryan J. Stanton covers government and politics for AnnArbor.com. Reach him at ryanstanton@annarbor.com or 734-623-2529. You also can follow him on Twitter or subscribe to AnnArbor.com's email newsletters.