Posted on
Tue, Sep 28, 2010 : 6 a.m.
Ann Arbor mayoral candidates talk environment, city parks in first public debate
By Ryan J. Stanton
Discussion of environmental issues and city parks took center stage Monday night in the first public debate between Ann Arbor Mayor John Hieftje and challenger Steve Bean.
Hieftje, a Democrat who has been in office a decade, faces Bean, an independent candidate, in the Nov. 2 general election. Bean is chairman of the city's Environmental Commission and has been involved in environmental issues in Ann Arbor since the 1980s.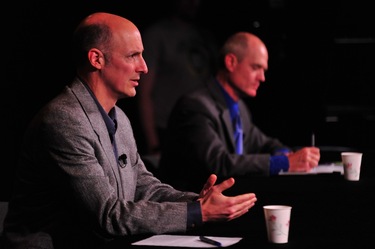 Ryan J. Stanton | AnnArbor.com
"I know some folks aren't familiar with me," Bean said. "I've lived in Ann Arbor for 28 years, came to the university to study physics and also study ecology and environmental policy at U of M, and decided to stay — and very early on, while still a student, became involved in city issues around recycling, and since then served more than 20 years on city commissions."
In addition to his work on the Environmental Commission since 2000, Bean served on the city's Energy Commission from 1992 to 2000. He is a board member for Think Local First of Washtenaw County and has volunteered his time for several groups, including Food Gatherers, the Huron River Watershed Council and the city's Natural Area Preservation program.
A database consultant for Berg & Associations Inc., Bean previously worked for Recycle Ann Arbor, the Ecology Center, Michigan SANE/FREEZE and Resource Recycling Systems Inc.
Bean said in his closing statement Monday night that addressing climate change and responding to rising oil prices are challenges that lie ahead for Ann Arbor.
"We need to transition away from fossil fuels, we need to be creative and innovative, and we need to work together to do that," he said.
Hieftje used a fair amount of his time to talk about his own record as an environmentalist, calling himself a champion for renewable energy and parks.
"I think you'd be hard-pressed to find a mayor who's done more for parks," he said. "I've certainly won a lot of awards for my work with parks and in working to provide open spaces."
Bean disagreed with Hieftje over an ongoing initiative to build a parking structure next to the University of Michigan Hospital in Fuller Park.
"There are questions about whether it's appropriate," Bean said, referencing the fact that the city's charter requires any sale of public parkland to be approved by voters. "If we have an agreement with the community that a vote would be made to use parkland in the long-term ... let's put that to a vote and get the community to buy in before we go forward."
Hieftje defended his position in favor of the Fuller Road parking structure, which is seen as the first phase of a long-term goal to build a full-scale transit center with a new train station.
"I think we need to be clear when we talk about Fuller Park," Hieftje said. "While the place where there is currently a paved parking lot at the base of the hospital is technically parkland, it has been a parking lot since 1993.
"The key point here is that is possibly the very best place in the state of Michigan for a transit station," he said, adding that thousands of people per day visit the site because of the hospital.
But Bean questioned whether the project is appropriate at all.
Ryan J. Stanton | AnnArbor.com
"The concept there is to develop a transit station, and a parking structure does not bring us in the direction of alternative transportation," he said.
Despite disagreeing on Fuller Park, Hieftje and Bean, who actually carpooled together on Monday, remained cordial throughout the debate and agreed on most issues.
Monday's debate was hosted by the League of Women Voters of the Ann Arbor Area. It was aired live on CTN and also was taped for later rebroadcast.
Touching on environmental issues in his closing statement, Hieftje made note of the fact that Ann Arbor is a "Solar City USA."
"This year, we hit 20 percent renewable energy for municipal government," he said of the city's energy consumption. "Hopefully we can sustain that next year. A lot of that work has been done because we were able to reduce the amount of energy through conservation that we use."
Hieftje mentioned he has been endorsed by leading environmentalists, including Mike Garfield, director of the Ecology Center in Ann Arbor, and groups like Clean Water Action and the Michigan League of Conservation Voters.
Hieftje addressed the fact that the city recently issued a request for proposals that could lead to privatization of part of the city-owned Huron Hills Golf Course, a move being opposed by some residents. The deadline for submitting proposals is Oct. 29.
"Huron Hills Golf Course is a beautiful piece of property," Hieftje said. "The city's been struggling now for a couple years to see if we can make it pay for itself, so to speak — to see if we can make it so that golf is not taking away from the general fund budget."
Hieftje said it "would be a great thing" if Huron Hills could remain a golf course, and the RFP is a way to "get some new ideas." If it ever comes to a point where it can no longer work as a golf course, he said, it would remain a park of some kind.
Bean agreed that, if viable, it would be preferable to keep Huron Hills a golf course. But he asked: If bringing in a private operator for Huron Hills makes economic sense, why isn't the city also considering it for the Leslie Park Golf Course?
On issues of development, Hieftje and Bean agreed Heritage Row is preferable to City Place, a near-downtown apartment project that proposes demolishing seven century-old homes along South Fifth Avenue.
"The proposal for a historic district there failed," Hieftje said. "And now that that's failed, the owner could pull a permit and demolish those houses next week if he chose to do that. Those are his houses. I would prefer to see the Heritage proposal there, rather than City Place."
But Bean expressed concerns that Heritage Row is a Planned Unit Development that would deviate from the city's existing zoning code.
"I would say let's have a community discussion about the near-downtown neighborhoods and decide how we really want to do that," he said.
Bean said he's in favor of a corridor improvement authority to help redevelop Washtenaw Avenue from Ann Arbor to Ypsilanti. Hieftje agreed Washtenaw Avenue needs to be redeveloped, but said he still has questions about using tax-increment financing.
On the topic of the city budget, Hieftje declined to speculate where the city might make future cuts, but he said the city continues to look for efficiencies throughout the organization.
"We're going to need to see what staff can come up with, continue to push them to become more efficient, and we'll get through the next budget year, I'm sure," he said.
Bean said he agreed with Hieftje and didn't want to "choose winners and losers" in terms of which areas might see cuts.
"What I would prioritize is ways that we can transition away from fossil fuels," he said. "And that would be those services that involve moving a lot of trucks around. For example, how can we reduce that? Can we put more police on bicycles?"
Hieftje said improving quality of life is Ann Arbor's economic calling card.
"Our city continues to win many awards, most recently named 'fourth most livable' by Forbes magazine," he said. "And, you know, does that really make me think we're the fourth most livable? Or are we really the third best city to walk in in the United States? I don't know, but it's certainly better than not winning the award."
Ryan J. Stanton covers government and politics for AnnArbor.com. Reach him at ryanstanton@annarbor.com or 734-623-2529.