Posted on
Tue, May 22, 2012 : 6:30 p.m.
Ann Arbor mom joins 'stroller brigade' in Washington for stronger chemical laws
By Amy Biolchini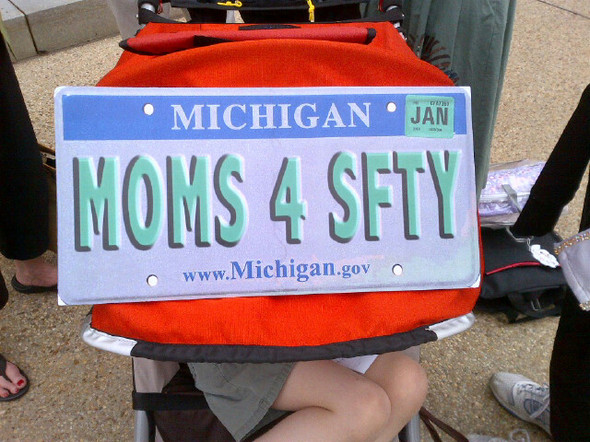 Courtesy photo
Mothers from across the nation pushed strollers and an agenda in front of the U.S. Capitol in Washington D.C. Tuesday, calling for lawmakers to pass the
Safe Chemicals Act
.
Environmental advocates are calling the act a long-overdue update to the existing Toxic Substances Control Act, which was passed in 1976 and governs industrial chemicals.
Among the members of the "stroller brigade" was Ann Arbor mom Sara Talpos and her 5-year-old son, Jackson.
When Jackson was born in 2006, Talpos discovered that a pair of his baby boots contained lead, arsenic and cadmium and had been recalled by the manufacturer.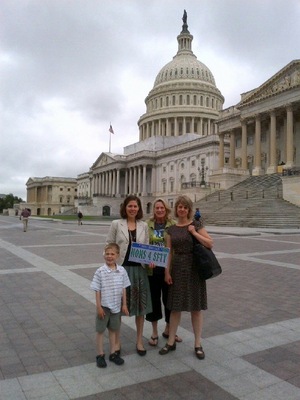 Courtesy photo
"As a new parent, this was very disturbing to me," Talpos said.
After doing more research on some of the children's toys she had around the house, Talpos said she found that many of them contained chemicals she didn't want her child exposed to.
"It's an issue you can't really solve on your own" Talpos said, noting she takes precautions to protect her child from products that may contain harmful chemicals at home, but can't control his environment at school.
"We really need to tackle this as a country and not as an individual consumer."
A national petition has garnered about 125,000 signatures as a show of support for the stricter bill to regulate chemicals in children's products.
Rebecca Meuninck, environmental health campaign director for the Ann Arbor-based Ecology Center, called for the passage of the new act.
"TSCA has failed to prevent the Great Lakes waterways, ecosystems and people from being contaminated by toxic chemicals," Meuninck said in a news release. "Exposure to toxic chemicals early in a child's life can increase their risk for some forms of cancer, infertility, learning and developmental disabilities, and other diseases."
Michigan mothers visited U.S. Senators Debbie Stabenow (D-Mich) and Carl Levin (D-Mich) Tuesday in their Washington offices.
The Safe Chemicals Act is awaiting a vote in the Senate Environment and Public Works Committee, and is backed by U.S. Sen. Frank Lautenberg (D-N.J.).
Should the bill make it out of committee -- on which Stabenow and Levin do not sit -- Talpos said she thought it was likely that they would vote to pass it.
"For me, as someone who has cared about this issue for a long time, it was great to get to D.C. and realize that I'm not alone," Talpos said.
Amy Biolchini covers Washtenaw County, health and environmental issues for AnnArbor.com. Reach her at (734) 623-2552, amybiolchini@annarbor.com or on Twitter.