Posted on
Tue, Feb 5, 2013 : 5:59 a.m.
Ann Arbor might crack down on unlicensed taxicabs after reported student rape
By Ryan J. Stanton
Ann Arbor officials are talking about cracking down on unlicensed taxicabs after the reported rape of a female University of Michigan student by a cab driver early Sunday.
City Council Member Stephen Kunselman, speaking as chairman of the city's Taxicab Board and the father of two teenage daughters in college, raised the issue at Monday night's council meeting.
"It's imperative that our city police department start showing some enforcement of our taxicab ordinance and start pulling over limos with top lights that are basically impersonating taxicabs," he said. "I don't know what other actions can be done other than start enforcing our ordinance."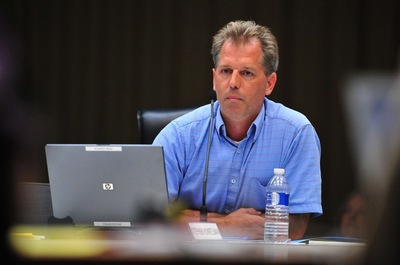 Ryan J. Stanton | AnnArbor.com file photo
Mayor
John Hieftje
said he appreciated Kunselman's remarks.
"Perhaps we could have the city attorney's office look into that to see if we could enforce that," Hieftje said, getting a nod of support from City Attorney Stephen Postema.
Kunselman said there is some ambiguity in the state law. He said the city is trying to get it clarified to make it clear it's unlawful for anyone to impersonate a taxi by using so-called "top lights." But for now, he doesn't see why the city can't take action under existing local ordinance.
"There's some language in our existing ordinance that specifies what a top light can be used for in terms of on top of a vehicle — basically what we all expect a taxi to use," he said. "We amended our taxicab ordinance to basically start writing tickets for limos that impersonate taxis by driving around with top lights on their vehicles, but with no taxicab license issued by the city."
Kunselman said he's going to start asking for monthly reports from the Ann Arbor Police Department at Taxicab Board meetings regarding what enforcement activities are taking place.
Ann Arbor police Lt. Renee Bush said police are investigating Sunday's reported rape as third-degree criminal sexual conduct, which involves penetration.
Bush said the woman described the cab as a car but it's unclear what company the cab came from and if it was a taxi licensed by the city or a limousine service licensed by the state.
The woman got in the cab alone at 2 a.m. in the 1200 block of South University, and she told police the rape took place in a parking lot near the 300 block of East Madison near Packard Street.
The woman was treated at the University of Michigan Hospital's emergency room and police were sent there after the incident was reported, Bush said. The only available description of the driver describes him as a white man with short hair, possibly brown.
The city licenses more than 100 taxicabs and more than 200 taxi drivers, but there are many limousine companies allowed to impersonate cabs due to the Limousine Transportation Act.
That law allowed any vehicle with a seating capacity of 15 or less to be classified as a limousine and is licensed through the Michigan Department of Transportation.
Kunselman gave two examples of state-licensed limo companies that are using top lights to look like taxicabs in Ann Arbor, even though they're not licensed by the city.
"One is the Michigan Green Cab and the other is Yellow Car," he said. "They are avoiding our taxicab ordinance and, as far as I'm concerned, we need to out them."
Kunselman said he believes those companies are "flouting the law" and "trying to beat the system" while "trolling for fares in our downtown."
A manager for Michigan Green Cab could not be reached Monday night, but a manager for Ann Arbor Yellow Car spoke with AnnArbor.com by phone after the council meeting.
Alex Persu, director of call center operations for Yellow Car, said the city would be going after the wrong people if it cracked down on a licensed limo company like Yellow Car, which he said has been doing business in Ann Arbor since the 1930s.
Persu said the bigger issue is what's infamously known in local taxicab circles as the "scabs" — the taxicabs that come into Ann Arbor on busy weekend nights from places like Detroit.
"That's kind of frustrating to us and other local companies when these out-of-towners come on busy nights and pick up students. We wish the city would do more about them," he said.
Persu said sometimes those "scabs" will be marked with an actual company name, but other times they'll be unmarked — they'll just have a top light on their roof. He said students often don't question hopping in those vehicles after a long night out on the town, especially when it's cold out, and he's heard a number of firsthand complaints from students who have been overcharged by them.
"Everybody sees them all over," he said. "We call each other all the time (and say): 'The scabs are out tonight.' People know about them."
Yellow Car formerly operated under the name Yellow Cab with taxicabs licensed by the city, but it changed and became licensed as a limousine company through the state in May 2011.
The company still has a fleet of about 50 cars that look just like normal taxicabs, and on any given night 20 or more of them are out in Ann Arbor, Persu said, noting the company also has a fleet of black Lincoln town cars, stretch and super-stretch limos and a party bus.
One of the reasons cited for why some taxicab companies might prefer being licensed by the state as a limousine company instead is because of reduced insurance costs.
Persu said another reason is because Yellow Car, now that it's no longer licensed by the city of Ann Arbor, doesn't have to adhere to the Taxicab Board's strict regulations regarding fare rates. He said the city wouldn't let the rates fluctuate or keep pace with changing gas prices.
"As a limo company, we can go up and down with the rates," he said. "The part that our customers like a lot is that we give flat rates over the phone. We don't run a meter. Our prices are based on point-to-point using Google maps that anyone on the phone with us can Google-map themselves."
Kunselman said there are good reasons why the city wants taxicabs to be licensed and on record with the city, though.
"The importance of a well-regulated taxi fleet is that we as a community know who the drivers are and that we're not getting into the car with a stranger," he said.
"Without that, we don't know who these drivers are. We don't know who these strangers are coming into our community, and I think it's time that we do something about it."
Persu suggested it's far-fetched to call Yellow Car a stranger after being in Ann Arbor for many years and being the sole operator of the city's A-Ride transit service for people with disabilities.
"Our requirements for drivers to drive for us are much more stringent than a taxicab company," he added. "We turn down a lot of people because of background checks or points on their license."
Ryan J. Stanton covers government and politics for AnnArbor.com. Reach him at ryanstanton@annarbor.com or 734-623-2529. You also can follow him on Twitter or subscribe to AnnArbor.com's email newsletters.