Posted on
Tue, Jan 3, 2012 : 5:57 a.m.
Ann Arbor missionaries to Philippines help with relief effort following devastating flash floods
By Julie Baker
Courtesy of Heather Roa
Stories of death and loss abound in the southern Filipino city of Cagayan de Oro City, which was devastated by a flash flood Dec. 16-17, a missionary from Ann Arbor said.
Heather Roa, who lives there with her family as a missionary from Ann Arbor Assembly of God, said many friends, church mates and students have lost everything. Many, including her own father-in-law, were lucky to come away with their lives.
The death toll from the floods that swept away entire villages in the southern Philippines climbed to nearly 1,500 last week. The Office of Civil Defense's latest tally listed 891 dead in Cagayan de Oro and an additional 451 in nearby Iligan city. The rest came from several other provinces. Most of the dead are unidentified, according to Associated Press reports.
The rain started in the afternoon on Dec. 16 and continued getting heavier, Roa said, adding that they lost both water and power. The storm unleashed more than a month's rainfall in 12 hours.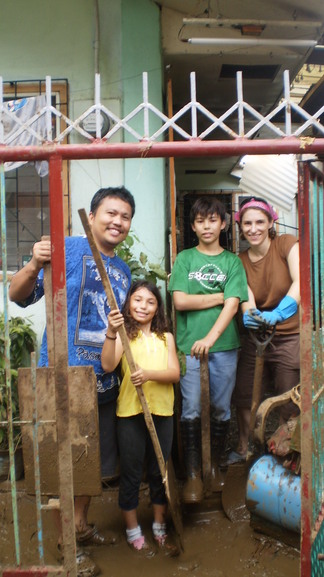 Courtesy of Heather Roa
There were reports of the storm, Roa said, but many may not have taken heed to the warnings because typhoons rarely landfall in the region.
"In all the time I have lived in the Philippines (a total of 5 1/2 years combined), I have never seen what I'm seeing now first hand," she said in an email.
Roa, a University of Michigan graduate, has lived in the Philippines off and on since 1996. She and her husband, Vernon, moved to Ann Arbor in 1998 and lived here for about nine years. She and Vernon, who is Filipino, returned to the Philippines and, eventually, his hometown of Cagayan de Oro in 2007 as missionaries. Their mission work the past two years included establishing a student center ministry called Chi Alpha Student Center.
Since Roa lives with her husband and two children on a ridge, she said her family did not fear flooding, but she feared for others who lived in less secure areas, such as settlements along the rivers. They were directly in along the water's path.
Her 72-year-old father-in-law lives in one of the hard-hit areas. Roa said he nearly drowned as his daughter helped him and his wife escape the current and rising water levels in their home.
One Chi Alpha student who lives in the same neighborhood also barely survived. His family of four was trying to get to the roof of their home when a side wall collapsed, tearing him away to float down the river. He eventually grabbed onto a mango tree and held on for hours, Roa said.
"He said they were in the water for four hours in the pitch black and it was so cold," she said. "At times he wanted to let go, but now he sees he's been given a second chance in life."
Roa said the student went on to help other families who were less fortunate in the aftermath.
"We heard from multiple sources in this area that there was only five minutes or less for people to escape. Sadly, many did not," Road said.
Inside her father-in-law's house, you could see the line of flood waters about 7 feet high. Everything inside the house was ruined and covered in mud.
"I've never seen so much mud before. It's such a mess and without water it's so hard to clean up," Roa said. "Where do you even begin to clean up a mess like that?"
The United Nations has launched an urgent appeal for $28 million to help the displaced — more than half the population of Cagayan de Oro and Iligan, according to an AP report.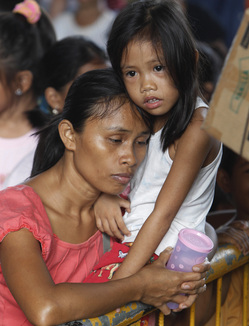 AP Photo
There have been relief efforts, though Roa says she doesn't think it's enough. Food and water is being distributed, and there is clothing, medical care and hygiene kits, but she said the need seems endless.
Water purification tablets are essentially, as they have heard that water will still be out for another month. People are drinking water brought in by firetrucks and are getting diarrhea because it's not purified, she said.
"Garbage is piling up in the streets and drains are clogged. Mud is everywhere with no where to put it and little water to clean and we just got more rain the other night," Roa said. "The stench of decay (of animals and people) is strong in some places still. They just pulled a 10 year dead child out of the mud yesterday after we had been in the area the day before passing out the puritabs. Bodies are still being recovered."
Roa said the chance of disease outbreak remains high with living conditions such as these, people in the streets and limited shelter available. More than 60,000 people displaced by the flooding will face months of living in tents when schools, where they are currently residing, reopen this week after the holidays, according to The Philippine Star. This is the country's worst natural disaster in two decades, with about 1,100 still reported missing last week.
The Chi Alpha students have been helping with relief efforts, Roa said. They packed 700 hygiene kits and delivered them to two evacuation centers. They also helped deliver water purification tablets to nearly 1,000 families, made possible with funding from by Vision Help International Care Foundation, Inc.
Relief funds for the flooding are being collected through the Red Cross, World Vision, Operation Blessing, LBC and more. Roa said those wanting to help out through their efforts also can donate via the Ann Arbor Assembly of God, 2455 Washtenaw Ave., Ann Arbor, MI 48104, by making a check out to the church and writing "Roa Family Typhoon" in the memo line.
The Associated Press contributed to this story.
Contact Julie Baker at juliebaker@annarbor.com or 734-623-2576. Follow her on Twitter @juliebakera2.