Posted on
Fri, Feb 22, 2013 : 5:58 a.m.
Ann Arbor moves ahead with study to determine future re-use of 721 N. Main buildings
By Ryan J. Stanton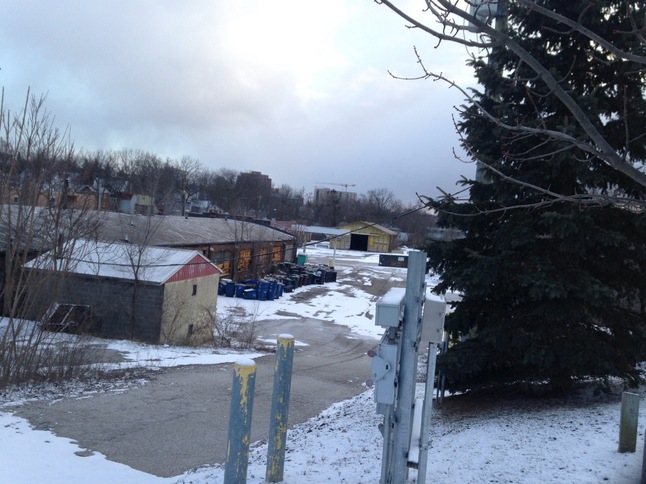 Ryan J. Stanton | AnnArbor.com
The city of Ann Arbor is moving ahead with a structural and environmental assessment of masonry buildings at
721 N. Main
where the city wants to develop a greenway park.
The Ann Arbor City Council voted 9-0 this week to spend $30,000 from the city's general fund cash reserves to complete the assessment — with the stipulation that a report on its findings is due to the city's Main Street Huron River Corridor Vision Task Force no later than May 31.
The City Council appointed the task force last May. One of its tasks is to provide recommendations for the future re-use of the former city maintenance yard at 721 N. Main.
Allen Creek runs through the site and creates a floodway covering about 2.5 acres, or roughly half the 5.1-acre property.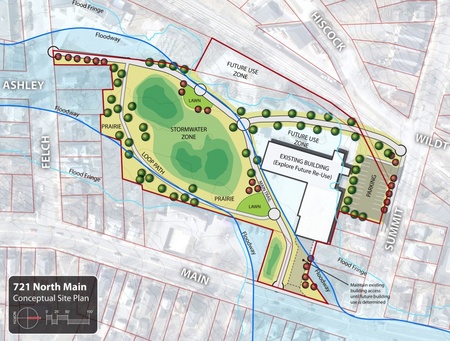 City of Ann Arbor
The task force has recommended the floodway portion be developed to include walking and biking paths to form the first component of a larger greenway.
Two buildings on the flood-prone half of the site would be demolished as part of that plan.
But the task force is still investigating potential uses for the non-floodway area, where a large fleet services garage stands. The task force thinks it could be reused.
Council Member Sabra Briere, D-1st Ward, said there is no way to know the full extent of the environmental issues that rest within that structure without further study.
"It was used as a garage. We know there's asbestos," she said. "Those are just the minimum things we know. But the (task force) really believes that before determining a building should be demolished, we should explore as much as possible what it would cost to make it usable again."
Briere clarified the large garage structure is actually two buildings. One is older — and behind — the building visible from North Main. They are internally linked, she said, but each could stand alone.
The task force has until July 31 to provide its final recommendations to council, including suggestions for the future use of the non-floodway portions of 721 N. Main.
Briere pointed out the City Council also took action in December to spend an additional $32,583 — on top of the already budgeted $50,000 — for work related to 415 W. Washington, another city property where an old warehouse-style garage continues to deteriorate.
The city entered into a $44,498 contract with Tetra Tech GEO for environmental investigation work and a $26,935 contract with Rueter & Associates Architects for historic structure assessment at 415 W. Washington, where the city has plans for a second greenway park.
Mayor John Hieftje said he's toured the building at 721 N. Main and it's not fit for habitation or another use at the moment. He said asbestos is visible, so doing an assessment makes sense.
Council Member Mike Anglin, D-5th Ward, said the work being done at 721 N. Main is part of a long-term desire to look more closely at the flood areas of the city.
"I'm pleased with the groups that joined in to get this effort done," he said. "It's a long, difficult process, and it's interesting how community sentiment for it developed slowly through years and years. I guess that's the way government works … but it's good we're here now."
Ryan J. Stanton covers government and politics for AnnArbor.com. Reach him at ryanstanton@annarbor.com or 734-623-2529. You also can follow him on Twitter or subscribe to AnnArbor.com's email newsletters.