Posted on
Fri, Aug 5, 2011 : 5:59 a.m.
Ann Arbor musicians remain in critical condition at U-M Hospital after I-94 crash
By Heidi Fenton
An Ann Arbor couple with deep roots in the city's music community remain in critical condition at the University of Michigan Hospital, a spokesman confirmed Thursday.
Andrew Kratzat, 27, and Alicia Doudna, 30, suffered critical injuries in a July 26 crash on I-94 in Jackson County's Parma Township.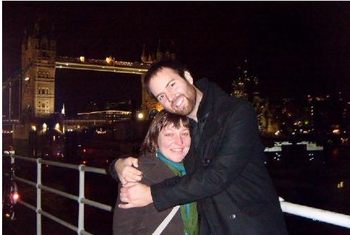 contributed photo
Police said a westbound semi truck tried to stop for slowing vehicles and attempted to avoid Doudna's vehicle by moving to the right shoulder of the road. In the process, the truck's trailer swung back and hit the Honda Civic, pushing it into another nearby semi around 12:53 p.m.
Kratzat, a passenger, was flown to the University of Michigan Medical Center from the scene and Doudna later followed in a flight to Ann Arbor from Jackson's Allegiance Health.
In days since the crash, friends and family have rallied around the couple, who are engaged to be married. A benefit concert was held Wednesday at the Canterbury House in Ann Arbor.
Deanna Relyea, executive director of the Kerrytown Concert House, said Doudna and Kratzat met at the music house several years ago when both performed in an ensemble as part of the annual Edgefest music celebration. Kratzat travels across the country as a bass player, she said, and Doudna is an acclaimed violinist.
For years, Doudna had an upper-level studio space at the concert house, where she offered violin lessons.
"She was very highly respected in the teaching community," Relyea said. "Everyone who teaches upstairs, we all knew her and just are worried."
Michael Gould, a professor of music at U-M who once instructed Kratzat and now performs with him, said the two were headed to visit family on the other side of the state for Kratzat's birthday when the accident happened.
"The whole community here is sort of rallying behind him," Gould said.
Friends said Kratzat was recently offered a full-ride scholarship for graduate school at The Peabody Institute at Johns Hopkins University, and the couple planned to move to Baltimore in the fall.
"He's a super deep thinker, insightful, sensitive, great musician. You can learn everything from that," Gould said. "They add a lot to the music scene all over the country."
Heidi Fenton covers police and courts for AnnArbor.com. Reach her at heidifenton@annarbor.com or 734-623-4673. You also can follow her on Twitter or subscribe to AnnArbor.com's e-mail newsletters.