Posted on
Sat, Dec 29, 2012 : 5:57 a.m.
Ann Arbor native ordained as Legion of Christ religious priest in Rome
By Danielle Arndt
An Ann Arbor man and graduate of Father Gabriel Richard High School was ordained in Rome as a religious priest earlier this month.
Father Mark Thelen, 31, was among 44 men between the ages of 29 and 39 and from 12 different countries to be ordained in the Basilica of Saint John Lateran on Dec. 15.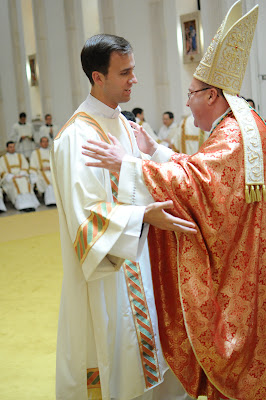 From CatholicMom.com
The basilica is the official ecclesiastical seat of the Bishop of Rome, currently
Pope Benedict XVI
. A ceremony was conducted for the 44 legionaries of Christ and their closest family and friends.
The men earned degrees in philosophy and theology from the Pontifical Athenaeum Regina Apostolorum in Rome. Their time in seminary prior to being ordained lasted an average of 12 years and included three years of pastoral work carried out in different parts of the world, according to a news release from the Legion of Christ, one of the newest religious orders of the Roman Catholic Church.
Thelen graduated from Gabriel Richard in Ann Arbor in 1998 and immediately entered the legion. He is the son of Brian and Mary Thelen of Ann Arbor and has four siblings.
In a testimony shared by the legion, Thelen talked about how he was called to become a priest and about his former unfulfilling quest to attain the worldly definition of success.
"I was young and ambitious, but I didn't know what I really wanted," he said in the testimony. "My principles and ideals were clear, but I didn't understand. I had my whole life mapped out, but didn't like the destination...
"Religion was just another necessary step on the path to success. Churchgoing was just another element among others, like studying math or running track."
Thelen participated in swimming, ice skating, tennis, soccer, baseball, basketball, track and cross-country growing up.
Even though he was a standout both academically and athletically, by the end of 10th grade, Thelen got tired of striving for the ideal and scripted life, he said in his testimony. And with the nudging of his parish and school leaders, he gave up his worldly quests and entered the seminary, succumbing to the pull he felt for something more, something greater.
To become a religious priest, Thelen first was ordained as a deacon in July.
Jim Fair, communications director for the legion, said in Catholicism, there are two types of priests. He said diocesan priests are ordained within a geographic area and assigned to serve a particular parish. Diocesan priests also are expected to address the needs of their parish members and other day-to-day issues related to operating a church.
Religious priests, as Thelen recently became, are ordained through an order in Rome and work closely with the Vatican, Fair said. They usually do not serve in a parish, but rather complete mission work around the world, serving as spiritual directors, writing and publishing books or other spiritual works on Catholicism, teaching at a seminary, directing clubs or programs for youth or consecrated women and in various other roles, Fair said.
The Legion of Christ religious order was founded in Mexico in 1941 and presently is in 22 countries. As of last December, its membership included three bishops, 920 priests and more than 2,000 novices and students attending its apostolic schools. Other Catholic religious orders are the Jesuits, the Dominicans and the Franciscans, for example.
Fair said it is a "huge deal" to be ordained as a religious priest. Evangelization, the spreading of the Gospel and the Catholic faith, is the mission of a religious priest, Fair said.
The United States is second only to Italy in the number of Catholic priests it supplies the faith. According to CARA, the Center for Applied Research in the Apostolate, in 2012 there were 480 men from the U.S. ordained as priests. This includes both religious and diocesan priests. That number is up from 454 in 2005 and 442 in 2000.
Despite the increase in the number of ordinations, the number of total active priests in the U.S. has been steadily declining since 1965. In 2005, there were 42,839 total priests, compared to 38,964 in 2012.
About one-third of the world's priests are religious priests and two-thirds are diocesan priests. This ratio has stayed consistent throughout the years.
"There is nothing materialistic about a religious priest's life," Fair said. "It is truly a life lived for others. It is similar to the military. You get a letter that says where you are needed and you pack a bag and you go. These men have very few personal possessions. They don't own homes. They have a few clothes, polished shoes, their crucifixes and some have a laptop."
The laptop is where many of the priests store their religious teachings and studies, Fair said.
Religious priests take a vow of poverty and are supported by their religious orders. Any personal earnings are given back to the order; and, according to the U.S. Department of Labor Bureau of Labor Statistics, poverty vows are recognized by the Internal Revenue Service, which exempts priests from paying federal income taxes.
Thelen is still in Rome, awaiting his first assignment as a priest. Throughout his journey, Thelen contributed to the blog CatholicMom.com and more recently started his own blog, called The Campion Project. People may also follow Thelen on Twitter: @CampionProject.
Danielle Arndt covers K-12 education for AnnArbor.com. Follow her on Twitter @DanielleArndt or email her at daniellearndt@annarbor.com.