Posted on
Fri, Dec 4, 2009 : 5:50 p.m.
Ann Arbor News archives will be made available through Ann Arbor District Library
By Juliana Keeping
The Ann Arbor District Library will act as caretaker of The Ann Arbor News archives, with plans to eventually digitize part of the collection of more than one million objects and make them available for free on the library's Web site.
The Herald Company, part of Advance Publications Inc., which owned The Ann Arbor News and owns AnnArbor.com, finalized an agreement with the library today to donate the archives currently held in The Ann Arbor News building.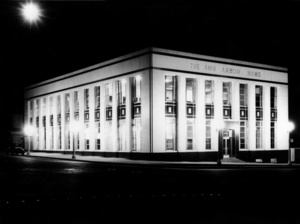 The library will receive the collection in January, but officials said it would take at least a year to catalogue the archives, including fragile bound volumes from the 1800s. During that time, the archives won't be available to the public.
"The Ann Arbor News archives have such significance, and really chronicle the history of Ann Arbor," said Laurel Champion, executive vice president of AnnArbor.com and the former publisher of The Ann Arbor News.
The News closed in July after 174 years of publication. Its archives include bound collections of The Ann Arbor News and the Ypsilanti Press, photographs and negatives, and the clippings files maintained for years by News staff.
The company felt the library would be the best caretaker of the archives, Champion said.
"We wanted to be sure they were in a place where they could be well cared for and accessible to the community," Champion said. "The Ann Arbor District Library was the perfect place - we're so happy we were able to reach the agreement with them and very pleased with the outcome."
Library Director Josie Parker said the staff will digitize the clippings files and photographic collection for the library Web site. The open-ended digitization project will take place after the collection is explored and organized.
"Over time, we'll look for grant support to assist with the project," she said.
The library will organize an exhibit and public reception using pieces of the collection within the next year, Parker said.
Juliana Keeping covers higher education for AnnArbor.com. Reach her at julianakeeping@annarbor.com or 734-623-2528. Follow Juliana Keeping on Twitter.