Posted on
Tue, Jan 10, 2012 : 9:33 a.m.
Ann Arbor No. 6 on gayest cities in America list; Grand Rapids No. 10
By Cindy Heflin
It may be no surprise to find Ann Arbor on a list of gayest cities in America, but we're not sure why our fair city should be given credit for an establishment that's actually in Inkster.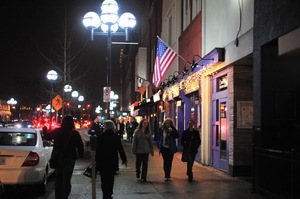 Ryan J. Stanton | AnnArbor.com
The Advocate
magazine has ranked the gayest cities in America according to its own admittedly unscientific and somewhat quirky criteria, such as the number of nude yoga classes and International Mr. Leather Competition semifinalists in the city. (To be fair, we'll note that the criteria also include things like the number of LBGT elected officials and number of transgender legal protections.)
Ann Arbor made the list at No. 6. But, surprisingly, it gives the city credit for Stiletto's, which it says is one of the few clubs in Michigan catering to lesbians. It's actually located in "nearby Inkster."
Among other surprises on the list: Grand Rapids, which has a decidedly conservative reputation, comes in at No. 10, and perhaps most shocking of all, Salt Lake City, home to the Mormon Tabernacle, is No. 1.