Posted on
Mon, Feb 8, 2010 : 5:30 p.m.
Ann Arbor nuns to be featured on Tuesday's Oprah Winfrey Show
By Erica Hobbs
Before watching Ann Arbor's Andrea and Darrell Hough on The Biggest Loser at 8 p.m., a few other locals will be making national TV Tuesday.
Ann Arbor's Dominican Sisters of Mary, Mother of the Eucharist, will be featured on the Oprah Winfrey Show for a segment focusing on "hidden lives."
"I think it's trying to give a general overview of what it's like in religious life," Postulant Director Sister Amata Veritas said. "It's a hidden way of life not many experience or see."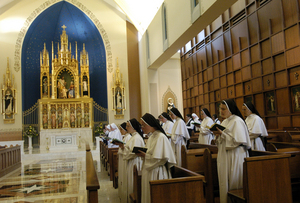 Melanie Maxwell | AnnArbor.com
Veritas said more than half the show focuses on the local order, which has taken vows of poverty, chastity and obedience. The other half, according to the show's website, features the world's only Western geisha.
The show's producers contacted the local order, located at 4597 Warren Road, last month. They visited the convent on Jan. 31 and Feb. 1 to film the sisters in their daily lives, Veritas said. 
Founders Sister Mary Samuel and Sister John Dominic were flown to Chicago a few days later to meet Oprah and tape the show, along with sisters Francis Mary and Mary Judith.
"They're just kind of your general, ordinary sisters," Veritas said. "They're a good representation of us."
Veritas said the show chose the Sisters of Mary because it has a growing community with a large number of young vocations.
The convent opened in 1997 with four nuns and has since expanded to include 98 women. The average age of the nuns is 26.
For the Sisters themselves, Veritas said the show is a chance to spread their message to a larger audience.
"We wanted to have the opportunity to educate a wide audience on the beauty of religious life and its role in the church and its role in the world," she said.
The shows airs at 4 p.m. Tuesday on WXYZ TV Channel 7.
"It's going to show on the 13th anniversary of our founding," Veritas said. "We all saw God's hand in it."