Posted on
Mon, Oct 24, 2011 : 2:55 p.m.
Ann Arbor officials announce crackdown on graffiti to combat growing nuisance
By Ryan J. Stanton
An increase in the amount of graffiti in downtown Ann Arbor and other parts of the city has city officials responding to what they consider a growing nuisance.
In recent months, city officials say, there has been a clear increase in the amount of graffiti, which they argue detracts from the aesthetic appeal of the community, can decrease property values and has a negative impact on sense of safety and security.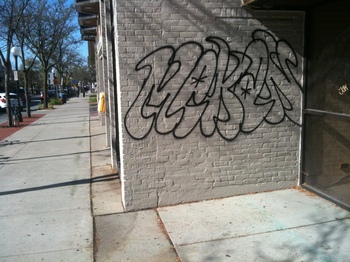 Ryan J. Stanton | AnnArbor.com
"It was noticed by council, it was noticed by the mayor, it was noticed by our police department, and we're responding and trying to take care of it early on so it doesn't spread," City Administrator
Steve Powers
told AnnArbor.com in an interview today. "This is certainly an item of emphasis for our community standards right now."
Beginning Nov. 1, city officials said the city's community standards officers are going to dedicate increased staff time to graffiti enforcement, meaning property owners may receive notices ordering graffiti removal.
In 2009, the City Council passed an ordinance to strengthen the language in the city's ordinance regarding removal of graffiti on private property.
The ordinance is complaint driven, meaning that when there are complaints about graffiti, the city requires property owners to clean it up.
Powers said the graffiti crackdown is not going to require additional funding, but rather a reallocation of existing resources.
Under the ordinance, property owners are required to remove graffiti within seven calendar days after notice from the city. If the owner does not remove the graffiti, then the city may remove the graffiti and bill the property owner for the work.
Ryan J. Stanton | AnnArbor.com
Residents have several options for reporting graffiti, including calling the community standards unit of the Ann Arbor Police Department at (734) 794-6942 or e-mailing complaints to communitystandards@a2gov.org. They also can
submit a complaint online
.
Under the city's ordinance, graffiti may be physically removed or covered over with paint.
Powers said the Downtown Development Authority has been in on the discussions about the graffiti crackdown and is in support.
"I think it's too early as far as any response back from property owners," he said. "We're just getting started with community standards going out and working with property owners and business owners on the graffiti on their structures and on their buildings."
Of course, there are some areas of Ann Arbor — like the graffiti alley on Liberty Street — where graffiti is tolerated. But how does the city distinguish between art and graffiti?
"I can't tell you this afternoon whether community standards will have a specific definition of graffiti or if it will be more judgment and common sense as far as what is graffiti," Powers said. "Certainly vulgar, offensive lettering or symbols would be one."
DDA Executive Director Susan Pollay could not be reached for comment. In the past, the DDA has provided funds for graffiti removal, working in partnership with Anderson's Paint and Fingerle Lumber to provide graffiti removal materials to downtown businesses.
The DDA grant funds made it so downtown building or business owners who find their property tagged with graffiti could visit Anderson's or Fingerle for free anti-graffiti supplies.
"We all benefit when graffiti blight is removed quickly, and DDA grant funds have had the effect of improving downtown aesthetics without placing an additional burden on downtown businesses who are in fact the victims of graffitists tagging their property," Pollay said in a May 2010 news release from the DDA.
Ann Arbor officials said earlier this month they were expecting to announce a set of strategies — including adding more frequent police foot patrols downtown — to combat problems associated with aggressive panhandling and crime on East Liberty Street. Stepped-up enforcement of panhandling, graffiti and alley ordinances are going to be part of the effort downtown, Mayor John Hieftje said at a DDA meeting.
Ryan J. Stanton covers government and politics for AnnArbor.com. Reach him at ryanstanton@annarbor.com or 734-623-2529. You also can follow him on Twitter or subscribe to AnnArbor.com's e-mail newsletters.