Posted on
Sun, Mar 24, 2013 : 5:59 a.m.
Ann Arbor officials believe $1M in free parking provided to Google has paid off
By Ryan J. Stanton
Six years after rolling out the red carpet for Google Inc., Ann Arbor officials maintain the seven-figure incentive the city offered to convince the Internet giant to lay roots downtown was worth it.
"I think it was important to get Google here," Mayor John Hieftje said. "They were the brand name that has really allowed us to build a tech campus around them."
Downtown Development Authority Director Susan Pollay agreed the more than $1 million in free parking the city provided to Google employees has paid off. She said Google helped plant the seed for what downtown is starting to see: the emergence of a tech-savvy creative class.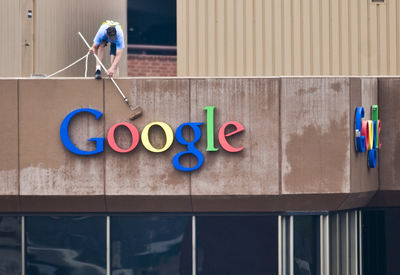 Angela Cesere | AnnArbor.com file photo
"I give a lot of credit to Google for starting us down that path," she said. "I think it's done so much for our regional branding of Ann Arbor as a place to do business."
Hieftje and Pollay stood behind those statements last week even in light of the fact that Google has created only a fraction of the jobs it planned to bring here by now, and the company now is tied up in a dispute with the state of Michigan over $3.1 million in unpaid state business taxes.
"We have no indication that locally Google has been anything but a good citizen, and no indication that there is anything that has changed that," Hieftje said on Thursday.
Google has been mostly quiet about the state tax dispute, but a spokesperson told AnnArbor.com it stems from an outstanding issue related to 2008 and 2009 corporate tax returns. The company is working through an appeals process and hopes to resolve the issues with the state soon.
The Google parking deal
After Google announced its desire to establish an office in the Ann Arbor area in 2006, then-Gov. Jennifer Granholm endorsed efforts by local and state governments to offer incentives.
Google promised to hire 1,000 employees by 2011 in exchange for tax credits from the Michigan Economic Development Corp. worth more than $38 million over 20 years.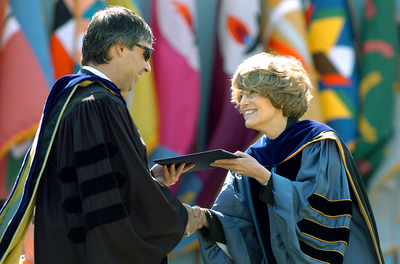 File photo | AnnArbor.com
The Ann Arbor City Council adopted a resolution in September 2006 encouraging Google to locate downtown, saying the city was willing to provide additional parking and tax incentives.
The city believed Google would bring significant economic and social benefits, eventually leading to the creation of thousands of new jobs, an increase in tax revenues, an increase in customers at local businesses, and partnerships with the University of Michigan and local technology firms.
Instead of offering local tax incentives, the City Council went on record in January 2007 saying it would provide free parking for Google employees in cooperation with the DDA.
The council followed through in June 2007 by establishing an Economic Development Fund and transferring $2.18 million from the city's general fund to the new fund.
The city committed to pay for up to 400 parking spaces for Google employees for up to four years, through December 2010, at an estimated cost of more than $2 million.
The council also indicated it was interested in using a small portion of the fund to investigate the viability of supporting regional light rail service.
The city initially was planning to spend as much as $600,000 a year for Google parking, but given that the company hired only a fraction of the employees it projected, nearly half the money set aside for Google parking went unspent, and the city saved hundreds of thousands of dollars.
City records reviewed by AnnArbor.com show more than $1.2 million was spent from the Economic Development Fund before it was dissolved in 2011. Most of it went toward Google parking, though $104,742 was shown budgeted for work on the city's Fuller Road train station project.
The fund still had a balance of $967,161 when council closed it down and returned unspent monies to the city's general fund in 2011.
Tom Crawford, the city's chief financial officer, confirmed in 2011 that Google no longer was getting free parking from the city. When it was, he said, it was based on new hires.
AnnArbor.com filed a Freedom of Information Act request with the city last week asking for records showing the hiring numbers on which the city relied.
MEDC officials estimated in 2006 that the establishment of a sales and operations center in Ann Arbor for Google's AdWords online advertising program would not only create the 1,000 direct jobs Google projected in its first five years, but also more than 1,200 spin-off jobs.
Since then, Google has been hesitant to reveal the exact number of workers it employs in Ann Arbor, generally giving estimates instead of specifics.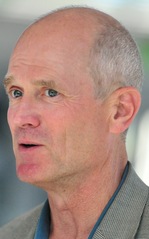 The latest estimate is that Google has more than 300 employees in Michigan between its offices in Ann Arbor and Birmingham, but the company doesn't break it down beyond that.
AnnArbor.com learned in 2011 that Google was quietly contracting with a global outsourcing firm to bring contract employees into the Ann Arbor office at wages lower than required under the state's tax credit program. Google has declined to comment on the details of that.
Council Member Stephen Kunselman, who supported giving Google free parking in 2007, said he still thinks it was a good move for Ann Arbor.
"It was good seed money," he said. "But the reality is they didn't come here because of the Ann Arbor City Council. They came here because of the University of Michigan."
Kunselman thinks Google's decision to locate in the Ann Arbor area had more to do with the fact that Google co-founder Larry Page is a U-M graduate and Google already had a deal with the university to digitize the entire print collection of the University Library.
That said, Kunselman believes the free parking incentives helped convince Google that throwing anchor in the downtown was the right move, whereas the office could have been set up in a research park on the outskirts of town or somewhere out in the townships.
Kunselman said he's going to reserve judgment on the tax lien issue since he doesn't know all of the details at this point, but he expects Google will pay any amount rightfully owed.
Google leases space inside McKinley Towne Centre at 201 S. Division St. City officials said the taxes on the downtown Ann Arbor building are being paid.
"I don't think Google is in financial trouble," Hieftje said. "They're a big company, but they're obviously having a dispute with the state."
AnnArbor.com filed a Freedom of Information Act request with the state last week for a full accounting of the actual worth of state tax credits and incentives received by Google since 2006, as well as records related to the tax lien filed against Google by the state.
A spokesman for the MEDC said on Wednesday there's no relationship between the tax lien and the job creation agreement the state reached with the company in 2006.
Google's impact in Ann Arbor
Hieftje said it was the city's hope that a downtown "tech campus" eventually would form when the city helped lure Google to Ann Arbor, and now it seems that's panning out.
California-based tech firm Barracuda Networks recently moved hundreds of employees to office space on Maynard Street with plans to keep growing.
Another tech company, PRIME Research North America, also recently signed a long-term lease for 16,000 square feet of space on the second floor of the old Borders building on Liberty Street, joining Barracuda in creating a new tech hub at the corner of Liberty and Maynard streets.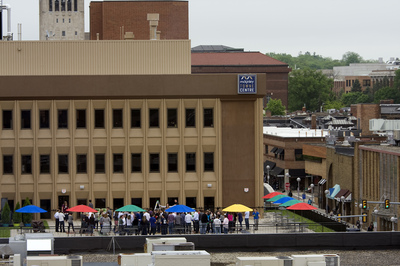 Steve Pepple | AnnArbor.com file photo
Menlo Innovations
also moved from Kerrytown to the underground Offices at Liberty Square last year, where
TechArb
, the University of Michigan's student startup accelerator, also is located.
LLamasoft, a supply chain software designer, is another high-tech company laying roots in downtown Ann Arbor. It was reported in October, as the company signed a lease for an additional floor of the First National Bank Building, that it had grown from 40 to 150 employees in two years.
"We saw Google as the beginning of a tech campus downtown and that's what we looked at from the very beginning," Hieftje said. "They were being offered very good deals out in the townships and they had a lot of options."
A local real estate professional predicted at a recent DDA meeting there will be 1,400 young tech employees working in the Liberty/Maynard/Washington area within a few years.
"When I look now at the State and Liberty corridor, I think Google came and brought with them vibrancy and credibility," Pollay said. "We are seeing a tech campus taking shape at the point where town and gown come together. That area has struggled for years."
Pollay believes Google has improved the downtown economy, with retail shops and restaurants seeing an increase in business because of Google employees downtown.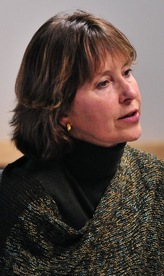 "You see so many people on the sidewalks, and these are year-round customers who don't go away when classes let out," she said. "I think it has had more impact than I would have anticipated."
Hieftje said the fact that Ann Arbor provided more than $1 million worth of free parking to Google was a rare move for a city that's usually stringent about using incentives to lure companies.
He said the amount of tax-abated property in Ann Arbor is less than two-tenths of a percent of the total valuation of property in the city.
"So it's very small," he said. "They don't add up to much."
Pollay suggested Google's presence in Ann Arbor has added to the culture of downtown in smaller ways that many don't notice — like the fact that Google incentivizes employees to give up their cars and commute to work by bicycling, walking or taking the bus.
Nancy Shore, director of the getDowntown Program that encourages alternative commuting in Ann Arbor, said Google is the largest purchaser of go!pass bus passes in the downtown.
For the 2011-12 go!pass season, Google employees had the highest bus ridership of any employer downtown, Shore said, citing a figure that 57 percent of Google employees used their go!passes to commute to work by bus at least once during the year.
"They always provide sponsorship to our Commuter Challenge," Shore added. "They have a real strong focus on alternative transportation and green commuting."
Shore said Google has done, in some ways, what the university also does: Bring a lot of young, creative energy to Ann Arbor.
"It's coming to the point where, at least in my circles, I know several people whose husbands or wives work at Google," she said. "Those individuals are engaged in the community. They're also shopping at downtown business and participating in all the things we love about Ann Arbor."
Ryan J. Stanton covers government and politics for AnnArbor.com. Reach him at ryanstanton@annarbor.com or 734-623-2529. You also can follow him on Twitter or subscribe to AnnArbor.com's email newsletters.