Posted on
Tue, Dec 13, 2011 : 1:07 p.m.
Ann Arbor officials carefully weighing initial agreement for countywide transit expansion
By Ryan J. Stanton
Ann Arbor
officials say they want some assurances city taxpayers will get their money's worth if and when the city's transit authority
expands services countywide
.
As it stands now, some argue, it looks as if Ann Arbor taxpayers will continue paying a 2-mill transit levy and be asked to pay a new 1-mill levy for countywide service.
"I think we do need to look at if there's equity in the tax burden between what Ann Arbor taxpayers are paying and taxpayers in other jurisdictions," said City Council Member Jane Lumm, an Independent who represents the 2nd Ward.
"I would rather see that it would be a millage of the same amount for all members of the county and that Ann Arbor would not have a higher millage," said Council Member Marcia Higgins, D-4th Ward. "Ann Arbor taxpayers have built into the system over a very long time."
The countywide expansion of the Ann Arbor Transportation Authority — chartered in 1969 by the city of Ann Arbor — has been talked about for more than two years.
Agency leaders now are approaching the cities of Ann Arbor and Ypsilanti, as well as Washtenaw County, asking them to enter into a four-party agreement that will lay the framework for creation of a new countywide transit authority in 2012.
A countywide millage isn't guaranteed to be part of the equation, but it's one option for funding the expansion, said AATA CEO Michael Ford.
Ford presented the plan for a four-party agreement to the Washtenaw County Board of Commissioners last week and received positive feedback.
He made a similar sales pitch to the Ann Arbor City Council Monday night and received a mix of praise and concerns.
A financial task force formed by the AATA this year is expected to issue a white paper in early 2012 with its funding recommendations for a new countywide authority.
The AATA already released a 61-page report in August detailing possible funding strategies. The report shows a total of $598.8 million in planned service improvements over the next 30 years, while the AATA's operating costs grow from $25.1 million to $85.8 million.
Hypothetical revenue sources include a 1-mill countywide tax eventually growing to 1.5 mills, layered on top of the 2 mills already levied in Ann Arbor.
The report also suggests options such as public-private partnerships, tax-increment financing, local sales taxes, payroll taxes, parking fees, property millages, and increases in the state gas tax and vehicle licensing fees.
Ann Arbor's existing 2-mill transit levy brings in about $9.5 million annually. An additional 1-mill countywide tax would bring in $14.5 million, including $4.6 million from Ann Arbor. The city of Ypsilanti also has a 1-mill transit levy that currently pays for AATA services.
Lumm argued a 1-mill countywide tax on top of the 2 mills Ann Arbor taxpayers already pay for AATA transit services would be a significant increase.
"To put it in perspective, it's more than our streets millage, more than our parks millages," she said. "And I think it's imperative, as we go forward, for Ann Arbor taxpayers to be assured that we'll be getting $4 million to $5 million (if another mill is added on) more benefit or value with this new five-year improvement plan when that is all fleshed out."
Other council members were more upbeat about the expansion plan, which was shaped through feedback from dozens of community meetings and other outreach efforts.
"Just because something is stretching out beyond our borders doesn't mean it doesn't benefit us," said Council Member Margie Teall, D-4th Ward. "I mean, we are going to be the beneficiaries of being able to take a bus outside of Ann Arbor."
Ford stressed that the local jurisdictions and the county would not have to take on any financial liabilities, nor would they be asked to make any requests for funding.
He said he hopes to have the four parties approve the agreement in January. After that, there are several more steps before a countywide authority is formed.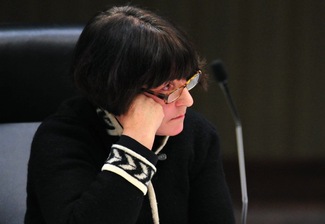 Ryan J. Stanton | AnnArbor.com
An unincorporated countywide transit authority board — made up of officials from throughout the county — has held three meetings so far and is working on developing a five-year transit improvement program to present to municipalities before incorporating.
Ford said he expects the five-year plan to come out in either the second or third quarter of 2012. It will include service development plans, recommendations on funding, fare structuring and policies for a countywide transit authority.
After that report is published, the unincorporated board will request that the county file the articles of incorporation to officially create a new countywide authority.
At that point, any municipality in the county that does not want to be taxed or receive transit service through the new authority can opt out. It's possible some townships might not want to be included.
If and when funding for a countywide authority is established, Ford said, Ann Arbor and Ypsilanti would transfer their transit millages to the new authority to maintain current services, and AATA would transfer its assets to the new authority as well.
After the incorporation, Ford said, the new body would be able to try once per year through 2014 to win voter approval for a countywide transit millage before the authority dissolves.
Ford said in an interview with AnnArbor.com that going to voters as early as November 2012 might be an overly optimistic timeline.
Council Member Christopher Taylor, D-3rd Ward, said he appreciated learning that approval of the four-party agreement does not automatically guarantee the transfer of Ann Arbor's transit millage to a new authority. That's apparently contingent upon approval of funding for the new authority, whether that's through a countywide millage or otherwise.
In the event a countywide millage is approved by county voters, Taylor said, he'd like the four-party agreement to require that the transfer of Ann Arbor's millage be contingent upon the countywide expansion also winning support from a majority of city voters.
Mayor John Hieftje said he expects the four-party agreement to come back to the City Council for consideration in January. But he said it sounds like there's still much discussion to be had and it could take more than one meeting to get it through.
Hieftje said the countywide expansion is going to be particularly beneficial to the Ann Arbor business community.
"As we look at a planet that is coming out of a worldwide recession, and we look at a carbon-challenged future, every prognosticator that I've looked at is predicting higher fuel prices," he said. "And I think businesses are concerned about how their employees are going to get into work in Ann Arbor, and how their customers are going to get to Ann Arbor."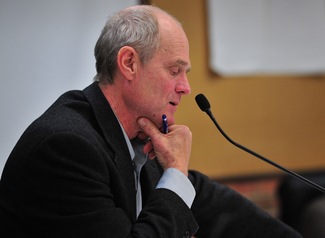 Ryan J. Stanton | AnnArbor.com
Hieftje said there are influential people on the west side of the state who seem to have the ear of lawmakers in Lansing who are talking about a sales tax to fund transit.
"So I don't know that we need to think this is going to be a millage at any point," he said. "I can see how it always comes up, because that's what people are used to, but there are a lot of other systems of funding transit being talked about right now, and I think we have a governor in place who has proven he's transit-friendly."
Ford chimed in with "very much so."
There are many reasons why residents should be excited about a countywide expansion, Ford said, including potential to reduce traffic congestion, mitigate the need for downtown parking, create a more walkable and bikeable community, and help sustain the environment.
He said transit can be transformational in promoting livability and economic vitality. But to get there, he said, the community needs to improve the current system with high-capacity transit where appropriate, more direct routes, more frequent service, weekend and late night service, easier transfers and more options so motorists can leave their cars at home.
Mentioning shuttle service to Detroit Metro Airport and increased bus service between Ann Arbor and Ypsilanti, Ford said AATA officials already are working on service enhancements that will benefit Ann Arbor.
Hieftje said one of the features he's most looking forward to is an east-west commuter rail line that will make possible 10-minute trips between Ann Arbor and Ypsilanti.
Ford said the AATA is working on a revised version of its 30-year transit master plan. But for purposes of the countywide expansion, he said, the focus is on putting together a five-year program that can be funded in the short-term.
And public outreach continues.
"We're going out back to the communities and talking to them about specific needs that they have for service," Ford said, "really down to a gnat's eyebrow to make sure that we really understand what those needs are and how to combine those efforts together."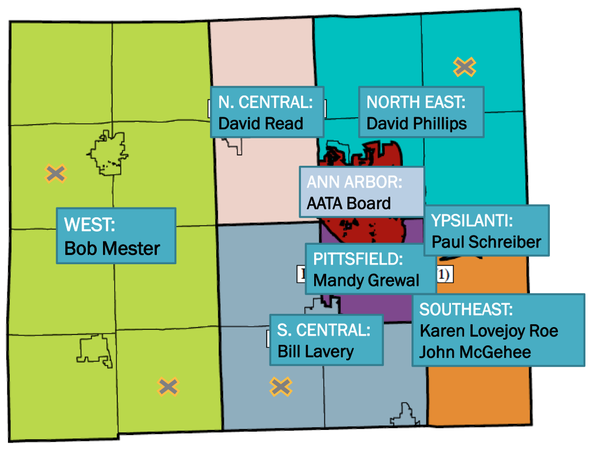 Ryan J. Stanton covers government and politics for AnnArbor.com. Reach him at ryanstanton@annarbor.com or 734-623-2529. You also can follow him on Twitter or subscribe to AnnArbor.com's e-mail newsletters.