Posted on
Thu, Sep 15, 2011 : 5:59 a.m.
Ann Arbor officials concerned City Place could move forward - and wonder if Heritage Row could face another vote
By Ryan J. Stanton

Fearing the controversial apartment project known as
City Place could move forward soon
, some
Ann Arbor
officials are hoping the developer is open to compromise.
Council Member Mike Anglin, D-5th Ward, said he'd be disappointed to see seven houses demolished to make way for the project. If that's going to happen, he said he'd prefer to see Heritage Row — an alternate development proposal for the same site — built instead.
"I believe there are several council members who might be interested in reconsidering their vote on Heritage Row, because the community sentiment was definitely for preservation of the buildings," Anglin said. "I think there is still room for compromise on this issue."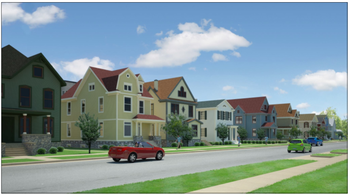 Courtesy Image
Anglin and three other council members blocked approval of Heritage Row last year, leaving the developer preparing to move forward with City Place — a project that calls for knocking down a row of century-old houses along Fifth Avenue, just south of William Street.
The approved plans for City Place include constructing two box-like apartment buildings containing 24 units with 144 beds and a 36-space surface parking lot.
Heritage Row, a compromise proposed by developer Alex de Parry in late 2009, promised to preserve the seven houses while building new apartments behind them. In its last version, it included 76 units with 147 beds and underground parking in place of a surface lot.
Anglin, whose lone vote could change the outcome of Heritage Row, said he's hoping to talk to de Parry and his team about the possibility of a compromise.
"They're the people who are holding the cards right now," he said. "If we did have that compromise, I think we would probably request a fast-tracking of it. So I'd like to talk with Alex and I'd like to have that dialogue with him. If it turns out there are no other options for us, then I'm sure council is wiling to talk to preserve the buildings."
City Place was begrudgingly approved by the City Council in September 2009, despite concerns about aesthetics and whether the project fits the character of the neighborhood. It legally conformed with city codes, so the council felt it had no choice but to approve it.
Until now, it's been uncertain whether City Place would go forward, but city planning officials say recent talks with the development team indicate demolition could happen soon. And that means time is of the essence if the council is serious about reconsidering Heritage Row.
It's still uncertain whether any action by council would stop City Place at this point. De Parry declined to comment for this story, and Jeff Helminski, another developer involved in the project, has not returned phone calls from AnnArbor.com since last week.
In the past, de Parry was seen as the face of both City Place and Heritage Row, often appearing before the City Council to represent the projects.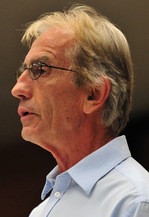 For more than a year, de Parry fought for approval of Heritage Row, a planned unit development that called for special council approval to deviate from existing zoning. But a series of council votes steered the developer back to City Place.
In June 2010, the City Council voted 7-4 in favor of Heritage Row, but that fell one vote short of the eight required for approval. The four council members who blocked Heritage Row's approval were Carsten Hohnke, Sabra Briere, Stephen Kunselman and Anglin.
In a roundabout attempt to stop City Place, a handful of council members pushed for the creation of a historic district in the Germantown neighborhood, but in July 2010 the council voted 6-4 against granting historic district status.
The six who opposed the historic district were Stephen Rapundalo, Christopher Taylor, Tony Derezinski, Margie Teall, Marcia Higgins and Sandi Smith.
At that same meeting in July 2010, the council reconsidered Heritage Row, but none of the council members who blocked its approval the first time around changed their votes.
In December 2010, five council members — Briere, Kunselman, Higgins, Hohnke and Anglin — blocked an attempt to consider a revised version of Heritage Row.
In February 2011, the council eventually decided to give de Parry the option of going back to square one and bringing the revised version of Heritage Row up through the city's plan review process for a reduced fee. But the developer decided he didn't want to go through the city's approval process all over again and didn't take council up on that offer.
Derezinski, D-2nd Ward, said council members who opposed Heritage Row knew the consequences when they voted against it and now it's coming home to roost.
"I was disappointed because I really preferred the project that was very innovative that would have saved the street front and also added incredible improvements on it," he said. "We were hoping, and we did have the opportunity, but it just never came back to us. And it's unfortunate because I really liked that project better. We'll see what happens."
Taylor, D-3rd Ward, pointed out Heritage Row would have been approved if not for opposition by the neighborhood. It was a petition filed by Germantown residents that forced the eight-vote super majority requirement that the project was unable to achieve.
"I think that's an important factor in how we got to where we are today," Taylor said. "In terms of where council is on the issue, a majority of council voted for it."
Briere, D-1st Ward, said it's hard to place blame.
"Members who did not support the historic district could be faulted as quickly as members who did not support the PUD," she said. "It depends on your point of view, and that just means this was a contentious project that did not meet everybody's needs here on council."
Commenting on the prospect of City Place moving forward, Taylor agreed it's the developer's legal right, but he doesn't think anybody is pleased with the project.
"I have always thought the City Place project would be a loss to the neighborhood and the city," he said. "I think the houses are an important part of the streetscape and the City Place development won't be a benefit to anyone."
If Heritage Row should come back to council, Briere said she'll evaluate the proposal on its own merits as a PUD, not based on whether it's the better of two projects.
"I know what was offered the last time, but that was a year ago," she said. "If what comes to council is unchanged from that, I really don't know what I'll do."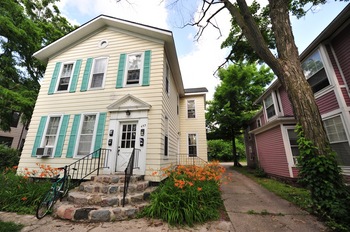 Ryan J. Stanton | AnnArbor.com
Hohnke, D-5th Ward, said he and de Parry negotiated a modification to the PUD that he supported and he doesn't know why that never moved forward.
"I have calls into Jeff and Alex to try to figure out what's going on," he said. "I'm pretty sure we'll get a conversation reignited. I know Alex sincerely cares about moving forward with a project he can be proud of and the community can be happy with, and I don't believe that's City Place."
Kunselman, D-3rd Ward, said his position on Heritage Row is no different than it's been in the past. He stressed council could have stopped City Place by approving the historic district.
"The council chose not to create a historic district to protect those houses and they have said basically that those houses aren't worth protecting," he said. "And so if the concern from the community is that these houses are going to be torn down under City Place — even if the property owner himself says 'I don't want to do this project' — then really the burden is on the property owner. And if he has a concern about the community, then he would do what's right."
That said, Kunselman called City Place a "no one wins" scenario and said he's sure the door could be opened to bring Heritage Row back for reconsideration.

Ryan J. Stanton covers government and politics for AnnArbor.com. Reach him at ryanstanton@annarbor.com or 734-623-2529. You also can follow him on Twitter or subscribe to AnnArbor.com's e-mail newsletters.