Posted on
Tue, Mar 5, 2013 : 5:58 a.m.
Ann Arbor officials continue to face legal threats from attorneys for 413 E. Huron project
By Ryan J. Stanton
Faced with continued legal threats from the developer of a proposed student high-rise, Ann Arbor officials once again delayed action on a moratorium on new downtown development.
After a half-hour closed session with the city's legal staff Monday night, the City Council voted unanimously and without discussion to postpone the issue to its March 18 meeting.
"Certainly we've heard attorneys speak to us here who have raised legal issues," Mayor John Hieftje said in an interview afterward. "Council wants to be careful and carefully consider issues like this. I and other council members are considering it from all angles."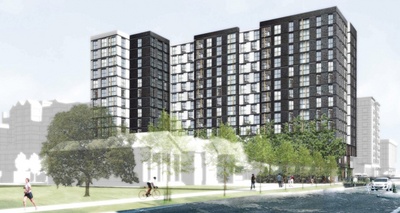 Humphreys & Partners Architects
Attorneys representing the property owner and the developer behind a 14-story high-rise proposed at
413 E. Huron St.
reiterated their concerns that a six-month moratorium on new site plan approvals in D1 zoning districts comes across as a thinly veiled attempt to stop their clients' project just as it was to come before council for final approval.
"The moratorium is clearly targeted at one project and one applicant — that's our client," said Pat Lennon, a Kalamazoo-based attorney representing the developer, Georgia-based Carter.
The attorneys said they don't oppose the idea of the city pausing to conduct a review of the downtown zoning, but they don't think it should stop the 413 E. Huron project.
Lennon said the moratorium should not apply to pending site plan applications, particularly for by-right projects that conform with the city's zoning regulations.
"There is no reason, need or basis for such extreme action in response to one project that is opposed essentially by a handful of influential citizens and leaders," he said. "Such political and legislative activism would undermine the city's credibility and chill development in your city."
The council now must weigh whether to include the 413 E. Huron project in the moratorium, knowing that if it does so it likely would result in a lawsuit against the city.
Lennon was joined by Susan Friedlaender, an attorney representing the property owner, Connecticut-based Greenfield Partners.
Friedlaender pointed out the moratorium resolution sponsored by Sabra Briere and Stephen Kunselman is worded to exclude projects recommended for approval by the Planning Commission.
That still leaves the 413 E. Huron project included since it didn't get the six votes needed last month from the Planning Commission — the vote was 5-3 in favor of the project, a technical denial.
"The line that was drawn, as far as who is included and who is excluded, is arbitrary," Friedlaender said. "There really isn't a legitimate distinction to make between a site plan that's been approved or recommended for approval by the Planning Commission and one that has been technically denied."
The project has been hugely controversial and is being opposed by the city's Historic District Commission and many residents who live in the adjacent historic neighborhoods. They packed the council chambers Monday night to watch the council's deliberations.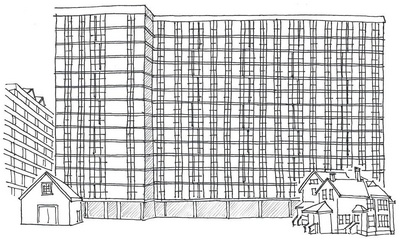 Norman Tyler
Susan Morrison
, an attorney representing residents Ilene and Norman Tyler, whose property on Division Street sits in the would-be shadow of the proposed high-rise, urged council to adopt the moratorium. She argued the use of moratoria is a widely accepted tool for successful planning and she believes a court would uphold the council's action to include 413 E. Huron.
"For the city not to reexamine this D1 zoning designation would be a clear act of bad faith," said Peter Nagourney, one of several residents who showed up to lobby for the moratorium's passage.
The city's customized D1 zoning for the 400 block of East Huron limits new development to 150 feet, but some think D2 step-down zoning with a 60-foot cap would be a better fit for the property at the corner of Division and Huron since it backs up to a historic neighborhood.
Ray Detter, chairman of the Downtown Area Citizens Advisory Council, suggested the city's A2D2 zoning process resulted in the wrong zoning designation for the property in 2009.
"The city has a perfect right to change that zoning now, recognizing the dangers that exist with regard to not only that site but other sites," said Detter, who lives just north of the site on Division.
Bruce Thomson, the former longtime owner of the property at 413 E. Huron, pointed out the council in 2009 rejected the concept of downzoning the corner of Huron and Division.
"To do so would create a special little pocket surrounded by different zoning on three sides," he said. "It's not equitable, and frankly it would look strange to pick a small slice of the street to limit to 40 percent of the height and FAR (floor area ratio) allowed on the rest of the street."
Thomson said a great deal of time and energy was spent crafting a compromise for what he considers a unique and challenging site.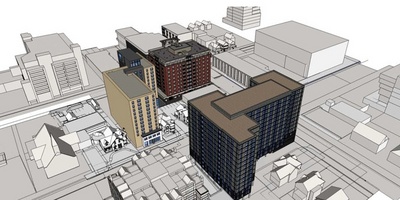 Humphreys & Partners Architects
"It borders residential homes on one side and the busiest road downtown on the other," he said. "The result of that work was a site with special limitations on height and setbacks that still allowed for the dense, tall construction that the land was entitled to and the neighboring properties had already achieved."
Carl Hueter, a lifelong Ann Arbor resident and architect representing the developer locally, said he's watched the city's site plan approval process grow more and more contentious and toxic over the past 10 to 15 years. He pointed to City Place as an example where neighborhood opposition and political intervention by city leaders led to a worse outcome in the end.
"When I first started out back in the '70s, we could process a site plan in six to 12 weeks and it didn't cost a lot of money," he said. "Now site-planned developments in the city of Ann Arbor take a minimum of six to nine months and they cost hundreds of thousands of dollars.
"People don't recognize that these developers have to pay money to the city for housing, money to the city for street trees," he added. "There's all these little, small, what we call 'extortion fees' that go to the city, and on this project it's amounting to almost $200,000."
Hueter said he's been impressed by the development team behind the 413 E. Huron project, which also includes Oregon-based design consultant Ace Hotel.
"All of these are very professional, nationally recognized firms, and they're bringing a quality development to the city of Ann Arbor," he said. "I think the biggest problem is it doesn't look like all of the other buildings in town … and people somehow don't like that diversity."
Lennon said the developer invested in the site with the reasonable expectation that, if it followed the city's zoning rules, it could build the kind of by-right project allowed under D1 zoning.
"Stopping their process this late in the game with this much at stake, and possibly changing the rules applicable to them, is analogous to stopping a football game late in the fourth quarter when the offense is about to score and saying that a touchdown is no longer worth six points," he said. "We don't think that would be fair in a football game, and we don't think this would be fair to our client."
While it postponed action on the moratorium, the council did vote Monday night to reconvene the city's Design Guidelines Task Force to review and make recommendations to council by Sept. 30 regarding improvements to the city's design guidelines and design review process.
Members of the task force include Maria Higgins, Tamara Burns, Dick Mitchell, Bill Kinley, Norm Tyler, Kirk Westphal and Doug Kelbaugh.
Ryan J. Stanton covers government and politics for AnnArbor.com. Reach him at ryanstanton@annarbor.com or 734-623-2529. You also can follow him on Twitter or subscribe to AnnArbor.com's email newsletters.