Posted on
Thu, Feb 17, 2011 : 5:59 a.m.
Ann Arbor officials fear possible cuts to revenue sharing as Snyder delivers budget proposal today
By Ryan J. Stanton
Ann Arbor officials are bracing for major cuts in state revenue sharing as Michigan Gov. Rick Snyder lays out his executive budget recommendations today.
Tom Crawford, Ann Arbor's chief financial officer, said early on Wednesday the word in Lansing was that Snyder's budget could include up to a 40 percent cut to the statutory portion of revenue sharing — the portion that the Legislature has discretionary control over.
For Ann Arbor, that would mean a $760,000 cut on top of the $5 million the city already has lost over the last decade, Crawford said.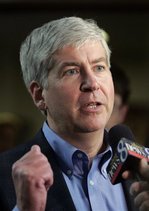 "It's pretty significant," he said. "We're nervous. Though, it's speculation at this point. We really have to wait and see."
However, The Detroit News is reporting Snyder is expected to announce a 33 percent cut in statutory revenue sharing. That's according to Snyder's director of strategy, Bill Rustem.
Rustem told the News that, under Snyder's proposal, the state would distribute $200 million in statutory revenue sharing to cities, villages and townships. That's down from nearly $300 million.
It's also expected that governments would have to compete for that money by showing they can consolidate services and reduce employee costs — something Snyder hinted at in his State of the State address last month.
Snyder will present his executive budget to the Legislature at 11 a.m. today. The Senate will stream the presentation at http://www.senate.michigan.gov/tvschedule/tvlive.htm.
Snyder's budget is aimed at eliminating a $1.4 billion deficit while at the same time financing $1.8 billion in business tax cuts, the News reported.
It's expected Snyder will recommend cutting state aid to public schools by another $300 per student, in addition to the $170 per-pupil cut enacted this year.
Meanwhile, public universities would receive 15 percent less from the state, but $83 million would be set aside to be shared with those that kept tuition increases at 7 percent or less. Community colleges would get the same $296 million they're getting now.
Even without additional revenue sharing cuts, Ann Arbor already is facing a $2.4 million deficit for the fiscal year starting July 1. Deep cuts are expected in police and fire.
"It just adds to the problems that all Michigan cities are facing," Mayor John Hieftje said of further cuts to revenue sharing.
Hieftje noted that Lansing Mayor Virg Bernero is advocating a 4-mill property tax increase as his city struggles with declining revenues and a $15 million deficit.
Hieftje doesn't plan to ask Ann Arbor voters to do the same.
"My goal is to make it through the recession without a tax increase," he said. "Anything that we did wouldn't help us in this budget anyway."
Ypsilanti Mayor Paul Schreiber said Wednesday afternoon he hadn't heard any rumors about Snyder's budget, but more cuts to statutory revenue sharing would hurt greatly. He commented on the early speculation of a 40 percent cut.
"Over half our revenue sharing is statutory, which is about $1.6 million, so 40 percent of that would be $640,000," he said. "We'd be looking at a 5 percent cut on top of the 10 to 12 percent reduction we're already seeing in property tax reductions. So it's piling on."
Snyder hinted in his State of the State address last month at rewarding jurisdictions that consolidate services. It's expected he'll announce details in March about how revenue sharing might be distributed competitively among communities.
Kirk Profit, a consultant who lobbies on behalf of Ypsilanti Township and the cities of Ann Arbor and Ypsilanti in Lansing, said he's going to wait and see what Snyder proposes today.
"If it's shared sacrifice, then fine. Everybody can share," he said. "But the question is — are we sharing equally or is somebody carrying a bigger burden?"
Profit noted many communities across the state are stressed financially and further cuts to urban communities could have devastating consequences.
"You have to look at where statutory revenue sharing goes. It goes to pretty much the urban core," he said. "The question is — why would you devastate the urban core?"
Profit noted nearly $180 million of the state's statutory revenue sharing goes to the city of Detroit. Rustem told The Detroit Free Press that the city will have to get tough about legacy costs and end some of its current practices related to pensions and health care.
In addition to revenue sharing, local governments face further threats from business tax proposals coming out of Lansing. The Senate Finance Committee is debating legislation that would eliminate the personal property tax that businesses pay on equipment.
Snyder's budget is not expected to deal with that issue, but his administration has said the tax needs to be repealed because it makes the state less competitive. It's estimated that local governments could lose as much as $800 million if that happens.
In Washtenaw County alone, it could mean the loss of $45 million to $50 million, including $6 million used to run county government, said Raman Patel, the county's equalization director.
"You're talking about a big loss," Patel said. "And it's not just the county — cities and townships, they all depend on that, too."
Ryan J. Stanton covers government and politics for AnnArbor.com. Reach him at ryanstanton@annarbor.com or 734-623-2529.