Posted on
Wed, Sep 19, 2012 : 5:59 a.m.
Ann Arbor officials get earful about proposal to close fire stations at community forum
By Ryan J. Stanton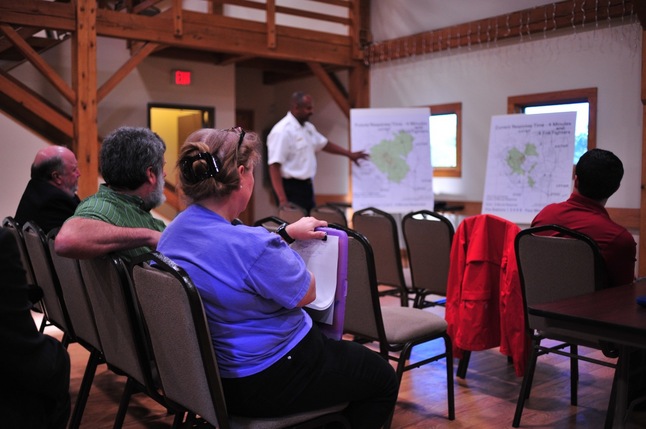 Ryan J. Stanton | AnnArbor.com
City Administrator
Steve Powers
clarified Tuesday night what the plan to reorganize the
Ann Arbor Fire Department
means and what it doesn't mean.
"It's not a plan to reduce the number of firefighters," Powers said. "It's not a plan to reduce the department's budget. It's a plan to consolidate resources."
That involves reducing the number of open fire stations in Ann Arbor from five to three. The idea has been kicked around for months, and with the Stadium bridges set to open in November, one of the barriers to implementing the three-station model is about to disappear.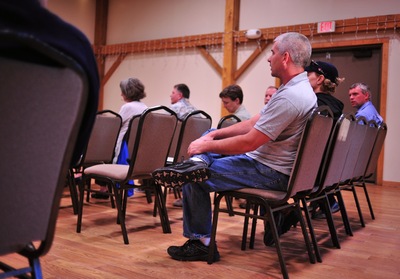 Ryan J. Stanton | AnnArbor.com
About 20 residents showed up Tuesday night at Cobblestone Farm as Powers and Fire Chief
Chuck Hubbard
held the first in a series of community meetings intended to get feedback before a decision is made.
Residents made it clear they're not interested in seeing fire stations close.
"Are you hearing us?" Sue Tarle asked Powers, urging him to find money in the budget to instead increase staffing.
"How is it possible that 10 or 15 years ago we needed six fire stations and now with more population we need less?" she said. "No, we need to staff the six that we had before and cut somewhere else."
Powers said he wasn't hired by the City Council to look at what worked 10 or 15 years ago.
"While the city's budget is improving compared to past years, it's still an ongoing challenge to try to do the best we can as staff, as managers, with the resources that have been entrusted to the city by the taxpayers," he said.
Hubbard acknowledged closing stations isn't ideal, but he said it's the department's best option for improving responses to fires given its limited staffing resources.
He agreed with residents a more preferable outcome would be to increase staffing levels and have four firefighters on duty at each of the five stations.
Powers indicated at Tuesday's meeting that would require hiring an additional 26 firefighters at a cost of about $2.3 million, which he pointed out is equal to a 0.5-mill tax. Powers said city officials aren't actually considering asking voters to approve a fire millage, though.
Hubbard pointed out the fire department is required to have four firefighters on scene before anyone can enter a burning building — unless immediate action is necessary to save a life.
The city's current response model includes three firefighters at each station, which means two trucks typically have to arrive on scene before firefighters can enter a building.
Hubbard said his plan allows the department to better meet national standards because, by bunching up its resources, four firefighters would be on duty at each of the three stations.
One station would be located on the north side of the city (Station 5 off Plymouth Road on Beal Avenue), one on the south side (Station 2 at Stadium and Packard) and one downtown (Station 1 at Fifth Avenue and Huron).
That requires reopening Station 2, which was closed several years ago, and closing Station 3 at 2130 Jackson Ave., Station 4 at 2415 Huron Parkway, and Station 6 at 1881 Briarwood Circle.
Hubbard said the goal is to have the fire department structured mainly for firefighting instead of medical responses because Huron Valley Ambulance also can respond to medical calls.
Among those in attendance were Council Members Margie Teall and Stephen Kunselman; Albert Howard, who is running for mayor; and Jack Eaton, who lost to Teall in the August primary.
Ryan J. Stanton | AnnArbor.com
Eaton said he thinks if the city better prioritized it could find money in the current budget to adequately staff all five of the city's fire stations.
"I think we have enough money, we just spend it poorly," he said.
Others agreed the city isn't prioritizing fire services enough.
"The community puts (public safety) at the top of their list of priorities, so the council should do the same," said Nancy Kaplan.
"It's like anything you want — you rearrange your expenses or you take a second job," said Ruth Barnard, who lives on the west side and is concerned there won't be a station near her home.
Liz Workman, another west side resident, pointed out Ann Arbor is a highly acclaimed town known for making national "best of" lists. She said it should be ranked a top city for citizen safety.
"We should be on the top of the list because the most important thing that a city has to offer is safety for its citizens," she told the fire chief. "And the budgetary restraints that are being applied to you and your people are not what the citizens of this city want. We want safety."
Hubbard played a short video intended to show residents how a four-person truck does a better job responding than a three-person truck.
Workman said it didn't convince her the city needed to go down to three stations to achieve that, but rather that the city needed four-person crews at all five stations.
"I live on the west side and we're going to have no-man crews on our side," she said. "You need to hire enough firefighters or retain enough firefighters that you can offer four-man crews to every location in Ann Arbor and not cut the west side — or whatever side — out of the picture."
Hubbard admits his plan isn't perfect. It's aimed at getting the department closer to meeting National Fire Protection Association standards for response in more areas of the city.
The NFPA travel time standards state that four firefighters should arrive at a fire within four minutes 90 percent of the time, and 15 firefighters should arrive within eight minutes 90 percent of the time.
Based on a plotting of the actual locations of 681 fires over the past decade, Hubbard estimated the city is able to get four firefighters on scene within four minutes 36 percent of the time and a full alarm assignment of 15 firefighters in place within eight minutes 40 percent of the time.
By switching to a three-station model, Hubbard's analysis shows those percentages improving to 72 percent and 53 percent, respectively, which still fails to meet the standards.
John Maguire, a lifelong city resident and firefighter, pointed out five stations with three firefighters each (15 firefighters on duty) and three stations with four firefighters each (12 firefighters on duty) suggests that minimum daily staffing is going to be reduced.
"That's cutting our personnel, but we started out saying we weren't cutting staffing, so can we be clear? he asked. "Will our minimum manning remain the same?"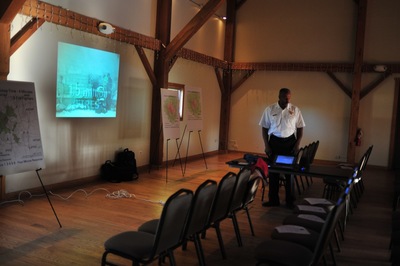 Ryan J. Stanton | AnnArbor.com
Hubbard said minimum daily staffing is "basically my call." He said how many firefighters are on duty is a balancing act that depends on a number of variables, including budget considerations.
Maguire argued the fire chief's plan appears to go against a report by the International City/County Management Association, a consultant hired to study the fire department.
"The study did point out our current stations were very well spaced for a good response for both fire and EMS, so cutting the stations is going against the ICMA study, which we just spent big money to have done," he said.
Hubbard acknowledged his plan to close stations is his own idea and isn't a recommendation from the ICMA report, which the city spent $54,000 to have completed.
Powers pointed out the city received federal grant money recently to hire three new firefighters, growing the department's ranks to 85 full-time employees. The City Council opted not to make room in the budget this year to increase staffing beyond that.
Powers said he's heard from council that it's a priority to add back staffing that has been cut in police and fire, but it may be an incremental process — not a sudden jump.
"The fire department is growing," he said, noting the city is spending more on fire than it did two years ago. "Employees who were laid off have been brought back. Council's intent is to have those employees remain working and not have them be laid off in the next budget year."
Howard criticized Hubbard for an email he sent to firefighters in March, instructing them not to give interviews or distribute propaganda about the restructure plan without his permission.
Howard said that wouldn't be tolerated if he were elected mayor. He said he would have a "no gag order" administration.
He later suggested the University of Michigan, which doesn't pay taxes to the city, should consider starting its own fire department to take care of university properties.
Residents who couldn't attend Tuesday's meeting still have five other chances to go to a meeting and learn more about the proposal. In addition to dates previously announced, the city is holding one last forum from 6-8 p.m. Sept. 27 at Lawton Elementary School, 2250 S. Seventh St.
Ryan J. Stanton covers government and politics for AnnArbor.com. Reach him at ryanstanton@annarbor.com or 734-623-2529. You also can follow him on Twitter or subscribe to AnnArbor.com's email newsletters.