Ann Arbor committee may give eliminated open space proposals for Library Lot another look
Posted on Tue, Jan 5, 2010 : 6:05 a.m.
Ryan J. Stanton | AnnArbor.com
The message sent to the Ann Arbor City Council Monday night was loud and clear: Public land demands a public process.
A small group of citizens attended the council's first meeting of the year to protest a decision by a council-appointed advisory committee that eliminated two of the six proposals for the Library Lot downtown.
Residents are complaining that two open space proposals were ruled out before they were given fair consideration. And they say it appears the fix is in for a hotel and conference center project.
Although the council rejected a resolution brought Monday by Sabra Briere, D-1st Ward, for those groups to submit all relevant financial information, it appears the two scrapped proposals may get another look by the committee.
"The use of the Library Lot is a matter of great importance for our entire community," said resident Jack Eaton, an attorney and local political activist. "I hope that you agree that such an important decision requires full consideration and fact-finding and a full sense of public participation in the process before decisions are made."
Eaton is part of a group of 12 citizens that sent a four-page position statement to the mayor and council members on Sunday, asking the City Council to reinstate the two open space proposals.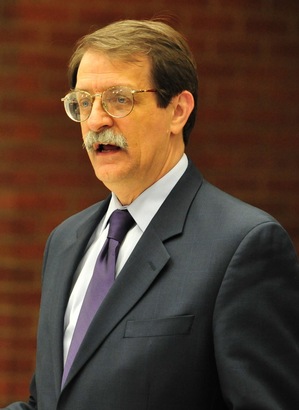 Ryan J. Stanton | AnnArbor.com
The city recently received six responses to a request for proposals for the city-owned site at 319 S. Fifth Ave., where an underground parking garage is being built. Two proposals for what goes on top had offered open space concepts. But now three of the four remaining proposals include some type of hotel project, while the fourth calls for senior housing.
The RFP advisory committee eliminated the Ann Arbor Community Commons and the Ann Arbor Town Square proposals from further consideration, saying they don't offer a financial return to the city, a requirement of the RFP.
The City Council voted 7-4 against Briere's resolution, which asked backers of the proposals rejected by the RFP advisory committee to submit all relevant financial data about their projects to the City Council so it would have equivalent information about all six proposals.
Only Mike Anglin, Christopher Taylor and Stephen Kunselman agreed with Briere's resolution. Others said they thought it undermined the work of the committee, which will make a recommendation to council in March.
At the start of Monday's meeting, Mayor John Hieftje said he had spoken with Stephen Rapundalo, D-2nd Ward, and Margie Teall, D-4th Ward, the two council representatives on the RFP advisory committee. Hieftje said they agreed that although the two proposals may not have met all the criteria of the RFP, they wouldn't be adverse to giving them the same 90-minute public hearing time being afforded to the other proposals. Hieftje said the committee meets on Friday and may consider that as an option.
Rapundalo said the advisory committee is following the best practices for RFP processes, and if it has made any mistakes thus far, it has been not clearly articulating to the community how the process will work.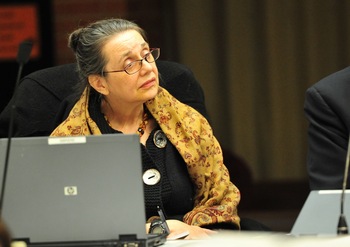 Ryan J. Stanton | AnnArbor.com
Rapundalo said the city predetermined some type of building would go on top of the Library Lot, and that's why the city directed the Downtown Development Authority to make sure the steel beams were strong enough to support a large vertical structure. He also said the city went on the record early on to say open space - while perhaps one component - can't be the only feature on the site.
Rapundalo indicated the city might not even go with one of the four remaining proposals as they currently exist. He said it could end up being a combination of ideas that evolve from the various proposals.
Council Member Mike Anglin, D-5th Ward, noted his opposition to another hotel project in Ann Arbor. He said current occupancy rates don't demand it, and he fears it would just put someone else out of business.
"We certainly have hotels," Anglin said. "I do think it's time now that we look at a commons area, a place we can be proud of as a town ... I think someone building a hotel is not very novel at all."
Eaton's group claims the Library Lot is in the midst of an area of downtown that is undergoing transformation, and the best use for the site should come as a result of an area planning process. But residents in his group believe the RFP process has been engineered for a particular outcome - a hotel and conference center idea that City Administrator Roger Fraser presented to the City Council about a year ago.
Among complaints laid out by Eaton's group is there is no clear definition of what constitutes a "financial return for the city" to rule out the open space proposals while leaving the hotel and conference center idea on the table. Residents argue a hotel and conference center project calling for a public-private investment would cost the city money, while the open space proposals could pay for themselves.
"One of the (open space) proposals actually offered $2.5 million 'or more' to the city as a free gift and off-hand statements were made that it 'wasn't enough.' There was no analysis made to support that statement," the group's letter to council reads. "There are studies and documentation available showing that open space in a downtown area does have concrete financial benefits, but there was no opportunity to make this case or to defend the financial benefit offered."
Ann Arbor resident Libby Hunter serenaded the City Council at its meeting Monday night with a heavy criticism of the RFP process in melodic fashion. She received applause from the audience for her song, "Ode to the Conference Center," sung to the tune of Beethoven's "Ode to Joy."
Conference center we adore ye Grand white elephant of our eye We borrowed money to afford ye You are the apple of our eye Taxpayers get losses so developers get profits And we'll throw in tax subsidies galore Who needs police and fire protection When you have a white elephant to adore
The fix was in from the beginning Secret meetings, secret deals Someone's getting a million dollars We poor taxpayers will get burned We are led like lambs to the slaughter By eight council members drunk with power They care not if our yoke is heavy As long as they get their shining tower
Ann Arbor resident Alan Haber, one of the leaders of a grassroots group of citizens who submitted the community commons proposals for the Library Lot, spoke out about his concerns with the RFP process.
"I don't think due diligence was really done on either of the proposals for open space," Haber said. "I hope you will read them, particularly the proposal on the commons. A lot of people put creative energy into that."
Haber said it's ultimately the City Council's decision whether the lot contains some kind of green space in the center of downtown or another commercial building. But he thinks it should be a space for community gathering.
"The commons is a place that belongs to all the people," Haber said. "There's other space in Ann Arbor for a hotel, the conference center - for all the things that can bring more density."