Posted on
Sun, May 20, 2012 : 5:03 p.m.
Ann Arbor officials invite public to shape vision for future development along South State Street
By Ryan J. Stanton
The city of Ann Arbor is undertaking the first major planning study of South State Street in 22 years, with the goal of guiding future development along the corridor.
As part of that study, the city is hosting a public input session from 7 to 8:30 p.m. Wednesday at the Malletts Creek Branch Library, 3090 E. Eisenhower Parkway.
"The corridor, in my view, is in need of some attention," said City Planner Jeff Kahan. "The last time we really looked at it was in 1990 and before when we came up with our South Area Plan, so that was really the last time we took a comprehensive examination of land use."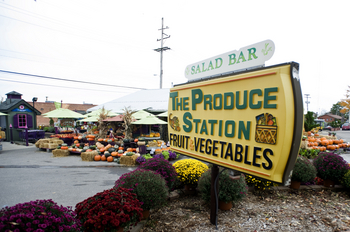 Joseph Tobianski I AnnArbor.com
Wednesday's session will include a presentation from city planners followed by a question and answer session. The session is intended to help identify issues, visions and priorities for the corridor and guide recommendations for an update to the city's master plan.
City planners say development since the 1950s has shaped South State Street to be Ann Arbor's primary office, research and light industrial corridor.
The study area is defined as the 2.15-mile stretch of State Street from Stimson south to Ellsworth Road, an automobile-oriented thoroughfare with mixed land uses.
The area contains about 900,000 square feet of office space and 580,000 square feet of industrial and light manufacturing space, more than any other single area of the city.
Commercial and residential uses also are present, but they make up a smaller percentage of the land use, city planners point out.
The city is interested in identifying ways to preserve existing land uses and ensure future uses are compatible and complementary.
"It will give us a chance to do some comprehensive analysis," Kahan said, adding the end result likely will be a new chapter added to the city's master plan.
City officials characterize the State Street corridor, which connects I-94 to downtown, as a high-activity area and a major employment center and retail destination.
Influential properties include the University of Michigan, Briarwood Mall, Research Park, and Hidden Valley Club apartments.
City officials already have focused on traffic issues from I-94 to Ellsworth. They're collaborating with the Washtenaw County Road Commission on an effort to build a roundabout at State and Ellsworth as Costco gets set to open a new store on Ellsworth at the end of June.
McMullen Properties owns several office complexes in the area, including the Eisenhower Commerce Center and the Atrium Office Center.
Other stakeholders include retailers like the Produce Station and the new Biercamp artisan sausage and jerky shop.
As the corridor study moves along, the city's planning staff plans to post all materials, reports, maps and plan drafts on a new city webpage at www.a2gov.org/southstate.
Anyone interested in providing feedback and unable to attend Wednesday's input session can contact Kristin Baja at SouthState@a2gov.org or 734-794-6000 ext. 42653.
Ryan J. Stanton covers government and politics for AnnArbor.com. Reach him at ryanstanton@annarbor.com or 734-623-2529. You also can follow him on Twitter or subscribe to AnnArbor.com's email newsletters.