Posted on
Fri, Dec 23, 2011 : 11:43 a.m.
Ann Arbor officials plan to look for way around new domestic partner benefits ban
By Ryan J. Stanton
Local government officials are reacting with dismay following the enactment of a state ban on domestic partner benefits for public employees in Michigan.
The partners of at least 21 employees in Ann Arbor and Washtenaw County government stand to lose their health insurance coverage now that Gov. Rick Snyder has signed the ban.
"This thing is just an embarrassment," said County Board Chairman Conan Smith, D-Ann Arbor. "I'm so sad for Michigan today because of this."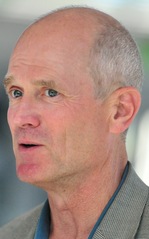 Ypsilanti Mayor
Paul Schreiber
said the city of Ypsilanti hasn't yet determined the impact. But in Ann Arbor, a handful of city employees stand to lose their benefits now.
Ann Arbor Mayor John Hieftje said city officials will be looking to see if there's any "wiggle room" in the law that might allow the city to continue providing domestic partner benefits.
"I certainly would like to maintain benefits for all of our employees," he said. "I think it's not in the interests of Ann Arbor or even the state of Michigan to exclude people from benefits that are available to other employees. And it's certainly going to hurt the city."
The state's 2004 constitutional ban on same-sex marriage has been ruled to ban public entities from providing health insurance to the gay and lesbian partners of their employees. Some government entities, including Ann Arbor and Washtenaw County, have tried to work around the ban with live-in language that omits any reference to a same-sex relationship.
City Administrator Steve Powers said the city of Ann Arbor has been offering domestic partner benefits as long as the employee and "other qualified adult" have lived together for 18 months. He said 12 adults currently receive such coverage from the city.
The county's policy is similar. County Administrator Verna McDaniel said the county provides domestic partner benefits to nine "other eligible adults" right now.
Snyder's signing of the controversial legislation has spurred criticism from Democrats and liberal groups that consider the legislation an attack on gays and lesbians. The American Civil Liberties Union of Michigan has vowed to challenge the law in court.
It is unclear whether the bill applies to state universities, although Snyder asserts that it does not. House Republicans, meanwhile, say it does apply to university employees.
Most political insiders are expecting the issue to be decided in the courts. State Rep. Dave Agema, R-Grandville, the bill sponsor, maintains that universities aren't above the law.
According to other news reports, Gary Glenn, an anti-gay activist who is running for the U.S. Senate as a Republican, is calling for a formal attorney general opinion on the issue.
Snyder maintains his signing of the ban is a continuation of his efforts to help address "the spiraling costs of health care and other post-retirement benefits."
The ban has been strongly opposed by the Ann Arbor City Council, Washtenaw County Board of Commissioners, Ann Arbor/Ypsilanti Regional Chamber of Commerce, University of Michigan and Eastern Michigan University.
"We've been looking at the law as it came out of the Legislature, and we passed a resolution against it," Hieftje said. "Now that it's final, we'll be taking a deeper look."
Even though the law doesn't apply to private employers, Hieftje said he thinks it's going to hurt businesses in Michigan.
"It still sends a message that our state is excluding people from partnership benefits," he said. "I just think it's going to hurt Michigan. We're going the opposite direction for a state that really needs to rebuild its economy. It's a step backwards."
Ryan J. Stanton covers government and politics for AnnArbor.com. Reach him at ryanstanton@annarbor.com or 734-623-2529. You also can follow him on Twitter or subscribe to AnnArbor.com's email newsletters.