Posted on
Wed, May 2, 2012 : 5:59 a.m.
Ann Arbor officials ready to 'play hardball' with developer of Maple Cove apartments
By Ryan J. Stanton
Ryan J. Stanton | AnnArbor.com
The
Ann Arbor Planning Commission
rescinded its
previous approval of the Maple Cove housing project
Tuesday night, and the project's future remains uncertain now.
No second vote has been taken yet, but commissioners are voicing concerns about potential safety risks posed by the lack of sidewalks, which some fear could force children to walk in the street, and having two driveways close together along Maple Road.
But the reason the project appeared back on the Planning Commission's agenda wasn't because of those concerns. It was an attempt to rectify an administrative oversight.
The commission on March 20 held a public hearing and voted 6-2 in favor of the Maple Cove project, but city officials forgot to send required notices of the meeting to some residents.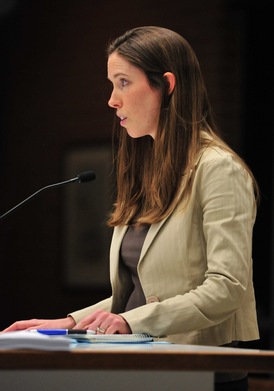 Ryan J. Stanton | AnnArbor.com
While notices went out to Ann Arbor residents within the vicinity of the project — near Maple Road and Miller Avenue — a number of Scio Township residents along Calvin Street accidentally weren't notified, said City Planner
Matt Kowalski
.
In order to allow all surrounding residents an opportunity to voice concerns to the Planning Commission, the public hearing was re-advertised and notices were mailed out again to all property owners, including township residents, within 500 feet of the project.
And so the Planning Commission started Tuesday's deliberations by rescinding last month's vote and re-opening the public hearing.
Property owner Muayad Kasham, who owns Superior Lawn Care & Snow Removal in Ann Arbor, wants to demolish an existing home and construct two 18-unit, three-story apartment buildings and seven single-family homes, as well as a 64-space parking lot. Site plans for the apartment buildings include 12 one-bedroom units and 24 two-bedroom units.
Several residents spoke out against the project, voicing concerns it doesn't fit the character of the neighborhood and it might increase traffic and exacerbate stormwater runoff issues.
Stephanie Raupp, who lives with her husband directly across from the site, told commissioners neighbors are mainly just opposed to the apartment portion of the proposal.
She echoed concerns shared by the planning staff, which previously requested placement of sidewalks along the street leading to the single-family homes. While the sidewalks aren't required, city staff believes they would increase safety and accessibility to Maple Road.
"This builder has done nothing — he won't even put in sidewalks," Raupp said during Tuesday's public hearing. "At the last meeting, he said 'slim to no opportunity' that he would even add a sidewalk for the kids, and this is this is right near one of the most beautiful high schools in the city. I think it's a huge concern that there are no sidewalks."
Even though there have been no changes to the site plan since the Planning Commission approved it in March, several commissioners sounded unsure about the project after Tuesday's testimony, and at least one said she's leaning toward changing her vote.
"The unwillingness of the petitioner to work or to address some of these concerns is just a big concern for me," said Commissioner Wendy Woods.
Woods was referencing not only the sidewalk issue but also concerns raised by both city officials and residents about there being two driveways or "curb cuts" for the development along Maple Road — one to get to the apartments and one to get to the houses.
Ryan J. Stanton | AnnArbor.com
The city's traffic engineer previously requested a consolidation of the access points for the development in accordance with the city's Transportation Plan Update of May 2009.
In order to minimize potential conflicts along Maple Road, the engineer advised the developer that the single-family homes and apartment buildings should utilize the same access point.
But the developer isn't following the engineer's suggestions.
"The developer is very specific on wanting to maintain the two separate curb cuts," said Jamie Gorenflo of Midwestern Consulting, who spoke on behalf of the absent developer.
"It's from a marketing standpoint and creating identity for the single-family homes," he added. "The traffic engineer has said that we are entitled to two curb cuts and his recommendation and his preference would be to combine them, but we are under no obligation to do so."
That didn't please Woods.
"The engineer has said that it is advisable or recommended that you have the same access point," she said. "And then for this gentleman to tell me it's a marketing issue? See, that just raises my blood pressure."
The commission postponed voting on the project Tuesday night until it can get a definitive opinion from the engineer about whether having two access points 150 feet apart on Maple Road poses a serious safety risk to pedestrians and motorists.
"We just are looking for something definitive that hopefully will get us clarification," said Commission Chairman Eric Mahler. "We appreciate the public's concerns about that specific issue and hopefully next time we'll hear from the developer directly."
Gorenflo seemed to suggest commissioners are wasting their time if they think the developer is going to change his plans now.
"To postpone this to give him further consideration to change his mind on that, I'm 90 percent sure he would not," he said of having two access points.
"OK, then I guess we play hardball," Woods said at one point.
Gorenflo also addressed the concerns about the lack of a sidewalk leading to the houses, saying the site plan meets all the requirements of the city.
"To be perfectly honest, even if a sidewalk was provided from those houses out to Maple, there's no sidewalk on Maple for it to connect to," he said.
Commissioner Erica Briggs expressed frustration that it seems the city's ordinances allow for the aspects of the project that residents are most concerned about.
"People are stuck in a bad situation," she said. "Our ordinances allow this. We're sitting around the table and we have no ability to change anything here."
When the Maple Cove project came before the Planning Commission in March, concerns about its potential to attract crime were voiced. That didn't come up Tuesday night.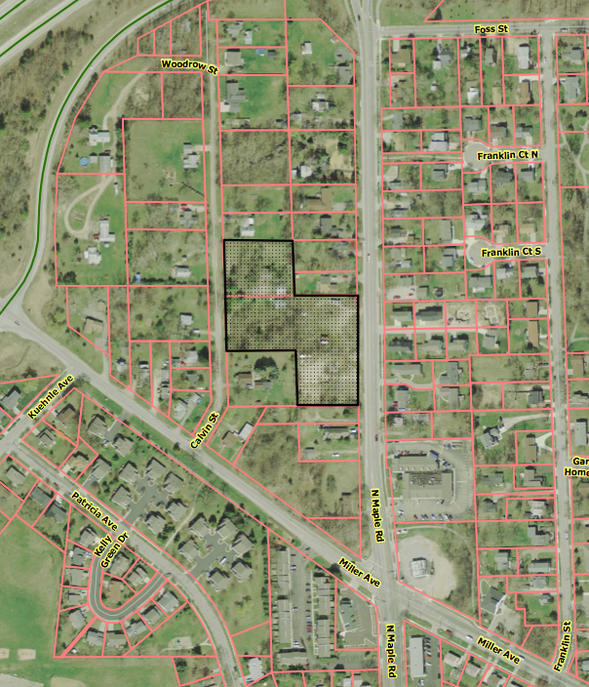 Courtesy of City of Ann Arbor
Ryan J. Stanton covers government and politics for AnnArbor.com. Reach him at ryanstanton@annarbor.com or 734-623-2529. You also can follow him on Twitter or subscribe to AnnArbor.com's email newsletters.