Posted on
Fri, Dec 2, 2011 : 3:30 p.m.
Ann Arbor officials refuse to release draft copy of report on fire department staffing levels
By Ryan J. Stanton
Ann Arbor officials have denied AnnArbor.com's request for a draft copy of a new report on fire department staffing levels.
The city recently received a draft copy of the long-awaited report from the International City/County Management Association, a consultant hired by the city earlier this year.
The Ann Arbor City Council agreed in February to pay ICMA $54,000 to complete the report, which is expected to include a thorough analysis of staffing levels, whether the fire department is meeting national standards and ways it can improve operationally.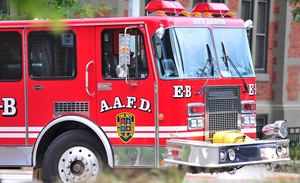 Ryan J. Stanton | AnnArbor.com
The report comes after years of cutbacks that many argue have left the fire department understaffed and struggling to meet national standards for response times.
The report originally was expected to be done by July, but its delivery has been delayed for several months now for reasons neither the city nor ICMA have disclosed.
After learning that the city had received a draft version of the report recently, AnnArbor.com filed a Freedom of Information Act request for a copy on Nov. 28. The request also asked for any communications from ICMA that accompanied the report.
The city denied that request today in a letter signed by City Clerk Jacqueline Beaudry, who wrote that city officials have determined the public interest in encouraging frank communication between officials "clearly outweighs the public interest in disclosure."
The city cited Michigan Compiled Law 15.243, which states that a public body can choose to exempt certain public records from disclosure if they include communications and notes of an advisory nature and are preliminary to a final determination of policy or action.
The city cited the same exemption in April when refusing to disclose communications cited as a reason behind the City Council's rejection of a downtown conference center proposal.
Matt Schroeder, president of the firefighters union, said the union also is waiting to see a copy of the report, which he understands was sent back to ICMA for revisions.
Before AnnArbor.com filed its FOIA request, Mayor John Hieftje said he had heard a draft copy of the ICMA report had come in but he didn't yet have his own copy.
"I have heard it is incomplete," he said at the time, expressing frustrations that ICMA has been slow to deliver its final analysis.
"I am disappointed in ICMA," he said. "All this time and we don't have a complete report. They have not lived up to their reputation."
A representative of ICMA said in October a personal matter was the cause of the delay but that he couldn't offer more information than that.
Fire Chief Chuck Hubbard could not be reached for comment.
Ryan J. Stanton covers government and politics for AnnArbor.com. Reach him at ryanstanton@annarbor.com or 734-623-2529. You also can follow him on Twitter or subscribe to AnnArbor.com's e-mail newsletters.