Posted on
Tue, Nov 20, 2012 : 5:59 a.m.
Ann Arbor officials respond to construction noise complaints, give ordinance changes initial OK
By Ryan J. Stanton
Ann Arbor resident Eleanor Linn said she discovered holes in the city's noise ordinance after living next to construction noise 13 hours a day, six days a week for more than a year and a half.
"You can imagine my consternation, being awoken by construction noise on Memorial Day at 7 a.m. when I had planned to spend the holiday enjoying my yard," said Linn, who lives near the new Landmark student apartment high-rise at 601 S. Forest.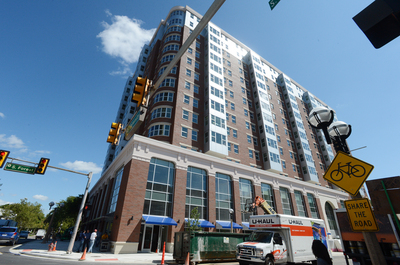 Melanie Maxwell I AnnArbor.com
"The developers have noticed that our code does not explicitly state that holidays are to be treated as Sundays," Linn told
Ann Arbor City Council
members Monday night. "The police could not issue a noise violation and work continued all that day and all of the Fourth of July."
When construction noise went on hours past the permitted time one night, Linn added, a police officer responding to her complaint was reluctant to issue a ticket.
"According to our code, the violation would go to the person doing the work — rather than to the supervisor, the construction company or the developer," Linn said.
Ann Arbor officials said they heard Linn loud and clear. The City Council voted 11-0 at Monday's meeting to give initial approval to changes to the city's noise ordinance to address her concerns, and those changes are expected to receive final approval at second reading on Dec. 3.
Linn gave special thanks to Council Member Christopher Taylor, D-3rd Ward, for helping to work through the issue with her. Taylor sponsored the ordinance changes.
Taylor said the changes effectively expand the prohibition on excessive noise from Sundays to legal holidays and provide a way to hold accountable those who are actually directing the noise.
"It strikes me as a modest change, but an important change for folks who are affected by construction noise, which is certainly a disruption to folks' ordinary enjoyment of their homes," Taylor said.
The ordinance changes define legal holidays as New Year's Day, Memorial Day, Independence Day, Labor Day, Thanksgiving Day, Veterans' Day and Christmas Day.
The changes also make it clear the ordinance applies to construction managers, foremen, property owners, developers, contractors and subcontractors who direct, order, require, authorize or commission another person to perform the activities causing the noise violation.
Senior Assistant City Attorney Kristen Larcom said the city's noise ordinance has long prohibited construction activity that creates audible noise beyond the project's property line between 8 p.m. and 7 a.m. and all day on Sundays. Exceptions exist for homeowners doing work on their own home.
"In recent years, this has become more of an issue particularly in large construction projects where workers have been directed by their superiors to do work that requires the operation of noisy construction machinery at the prohibited times," Larcom wrote in a memo to council.
Larcom acknowledged there is a reluctance to enforce the ordinance against a person who may fear compliance will lead to job loss.
She said the proposed ordinance amendment makes clear that, while the worker still could be charged for a noise violation under those circumstances, the persons under whose authority the work is being performed can be held responsible instead.
"As with the current ordinance, the ordinance amendment does not prohibit construction activity," she noted. "Rather, it prohibits the creation of noise from construction work that disturbs the public peace and quiet at times when it is reasonable to expect no such disturbance."
Related story: Ongoing construction at Ann Arbor's Landmark high-rise frustrates tenants
Ryan J. Stanton covers government and politics for AnnArbor.com. Reach him at ryanstanton@annarbor.com or 734-623-2529. You also can follow him on Twitter or subscribe to AnnArbor.com's email newsletters.