Posted on
Tue, Oct 25, 2011 : 5:59 a.m.
Ann Arbor officials rethinking pedestrian safety ordinance as concerns abound
By Ryan J. Stanton
Ann Arbor officials are sounding less and less sure a new ordinance designed to get motorists to stop for pedestrians at crosswalks is working out as planned.
Multiple Ann Arbor City Council members raised concerns about the ordinance during a special council meeting Monday night and indicated they'd like to see changes to it soon.
Council Member Stephen Rapundalo, D-2nd Ward, said he wants the council to take a closer look at the use of the word "approaching" in the ordinance.
"Many people seem to be confused about what exactly that means," he said. "Is that somebody with one foot in the air that's ready to take that first step into the crosswalk? Or is that somebody who's two or three feet away, walking and truly approaching the crosswalk?"
Ryan J. Stanton | AnnArbor.com
Under state law, motorists are required to stop for pedestrians within crosswalks. The city's ordinance goes one step further to make it the obligation of motorists to yield to pedestrians approaching crosswalks — even if the pedestrian hasn't yet entered the crosswalk.
The penalty for not stopping is a $100 fine and two points on a driver's license. The Ann Arbor Police Department began enforcing the ordinance last month but officers have written few tickets so far.
Rapundalo, who is in the middle of a heated re-election campaign against an opponent who's critical of the new ordinance, said Monday night he also thinks it's confusing that new signs placed at crosswalks inform motorists it's "local law" to stop for pedestrians "within" crosswalks when they actually have to stop for those approaching, too.
"This is where some of the confusion is coming in people's minds as well," he said. "Their understanding of the local ordinance is that we want people to stop for pedestrians who are approaching, and yet the signs say something different, even though it is state law."
Mayor John Hieftje said a discussion of that can be had when the city's staff reports back to council on recommendations for more pedestrian safety improvements on Dec. 12.
"We can learn more about that then," Hieftje said. "And I've been wondering myself about signs for pedestrians to tell them that even though this is the law, that car may not stop."
The City Council voted unanimously Monday night to direct staff to explore pedestrian crossing improvements — including the option of more pedestrian-activated signals — at crosswalks throughout the city. The resolution sponsored by Hieftje places special emphasis on Washtenaw Avenue near Tappan Middle School and Plymouth Road near Beal Avenue.
Council Member Stephen Kunselman, D-3rd Ward, said he hopes the city's staff also can look into potential improvements for crosswalks along Packard.
The directive from council gives staff a rough deadline of Dec. 12 for presenting its findings and recommendations, and Hieftje stressed he wants to move quickly.
"I'd like to see us move forward on this because my hope was to get this going as quickly as possible, and they're going to report back to us in December with a complete plan," he said in response to a request Monday night to postpone consideration of the resolution.
Hieftje said tweaks to the pedestrian safety ordinance — which multiple council members are asking for now — could be taken up under a separate resolution next month.
Council Member Christopher Taylor, D-3rd Ward, wrote in a mass e-mail to residents on Sunday that he's thinking the issue through and he's growing increasingly sympathetic to the view that the "approaching" standard may not be workable.
"My inbox has been lit up pretty well with folks writing to me on the issue," he acknowledged at Monday's meeting. "I think there is a good deal of concern about the burden that places on the driver, understanding the burden that the other standard places upon the pedestrian."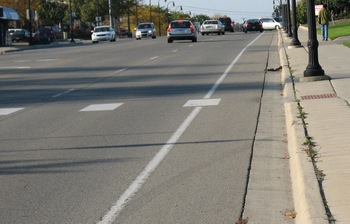 Image courtesy of David Burgess
Council Member
Sabra Briere
, D-1st Ward, is another council member asking for changes to the ordinance. She said the issue of anticipating when a pedestrian intends to cross is particularly problematic in areas where there are bus stops near crosswalks. She said motorists are having a hard time distinguishing whether someone is waiting to cross or waiting for a bus.
"I really think we ought to consider looking at the language we have used that says 'approaching' and how we want to deal with that," she said. "I really think that we've all learned that language is too vague for people to feel comfortable about what to do."
Briere said as far as she's been able to determine, there's been only one rear-end accident so far that's resulted from a motorist stopping for a pedestrian at a crosswalk. She called that "not too bad" considering neither driver was from Ann Arbor.
Many motorists seem to have difficulty adjusting to being constantly on the lookout for pedestrians at crosswalks on streets where they never noticed them in the past, Briere said.
Council Member Carsten Hohnke, D-5th Ward, was one of the original sponsors of the pedestrian safety ordinance last year, along with Hieftje. He and Hieftje continued to defend the ordinance Monday night, but agreed it might be in need of some tweaks.
"The slight change that you all voted for, which I appreciate — it really didn't change very much at all," Hieftje told council members, suggesting the new approaching standard isn't that big of a change. "It's the basic state law that I think folks are having a problem with."
Hieftje offered a brief history of how it came to be that the City Council unanimously approved the pedestrian safety ordinance last year. He said the issue goes back many years.
"One of the things that happened a while back, though, was some residents of the city made a film of a person — in some cases with a white cane — trying to cross the street under the state law that was existing at that time, and having to leap back onto the curb to save their life," he said. "And so one of the reasons that other places have used the 'approaching' law is that the pedestrian can have some idea if the car is going to stop before they place themselves in danger. That was the puzzle that we were trying to figure out."
Hieftje said the goal was to provide assurance to pedestrians that drivers would stop without them having to risk life and limb and enter a crosswalk, the requirement under state law.
"Had the city decided to enforce the old state law, we would have the same issues," he said. "The existing state law was being violated widely across the city and still is."
Hieftje said he thinks the real problem is at larger, four- and five-lane roadways, which he said have the ability to divide a community and act as obstacles for pedestrians.
"I think we've all been in cities where that's happened, where they become like a wall — particularly so if people don't have a crosswalk at an intersection with a light nearby, they'll cross anyway," he said. "And then you create an even more dangerous situation."
Council Member Marcia Higgins, D-4th Ward, said getting motorists to stop for pedestrians also is a problem on smaller streets.
She recalled watching a group of school students trying to cross at Crest and Liberty on the city's west side. She said motorists stopped on one side of the street and almost got hit from behind, and other motorists were honking their horns and shooting out around them.
"They were standing on the road and they weren't going to move," she said of the students trying to cross. "When the one motorist stopped and he motioned them across, they said no because they could see the traffic coming the other way, having no intention of stopping. So it's not just on our four- and five-lane roads. We're seeing it right in neighborhoods."
Ryan J. Stanton covers government and politics for AnnArbor.com. Reach him at ryanstanton@annarbor.com or 734-623-2529. You also can follow him on Twitter or subscribe to AnnArbor.com's e-mail newsletters.