Posted on
Fri, Jan 25, 2013 : 2:59 p.m.
Ann Arbor officials revisiting city's travel policies after auditor raises concerns
By Ryan J. Stanton
Ann Arbor officials are revisiting city policies after an auditor raised concerns about city employees with vehicle allowances also being able to claim mileage reimbursements.
In the city's recently released audit report for the fiscal year that ended June 30, 2012, the Rehmann accounting firm noted it found three instances in which a city employee was requesting and receiving mileage reimbursements while also receiving a monthly vehicle allowance.
The auditor's letter doesn't name any employees, but city officials have said both City Attorney Stephen Postema and an appraiser for the city claimed mileage reimbursements while also receiving a vehicle allowance last fiscal year and that didn't violate city policy.
A letter from the auditor originally claimed that violated city policy. But upon further review, the auditor and the city's administration are now in agreement the city doesn't actually have a clear policy that prohibits employees with vehicle allowances from claiming mileage reimbursements.
The issue took center stage at Thursday's meeting of the City Council's audit committee. Tom Crawford, the city's chief financial officer, said the issue is being addressed.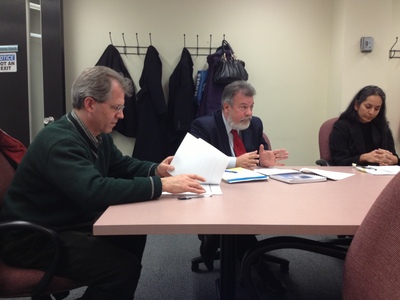 Ryan J. Stanton | AnnArbor.com
"As I think through this from a staff perspective … there are things that are council policies and things that are administrative policies," Crawford said. "Staff will be revisiting the policies."
Mark Kettner, an accountant with the Rehmann firm, said based on new information he plans to revise the audit letter to remove the statement that anyone violated city policy.
Commenting on the amount of mileage being claimed, Kettner remarked: "We're talking about small dollars." Nonetheless, he said, the city should establish a clear policy.
"That is really the whole purpose of this," he said. "Is there a policy or isn't there? Does it apply or doesn't it? So there are areas that you need to look at."
Four council members who serve on the council's audit committee were present for Thursday's meeting: Sumi Kailasapathy, Stephen Kunselman, Margie Teall and Chuck Warpehoski.
Kailasapathy asked if she could be assured after the policies are revised that no employee getting a vehicle allowance can claim mileage reimbursements again.
"Not necessarily actually," Crawford said.
Crawford used the example of property appraisers who get vehicle allowances of $200 a month for driving around town on the job. He said that allowance is not intended to cover their costs if the city sends them to a conference out of town, so they still could claim mileage for that.
Crawford said vehicle allowances are used as an efficient administrative tool so busy city employees don't have to waste time filling out mileage reimbursement sheets.
"I don't want my appraisers who have limited time that they can get in to see people … filling out a mileage reimbursement form if I can (compensate them) through an administratively efficient way that's fair, and that's what we've moved to," he said, making a case for keeping vehicle allowances for certain employees and clarifying the circumstances when they can and can't claim mileage.
City Administrator Steve Powers said he's glad to say the city had an essentially clean audit overall, and the clarification on the use of vehicle allowances will be helpful going forward.
The city's administration maintains the few instances where mileage reimbursements were claimed on top of vehicle allowances involved employees who used their personal vehicles to travel to meetings outside the county, and the administration maintains those employees were allowed to do that.
Postema collected more than $1,000 in mileage reimbursements dating back to June 2011 while he had a vehicle allowance worth $330 a month.
Since he wasn't at Thursday's meeting, Postema said he couldn't say much, but he understands all of the mileage reimbursements in question are allowed under city policy.
"Not much more to say," Postema said.
One of the trips Postema claimed mileage for was a trip to the Sixth Circuit Court of Appeals in Cincinnati where he successfully defended the city against a $30 million lawsuit. He called the roughly $250 reimbursement he claimed "just a normal business travel expense."
"Also, pretty good return on the expense, given the result," he said.
Crawford released a report on Thursday stating the city has followed up on the issue and found three trips (one conference and two out-of-town court cases) by Postema and one trip for an out-of-town training event by a city appraiser that occurred during the last fiscal year.
Crawford noted Postema had an employment agreement with the city that included provisions for a vehicle allowance and reimbursement of travel expenses. A review of the city's travel and mileage policy, Crawford said, revealed there isn't clear guidance how to handle these situations.
"A follow-up conversation with the city's auditor determined he was not made aware of the employment contract prior to completing the report and concurs that the phrase 'which violates city policy' should not have been included," Crawford stated in the report.
Crawford said the city's vehicle allowances have been used in different ways. He said some employees are given allowances as standard practice for the work they do on a day-to-day basis that requires driving around the city. Other employees have allowances written into their contracts.
"It's not uniform," Crawford said. "Assuming that an allowance is given to pay for the use of the vehicle when that vehicle is used for city service — we don't have that in a policy."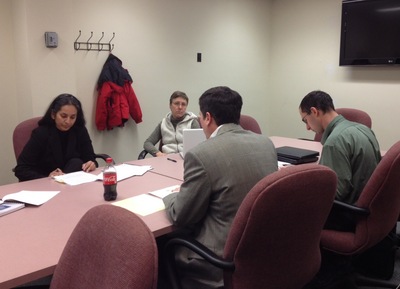 Ryan J. Stanton | AnnArbor.com
Multiple council members said their understanding is that the city's vehicle allowances historically have been given to some employees as a cash perk in lieu of a salary boost.
"It's just a straight-outright perk," Kunselman said. "No strings attached."
Kunselman said he's reviewed everything and he's confident no city employees were trying to "game the system."
"That would be the No. 1 concern that I have and I don't believe that was happening," he said. "These are policies and practices that have been carried over from a previous administration, so to speak, and we have a new auditor, and so now we are addressing it."
Kunselman said he's not sure he would even characterize it as "double dipping" since it seems the vehicle allowances are intended for "in-area" travel and mileage reimbursements are intended for "out-of-area" travel. He said that's "all logical and fine with me."
Crawford said the issue is not as complex as it seems and the city's system for travel and mileage reimbursement seems to be working, though he agreed the policies could be made more clear. He said the city's administration already has started work on that.
There was some debate Thursday about whether staying overnight on a trip should be the trigger for whether an employee with a vehicle allowance can claim mileage reimbursement. Crawford said that could create a "perverse incentive" for an employee to stay overnight on the city's dime, just to have his or her travel costs covered, when they would not have stayed overnight otherwise.
AnnArbor.com has filed a Freedom of Information Act request with the city for a list of all employees receiving vehicle allowances.
Kunselman said the city already is moving away from vehicle allowances. Postema no longer has a vehicle allowance under his new contract, and Powers hasn't been given a vehicle allowance, a perk enjoyed by former City Administrator Roger Fraser.
"What we're hearing is there's going to be a lot less car allowances," Kunselman said. "As we update contracts … that's phasing out."
Postema's salary was adjusted upward by the City Council in November, going from $141,538 to $144,934. At the same time, his vehicle allowance was eliminated.
Crawford said the city takes the auditor's comments seriously. But the way he sees it overall, the city got a clean audit and has a couple of minor items to address.
Kailasapathy said she's not happy with the administration's response. She still considers it double dipping for employees to get a car allowance and claim mileage reimbursements.
"It needs to be addressed," she said. "The auditors have not backed off. They're going to pull the words 'policy violation' out because we haven't clearly stated when you take a car allowance you should not be also taking mileage. It's not there, but it should not be done."
Warpehoski said he thinks Crawford's plan for addressing the auditors concerns is solid, but he said he can see where someone might have a different interpretation on the policy.
"Tom's recommendation to clarify the policy and make sure we don't have these ambiguities," Warpehoski said, "is a move in the right direction."
Ryan J. Stanton covers government and politics for AnnArbor.com. Reach him at ryanstanton@annarbor.com or 734-623-2529. You also can follow him on Twitter or subscribe to AnnArbor.com's email newsletters.