Posted on
Fri, Aug 10, 2012 : 5:58 a.m.
Ann Arbor officials: 8 blighted houses on North Main will be demolished within 60 days
By Ryan J. Stanton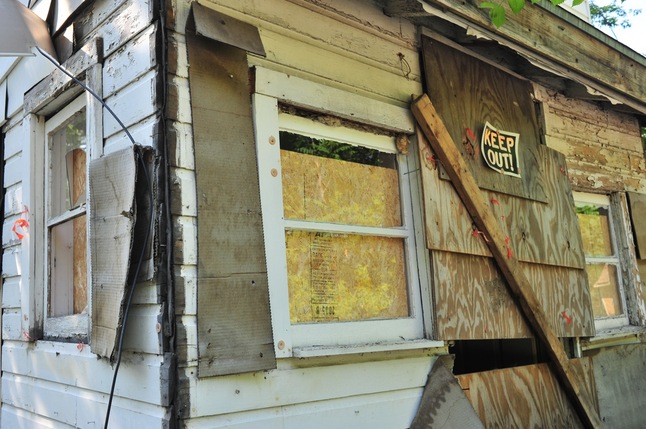 Ryan J. Stanton | AnnArbor.com
Ann Arbor
officials pledged Thursday night to have
eight boarded-up houses on North Main Street
demolished within the next two months.
"I can tell you within 45 to 60 days we'll have the buildings down," said Sumedh Bahl, the city's community services area administrator.
Bahl said he's been in talks with Avalon Housing, which is partnering with the Three Oaks Group to build a 39-unit apartment complex where the blighted houses stand.
"If they don't move to demolish these buildings, we will," he said. "So we'll continue dialogue with them and maybe as soon as tomorrow or Monday we may start the process."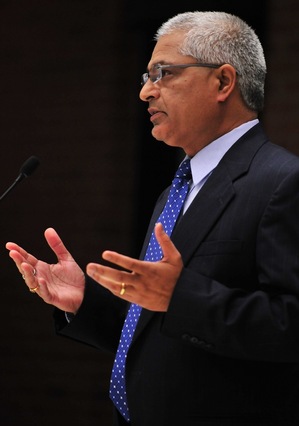 Ryan J. Stanton | AnnArbor.com
Bahl's comments came as the Ann Arbor City Council voted unanimously to approve contracts with
four separate demolition contractors
that the city plans to have on standby to tackle the larger problem of dangerous buildings throughout the city — not just the houses on North Main.
The city solicited bids in May and 11 companies responded. The city is hiring four companies — Bierlein, DMC Consultants, Beal and Van Assche — for demolition work on an as-needed basis. Per the council's resolution, total expenditures per contractor will not exceed $150,000 per year.
The City Council voted in February to establish a $250,000 blight fund to secure and demolish buildings the city deems unsafe under Chapter 101 of the city code.
Ralph Welton, the city's chief development officer, said the demolition work will be paid for by that fund, which is expected to be replenished as owners will be invoiced for the city's costs associated with demolition.
City Administrator Steve Powers said the mere existence of the city's new blight fund has been a good incentive for property owners to remove dangerous structures.
"I think we have a couple examples of where that got the property owners' attention," he said.
Welton agreed so far owners have demolished buildings within the timelines stipulated by the city. But anticipating there will be situations where they may not be as responsive, the city wants to be ready with pre-approved demolition contractors on standby.
"This represents a lot of really good change for North Main. It's really going to clean up things a lot," said Mayor John Hieftje.
"I think this is great," added Council Member Stephen Kunselman, D-3rd Ward. "We've been talking about blight and taking down dangerous buildings for some time."
In the case of the former Greek church that's crumbling at 414 N. Main St., just a few blocks from the eight blighted houses, Powers said the county is chipping in, too.
"In the case of the Greek church, the county treasurer is well aware of the blight that the structure is and the dangerous condition that it's creating," Powers said. "She's indicating proceeding with demolishing the structure on the county dime and then putting the cost against the property."
Michael Appel, senior developer for Avalon Housing, told AnnArbor.com in June the long-awaited Near North affordable housing project still was moving forward. He acknowledged Thursday night before council members that some difficult hurdles stand in the project's way, though.
"We appreciate the city's patience and the whole community's patience over what's now been too many months, and especially the neighbors of the project," he said. "We've been working very hard for a long time to move the project forward.
"Our work's always been challenging. This site's been particularly challenging."
Appel said the development team thought it could demolish the houses sooner, but at this point it looks like having the city do it is going to be quicker.
"And that's unfortunate," he said.
Appel said the most recent event that slowed the project — and the reason for his team's inability to move forward with demolition — was the release of the Federal Emergency Management Agency's new floodway and floodplain maps in April.
"The floodway, in particular, expanded a good deal south and, in fact, while our building is not in it, some of our project activities are in it — parking and other things," he said.
"The state would allow us to build there, environmental laws would allow us to build there, but federal funds appear to be prohibited from paying for any of that activity," he said. "And so we are now quickly trying to find out if there's a way to substitute non-federal funds for federal funds."
Appel said his agency relies "quite a bit" on federal funds, so that's a challenge.
"So that's what's slowed us down right now," he said. "We would rather be taking them down ourselves, but we will continue to cooperate with staff."
Council Member Sabra Briere, D-1st Ward, said in the past year or so she's heard council members in different wards voice concerns about derelict houses, but they've found it's hard to move quickly.
"Approving this contract that isn't specific to any given building allows us to not jump through an extra hoop," she said. "We've done it ahead of time, and then we can just move forward quickly when the time comes that we decide as a city that a building can and should legally be demolished."
Bahl said the city code defines the due process.
"We need to give the property owner every opportunity so that they can take care of it," he said. "We step in only when they don't do it."

View North Main Blighted Homes in a larger map
Ryan J. Stanton covers government and politics for AnnArbor.com. Reach him at ryanstanton@annarbor.com or 734-623-2529. You also can follow him on Twitter or subscribe to AnnArbor.com's email newsletters.