Posted on
Mon, Dec 7, 2009 : 7:10 a.m.
Ann Arbor officials say firefighters' unwillingness to negotiate partly to blame for layoffs
By Ryan J. Stanton
Ann Arbor City Administrator Roger Fraser says the decision to lay off 14 firefighters isn't easy, but places some blame on a lack of cooperation from the firefighters union at the bargaining table.
After months of unsuccessful negotiations with Local 693, Fraser's frustration was apparent at Saturday's City Council retreat. Raising his voice several times, Fraser spoke bluntly and criticized the union's leadership for refusing to realize the need for change in light of the current financial crisis facing the city.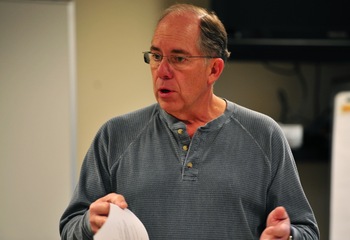 Ryan J. Stanton | AnnArbor.com
Fraser said there's no way the city can cut its budget by 30 percent over three years without making adjustments to police and fire services. Those services account for half the city's budget.
Responding to hesitation from some council members about his plan to immediately lay off 14 firefighters, Fraser told them they're naive if they think they can drive change at the bargaining table while putting off tough decisions about public safety.
"I'm trying to be plain with you about the consequences," Fraser said. "If you're going to continue to say let's postpone this cut and see if we can't figure out something, then you've lent credence to (the firefighters' belief) that you will bail them out."
Mayor John Hieftje agreed it would be nice to have cooperation from the firefighters union, which for months has refused to make any concessions in wages and benefits to avoid layoffs.
"The union, as I understand it, wasn't willing to give up any wages to save jobs," Hieftje said. "That conversation has been had with the fire department and union, and the answer wasn't positive."
Hieftje noted Washtenaw County leaders were able to get county labor unions to reopen contracts this year and give up promised raises that saved the county nearly $7 million and avoided mass layoffs. He said he wishes the city's unions would agree to across-the-board wage cuts to avoid mass cuts to city services.
Firefighters union president Matt Schroeder said the fire department would prefer - instead of layoffs - to go the route of buyouts, like those offered to the police department earlier this year. But he said that hasn't been on the table in negotiations.
Schroeder said the city hasn't been open to any of the union's other ideas for avoiding layoffs. For instance, he said, firefighters are licensed as emergency medical technicians and could generate revenue by billing for health transportation services.
"We've really done our homework and attempted to come up with some ways to solve the problem with the city, but they're not open to any of those ideas that we've proposed," Schroeder said. "We've been met with some real resistance."
Ann Arbor officials are working to confront a $3.3 million deficit in the current fiscal year and now must cut another $5.4 million from next year's budget over and above what was previously planned. City leaders will spend the next several months identifying which services to maintain going into the next fiscal year.
Nearly $400,000 in the mid-year cuts proposed by Fraser will come from having 14 fewer firefighters on the payroll through June. Fraser is planning to send out pink slips this week, officially giving 30-day notice to those who will lose their jobs.
Melanie Maxwell | AnnArbor.com
Fraser said it's his intent to work over the next 30 days to find an alternative to the layoffs. But in the absence of any major breakthroughs, the 14 jobs will go, he said.
Several members of the firefighters union sat quietly on the sidelines Saturday as Fraser spoke. Bryce McAllister, one of the 14 firefighters whose jobs are on the line, said he left another department to come work for Ann Arbor about four years ago because he thought it would be a more stable job.
Now he's worried about how he'll provide for his wife and two children after January. But he's also concerned for the community.
"Hopefully between the city and the union we'll get something worked out," McAllister said. "It's not about my job or the 13 other guys who would get laid off. It's about the fire department providing a service to the citizens."
Schroeder brought a 21-page report to Saturday's meeting, outlining the union's analysis on the potential impact of further staff reductions in the fire department.
In the late 1990s, the fire department had 115 firefighters, six stations, four staffed engines, three ladders and a rescue squad. By 2002, that declined to 92 firefighters, five stations, four staffed engines (one combined rescue) and two ladders.
The elimination of 14 more firefighters could mean further reductions in the number of trucks and stations, according to the union.
The union's report compares Ann Arbor's fire department to other fire departments in Big 10 college towns, showing fire services in Ann Arbor are already lacking.
The National Fire Protection Agency recommends a rate of one firefighter per 1,000 people. Ann Arbor currently has 0.8 firefighters per 1,000 people, and that would drop to 0.68 with 14 fewer on the job.
According to the union's analysis, Ann Arbor already ranks the lowest of 10 fire departments in the report in terms of staffing levels. The national average is 1.74 firefighters per 1,000 people.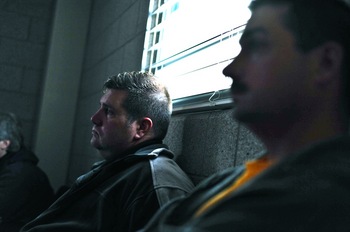 Ryan J. Stanton | AnnArbor.com
Minus another fire station, Ann Arbor also would be almost five times below the national average in the number of stations per population - and lower than all other cities compared in the report. Ann Arbor's current number of fire engines per population also is the lowest in the union's report.
Schroeder said national standards suggest a fire department should be able to respond to a fire within four minutes and have a full alarm assignment within eight minutes. He said the department already is below that benchmark, and the loss of 14 firefighters will put Ann Arbor residents at further risk.
Police Chief Barnett Jones, the city's safety services administrator, said city officials are working on a plan for how to manage fire services with 14 fewer firefighters.
"The reality is - with layoffs - there would be a definite change in how we do fire service delivery in our community," he said. "But the response times shouldn't change that drastically."
Fraser said the leading plan is to take one truck company out of service, which would mean one less vehicle in a fleet of many when responding to a fire. He said that could mean more property damage during fires, but it wouldn't put firefighters at risk.
The fire department handled 5,981 dispatched calls last year, 250 of which were fire-related. The bulk of the rest were emergency medical calls, city records show.
Ryan J. Stanton covers government for AnnArbor.com. Reach him at ryanstanton@annarbor.com or 734-623-2529.