Posted on
Sun, Jul 10, 2011 : 5:59 a.m.
Ann Arbor officials say homeowner's new fence in Old West Side isn't welcome in historic district
By Ryan J. Stanton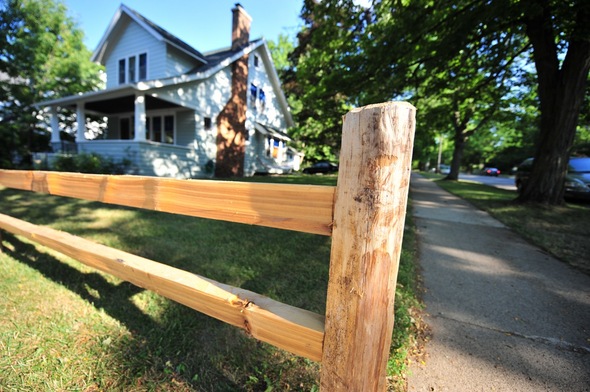 Ryan J. Stanton | AnnArbor.com
There's a fuss over a new fence in
Ann Arbor's Old West Side Historic District
, and city officials are trying to get the homeowner to take it down.
"From our position, we were just trying to improve the property," said Louis Breskman, who lives in the house at 617 W. Madison St. with his fiance, Meredith Newman.
"It's crazy," he said. "I can't believe how big of a deal it's been."
Jill Thacher, the city's historic preservation coordinator, released a new report on Friday following a city staff investigation into the wooden, split-rail fence that was installed last month in front of the one-and-a-half-story house dating back to at least 1927.
The problem: Split-rail fences in front yards are incompatible with the historic character of the district, according to city officials.
They were not traditionally installed in the Old West Side, Thacher said, and the city won't allow them unless the Ann Arbor Historic District Commission decides otherwise.
A hearing is now scheduled for July 14 before the HDC. Thacher is recommending the commission rule that the homeowner must remove the split-rail fence within 90 days and restore the site to its previous condition.
Consider it the latest reminder that Ann Arbor takes historic preservation seriously, with about 1,800 properties included in 14 historic districts throughout the city.
Thacher said the fence was installed without permission of the HDC and does not qualify for a certificate of appropriateness, which is needed when introducing new construction into historic districts. The property owner also did not secure a required zoning compliance permit.
According to Thacher, city staff received a phone call on Friday, June 3, from a neighbor about a fence being built without permits. A city building inspector visited the site that day and found a split-rail fence had been installed along the Fifth Street sidewalk on the corner lot.
The building inspector issued a stop work order, which was signed by a man on site whom staff believes was the person doing the work. But over the weekend, the rest of the fence was installed along West Madison despite the stop work order.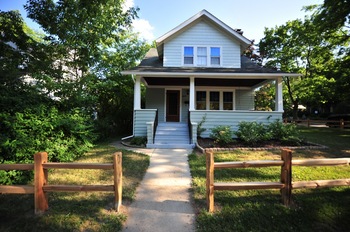 Ryan J. Stanton | AnnArbor.com
City officials say Breskman potentially faces a civil infraction or misdemeanor for violating the stop work order, but that hasn't been issued by the building department yet.
"I'm pretty surprised it's that big of a deal," he said. "We were doing some work around the house, (and) bought just a regular fence over at Fingerle Lumber.
"We put it in never thinking it was going to be a big deal at all. It's not like it's crazy or obscene or anything."
Breskman and his fiance signed their names Friday to an application seeking approval of the fence from the HDC, explaining in further detail the need for the fence.
"We have a corner lot that people cut across all the time, and walk their dogs through our yard," they wrote. "We want to create a boundary but don't want a 'thick fence' that is unfriendly. We would like to have a split-rail fence to achieve that."
They added that they "don't particularly like picket fences" and want a split-rail fence to plant clematis along the railing so that they end up with a "fence of flowers." Clematis is a climbing plant that bears white, pink or purple flowers.
Newman and Breskman also provided photos of other split-rail fences around the west side and noted that city parks in the area have split-rail fencing.
Thacher said several of the sites cited by Newman and Breskman are not in the historic district, though, and the remaining photos show fences installed prior to the adoption of the current historic preservation ordinance in 2007.
"The installed fence is not an appropriate design for the Old West Side Historic District and does not meet The Secretary of the Interior's standard 9 or guidelines for neighborhood setting," Thacher concluded in her report. "If the application is denied, a new application may be made to staff or the commission to install a fence in a design that is appropriate for the district."
Breskman said there was a worn-out, wooden, picket fence on part of the property that was taken down to make way for the new fence, which he thinks is an improvement. He's not confident the HDC will see it the same way and let him keep the new fence, though.
"It doesn't look like it's going to happen," he said. "It looks like they're going to file a criminal charge against me for doing it."
He estimates he invested $1,200 into materials and labor.
According to the historic district design guidelines Ann Arbor follows, when installing new fencing it's appropriate to use wood (either picket or alternating board), wrought-iron or metal (wrought-iron style) or chain link (rear yards only). However, split-rail fencing does not conform to the guidelines, and so it must be reviewed by the HDC.
Thacher said a fence with square or flat pickets with at least 50 percent opacity would be an appropriate design. As an example, she said, there is an old, wooden, picket fence along the south property line of the lot and the design appears to be traditional and appropriate.
In an interview with AnnArbor.com on Friday, Thacher acknowledged this will be the first time the HDC has considered whether to allow split-rail fences in the Old West Side.
"Nobody's asked in the five years I've been here to put up a split-rail fence, so this is the first," she said, adding it could set a precedent depending on how the HDC votes.
"It's not the end of the world either way," she said. "It's just one of those things where the commission will have to decide whether this is appropriate or not."
Ryan J. Stanton covers government and politics for AnnArbor.com. Reach him at ryanstanton@annarbor.com or 734-623-2529. You also can follow him on Twitter or subscribe to AnnArbor.com's e-mail newsletters.