Posted on
Wed, Jul 13, 2011 : 4:05 p.m.
Ann Arbor officials say issues at city administrator finalist's former job not a concern
By Ryan J. Stanton
Related story: Ann Arbor City Council leaning toward Steve Powers for administrator job; vote expected Monday
Ann Arbor Mayor John Hieftje and other city officials say they don't see the controversy that surrounded Ellen Oppenheim at her last job in Nevada as a red flag.
Instead, they say she's still a serious candidate as the City Council moves toward making a decision on hiring a new city administrator Monday night.
Oppenheim, one of two finalists for the position, resigned Feb. 7 from her job making $234,000 a year as CEO of the Reno-Sparks Convention and Visitors Authority. She held the position since 2006 and is still on the payroll through Aug. 10.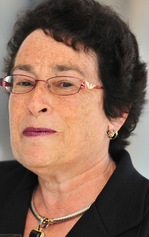 She's now seeking a job in Ann Arbor that's expected to pay somewhere in the range of $145,000 to $150,000.
Shortly before her resignation, an NBC news affiliate in Reno reported on Jan. 27 the RSCVA was responsible for a "major miscalculation" that could cost the local economy millions.
The RSCVA originally estimated the American International Choral Festival, held May 4-8 in Reno, would bring 6,000 room nights to Reno. But by January, after thousands of area hotel rooms already had been blocked off, a revised estimated showed the event would be significantly smaller.
Oppenheim resigned less than two weeks later, but she said it wasn't related to the miscalculation. Rather, she said she wanted to spend time with her ill mother in Texas.
An RSCVA spokesperson confirmed this week there were 400 participants in the Choral Festival when it came to Reno in May and 417 room nights reported in area hotels.
The spokesperson said the RSCVA provided $155,389 in funding to bring the event to town, all but $22,800 of which went to Interkultur, the Germany-based festival organizer.
Asked about the criticism she's taken over the festival, Oppenheim told AnnArbor.com this week she still considers it "a big success," though much smaller than expected. She said the RSCVA built all of its projections based on Interkultur's expectations.
"We worked very closely with them, recruited them for an event, they had very high expectations of how that event was going to roll out in the U.S.," she said. "We based our projections on the information they shared with us, based on their history in other parts of the world, and it didn't prove to be quite as optimistic as everybody had hoped."
Oppenheim maintains her resignation had nothing to do with the miscalculation or the bad publicity the RSCVA received over it.
"My resignation in Reno had to do with the fact that my mother became ill," she said. "And for the first time in my life, it became an issue of do I address a family need where my mother needed help. I felt I needed to put family first at that point."
Oppenheim said she's happy to say her mother is doing well now and has since relocated to another part of the country where her sister lives.
"So she's got a good support system and I'm now in a position to think about what I want to do with the next chapter of my life," she said.
In the past three years, the RSCVA budget, built mostly on room tax revenues, has been cut by 28 percent with dozens of jobs slashed, according to a recent report in the Reno Gazette-Journal. Oppenheim, the agency's third CEO in the past decade, left behind ongoing financial struggles tied largely to the recession, which has shrunk visitor numbers across the Reno-Tahoe region, the Gazette-Journal reported.
Hieftje said he's aware there are people who are critical of Oppenheim for her past performance in Reno.
"I don't think it matters at all," he said. "Those issues, if they're important, will be coming up in discussions that we have and obviously there's people who are looking into all of that."
Added Hieftje: "I've been involved in some searches in my life, and a person who does something at their job, it's very difficult to do that without upsetting some people."
Council Member Marcia Higgins, D-4th Ward and head of the council's search committee, also said the issues surrounding Oppenheim at her last job are not a concern.
According the RSCVA's last audit, the agency's expenses in 2010 totaled $35.3 million while revenues totaled $31.1 million, a $4.2 million shortfall. The authority's room license tax collections decreased by $863,354 or 4 percent from the prior year.
The liabilities of the agency exceeded its assets at the close of the fiscal year, translating to a total net deficit of more than $40 million.
Ryan J. Stanton covers government and politics for AnnArbor.com. Reach him at ryanstanton@annarbor.com or 734-623-2529. You also can follow him on Twitter or subscribe to AnnArbor.com's e-mail newsletters.