Posted on
Wed, Jan 16, 2013 : 2:40 p.m.
Ann Arbor halts plan for new dog park directly across from church
By Ryan J. Stanton
Ann Arbor officials are pulling the plug on a proposal to put a new off-leash dog park directly across the street from New Hope Baptist Church in West Park.
The proposal is being taken off next week's City Council agenda, park officials announced at Tuesday's meeting of the Park Advisory Commission.
The decision to take a step back is merely a "hiccup in the process" and not the end of the idea for a more centrally located dog park in Ann Arbor, said PAC Chairwoman Julie Grand.
She said there's already talk about using another triangular piece on the west side of West Park, between the two entrance paths off Seventh Street — further away from the church.
"PAC and city staff will continue to work with the public to identify a suitable centrally located dog park as there is certainly an identified need," said Colin Smith, the city's parks manager.
A representative of the church could not be reached for comment on Wednesday, but its leaders have said they wouldn't be opposed to another location in West Park.
Members of the church have complained for weeks that a dog park just north of the Chapin Street entrance to West Park would disrupt their services and pose a safety hazard. The Rev. Rodrick Green went so far as to call the city's proposal "offensive" to the church.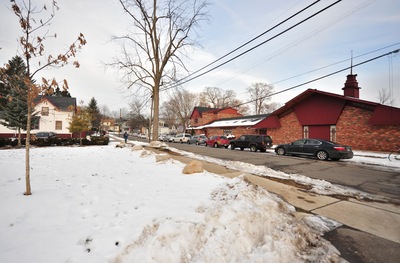 Ryan J. Stanton | AnnArbor.com
PAC members still thought it'd be fine to test out a dog park at the chosen location on a one-year trial basis. Now they're taking a step back after a recent meeting with New Hope leaders revealed the historically black congregation's concerns are more deeply rooted.
"It just seemed like a potentially explosive situation," said Grand, adding she wants to make sure the city's first near-downtown dog park can be successful.
"We want the neighbors to be on board," she said. "It makes it a lot more successful that way."
Grand said it came to light that for various cultural reasons, including the fact that a number of the church's members were born in the South and have different attitudes about dogs, that putting a dog park directly across from the church would be seen as an impediment to its worship services.
"All of the issues they brought up when PAC passed the initial resolution were all issues we felt could be addressed," she said. "Then they started using the word 'offensive,' and so we were able to explore what that meant to them, because I really struggled."
Grand said the church's leaders communicated they felt a dog park would make a mockery of their congregation and wasn't compatible with trying to hold funerals or Sunday services.
"Some of them who were dog owners still felt it was offensive to have a dog park right outside the steps of the church," she said. "We read the writing on the wall and said there was no point of this going to council, because having a dog park at this location at this time was going to fail miserably."
The city's parks staff and PAC are planning to regroup and consider another spot for off-leash dog play. There's expected to be another public process with opportunities for input from neighbors.
Grand said she's still hopeful a new dog park could open sometime this year. It's still a goal of the city to have a more centrally located dog park to complement the other two that are located on the outer edges of the city. The city also is considering a dog park at 721 N. Main, but that's longer term.
Mayor John Hieftje said he supports the decision to take a step back and consider a new location for a near-downtown dog park.
"I don't think it would have gotten very far at City Council," he said of the previous proposal. "The church, I thought, had some valid concerns."
Ryan J. Stanton covers government and politics for AnnArbor.com. Reach him at ryanstanton@annarbor.com or 734-623-2529. You also can follow him on Twitter or subscribe to AnnArbor.com's email newsletters.