Ann Arbor to bring city administrator finalists to town in mid-July for interviews, meetings with public
Posted on Tue, Jun 14, 2011 : 3:29 p.m.
Members of the Ann Arbor community interested in getting to know the finalists in the city administrator job search should mark their calendars for July 12 and 13.
Council Member Christopher Taylor, D-3rd Ward, says that's when city officials plan to bring potentially three or four yet-to-be-determined finalists to town. The two-day schedule will include a reception with the public and interviews with city officials.
"The precise schedule is not yet determined," Taylor said. "It will be broad-ranging. I expect a lot of it will take place here at city hall, but there'll be a broad process — several meetings with members of the public and the council for each of the various candidates."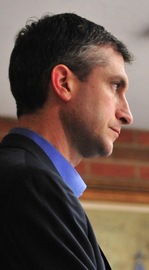 The deadline for candidates to apply for the job is June 20.
The city has hired Pennsylvania-based consultant Affion Public to assist with the search process. Taylor said the council's search committee plans to meet on July 5 with Affion Public to winnow a pool of 8 to 10 semi-finalists down to three or four to be interviewed.
The city is accepting applications from both internal and external candidates, and dozens have applied for the job. Their names are all confidential at this point in the process.
Roger Fraser resigned from the city administrator's position after nine years on the job in April to step into a new role as deputy state treasurer for Michigan.
CFO Tom Crawford has been acting as city administrator on an interim basis but is not applying for the full-time job. However, Public Services Area Administrator Sue McCormick is seen by many as the likely front-runner for the position.