Posted on
Sun, Jan 10, 2010 : 6:02 a.m.
Ann Arbor Pioneer High Principal Michael White called to active duty in Army Reserves
By David Jesse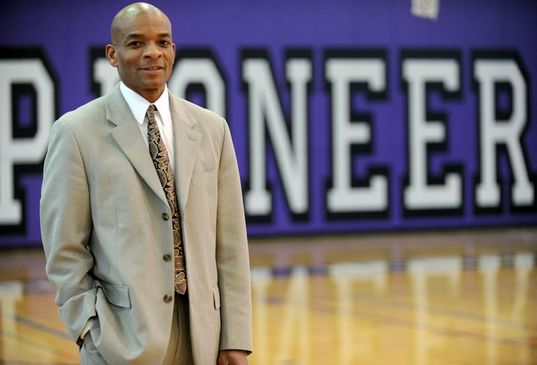 Angela Cesere | AnnArbor.com
As he walked the hallways on a recent day, Pioneer High School Principal Michael White was stopped by several members of his staff.
They didn't lobby for new books or chat about a student. Instead, they offered good luck wishes and told White they hope to see him soon.
But they're not sure when they will.
At the end of the month, White is leaving the Ann Arbor high school to head to Fort Benning, Ga., to begin a scheduled 12- to 18-month deployment in the U.S. Army Reserves. However, he says there's a good chance he could be gone for two years.
White currently serves as a drill sergeant with the 3/330th Infantry Battalion, 4th Brigade. He'll spend the first chunk of his time at Fort Benning, training infantry soldiers for combat. Then he could be shipped to Iraq or Afghanistan to train Iraqi or Afghani troops.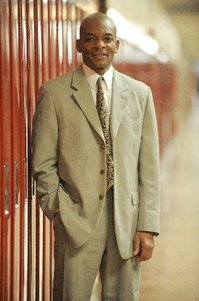 Angela Cesere | AnnArbor.com
"I love the military," he said. "One of the most patriotic things you can do in this country is to be in the military."
Ann Arbor parent Terry Johns said he thinks it's great White is serving.
"It's a good example for kids that being in the military is a good option," he said. "I hope he's safe there. He's done a good job turning Pioneer around."
This is White's second time around in the military.
After college, he served from 1982 to 1986 in the U.S. Rangers as part of a special operations unit. He was then in the reserves until 1993.
White left the reserves when he and his wife began having children, and he concentrated on his career as an educator.
He rejoined in 2006, after a trip to a military base with his sons, who were then juniors in high school.
It didn't pique their interest in the military. But it did for White.
"I was extremely excited," he said. "(My wife) agreed I could go talk about it (with a recruiter)."
Taking advantage of a program for people over 40 to join, White signed on. He turns 50 in July.
A runner who kept in shape with daily 6- to 10-mile runs, White didn't have a problem meeting the physical requirements.
"It allows me to feel like I'm contributing to this country," White said. "Not that I don't here (at Pioneer), but this is different."
White became principal of Pioneer at the start of the 2007-08 school year, not long after re-enlisting.
"The first year was very difficult to balance the two," he said. "I really have to balance my demeanor here and there. My personality as a military person does blend in here, but also my personality as an educator blends in there."
While he's gone, assistant principal Tamber Woodworth will take over as the principal. She's been working with White this school year to gradually assume more responsibility for running the school.
White will be in the school until Jan. 29.
"I always wanted to be a teacher, graduate from college and join the military," he said. "I've done all three, but not in the order people normally do it."
David Jesse covers K-12 education for AnnArbor.com. He can be reached at davidjesse@annarbor.com or at 734-623-2534.