Posted on
Tue, Apr 10, 2012 : 11:31 a.m.
Ann Arbor airport plane crash: Pilot told police wind may have caused it
By Paula Gardner
The pilot of the small plane that crashed Thursday at the Ann Arbor Municipal Airport told police he was 30 to 50 feet in the air during takeoff when the aircraft kept veering to the left and crashed on the ground.
That account is in the Pittsfield Township Police Department's report on the crash. Police released the report on Tuesday as federal officials continue their investigation.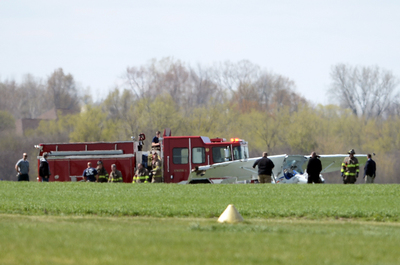 Melanie Maxwell | AnnArbor.com
According to the report, pilot Robert Bennett rented the single-engine, two-seater plane from the Ann Arbor Aviation Center.
According to Mark Roisen, president of the Ann Arbor Aviation Center, Bennett rented the "aircraft in order to conduct a solo flight" the report says. Bennett was licensed to do that, according to officials.
Bennett told police the plane kept veering to the left after takeoff "and he was trying to get it back however it just kept going and brought him to the ground," according to the report.
The plane was found about 1/4-mile east of the western edge of the No. 6 runway, about 75 feet from the initial point of impact.
Bennett was conscious and alert on the scene of the crash, according to the report. Emergency personnel, including Pittsfield Township firefighters and Huron Valley Ambulance, had to extricate him from the wreckage.
He was taken to University of Michigan Hospital. He's no longer a patient there, according to officials.
Attempts to reach Bennett were unsuccessful, and the Ann Arbor Aviation Center declined comment Monday.