Ann Arbor Planning Commission chairman trapped inside city hall elevator
Posted on Tue, May 8, 2012 : 8:01 p.m.
A special working session of the Ann Arbor Planning Commission was delayed Tuesday night as Chairman Eric Mahler found himself trapped in a city hall elevator.
After a 15 minute delay, Mahler, still trapped, contacted fellow planning officials and gave the OK to start the meeting without him.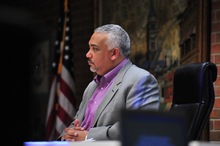 Ryan J. Stanton | AnnArbor.com
The meting was supposed to start at 7 p.m. As of 7:50 p.m., Ann Arbor firefighters were still on the scene trying to free Mahler from the elevator. Mahler was reportedly doing fine but still trapped near the second floor.
Firefighters had considered forcibly prying the doors open but were waiting on an elevator repair technician to arrive.
Planning officials had a laugh about the incident and seemed to be in good spirits as they carried on the meeting without Mahler.
Wendy Rampson, the city's planning manager, periodically left the meeting to check on Mahler.
"How's Eric doing?" Planning Commissioner Kirk Westphal asked at 7:54 p.m.
"He's still stuck," Rampson said. "It's a little bit scary."
A minute later, Mahler arrived, and planning commissioners applauded and cheered.
"Let's get started," Mahler said with a smirk.
Asked how he got out, Mahler said the responders were able to get the elevator doors open slightly, "then I had to push it the rest of the way."
The commission was meeting Tuesday to talk about sustainability goals and a zoning study report for the city's R4C and R2A zoning districts.