Posted on
Tue, Sep 18, 2012 : 5:59 a.m.
Ann Arbor police chief: Increased police patrols on South University making a difference
By Ryan J. Stanton
Ann Arbor Police Chief John Seto said efforts to increase police presence around the University of Michigan campus, including the South University bar scene, are proving worthwhile.
"On weekend nights, we have deployed many officers on foot and on bicycles to respond to large crowds on South University," he said. "This has had an impact since there were no serious incidents reported this past weekend. We will continue with this staffing model as long as there are large crowds and the staffing is needed in that area."
With thousands of U-M students back in town for the fall semester, certain parts of Ann Arbor — especially near campus — have been a bit rowdy lately.
Ryan J. Stanton | AnnArbor.com
South University, which is lined with popular college bars like the Brown Jug and Good Time Charley's, has been a hot spot for late-night fights for years, and this year is no exception. Police are giving it extra attention now.
At Monday night's Ann Arbor City Council meeting, Seto gave an update on incidents that have occurred in the last few weeks, how police have responded, and what he plans to do next.
"During the last few weeks since the student move-in, there were large crowds on South University and some student assaults in the student area," he said. "There were also three robberies that occurred within the same night, all with very similar descriptions."
Seto said the city has responded with increased patrol staffing in addition to overtime positions the department typically fills during the weekends in September. He didn't give specific numbers.
"I've also been meeting with the U of M police chief to make sure we coordinate information and make sure we're able to assist each other if needed," he said. "Our supervisors and officers have been making contact and working with the establishments on the South University area."
Without giving further details, Seto said "some significant arrests have been made." He said police are continuing outreach efforts in the community and sending out neighborhood watch alerts whenever necessary. He said the city also is assisting U-M with crime alerts being sent to students.
The list of crimes in Ann Arbor over the last few weeks includes home invasions, armed robberies, aggravated assaults, sexual assaults, break-ins at businesses and a stabbing near downtown.
In addition to a number of fights at house parties near campus, two men were reported hospitalized after assaults in the South University area two Saturdays ago.
The first incident took place at 1:45 a.m. at the corner of East University and South University, where police got a call reporting a melee with multiple people throwing punches.
Mayor John Hieftje asked Seto about the increased overtime costs at Monday's meeting. He qualified the question by pointing out he's "totally in favor" of the expenses since it's for a good cause.
"I know we're running up considerable overtime with particularly the stuff on South U," Hieftje said. "Do you know if that will remain within the budget plan?"
Seto said it's hard to tell this early because there are many different factors that go into the overall overtime budget at the end of the year, including the number of University of Michigan football games. The Wolverines play six games at home this season.
Seto said the department will continue to monitor its budget, including overtime, on a monthly basis and will continue to bring in officers on overtime as needed.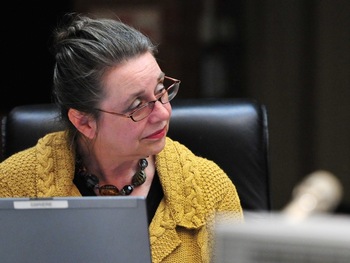 Ryan J. Stanton | AnnArbor.com
Council Member
Sabra Briere
, D-1st Ward, asked if Seto could perform an evaluation of the department's overtime expenses as part of the city's upcoming budget process for fiscal year 2013-14 and determine whether it makes sense to hire new officers instead of paying overtime.
"It's difficult for us when you bring your budget to us to evaluate where that money should go — new staff or overtime," Briere said. "And so maybe you could do that evaluation for us."
Seto said he could do that.
He noted the overtime that's regularly scheduled is known as "party patrol." That's when the department puts extra officers on the schedule on Friday and Saturday nights during the month of September and also during big football games throughout the fall.
"Generally speaking, we don't have a regular routine schedule of staffing for overtime," Seto added. "It's just for these particular situations when it's needed."
City Administrator Steve Powers said earlier this month the police department's midnight shift and party patrol issued 112 citations during welcome weekend as U-M students returned for the fall semester. That compared to 80 issued during the same period last year.
That included citations for excessive noise, open intoxicants, minors in possession of alcohol and other ordinance violations.
Overall, welcome weekend citations actually were down because there were an extra 49 citations during pre-game alcohol enforcement last year and there wasn't a home football game this year.
Powers said the city's regular patrol staffing was higher during welcome weekend this year, averaging three to four more officers each night compared to last year.
Council Member Jane Lumm, an Independent who represents the 2nd Ward, said she's noticed an increased presence on South University and it's been appreciated.
Hieftje said the same goes for downtown.
"Chief, I want to congratulate you," he said. "We're continuing to hear good things from people in the downtown area for the work you've done to put more officers down there. They appreciate that."
Seto said his officers enjoy being downtown when the time allows, whether it's day or night and whether it's on foot or on bicycle.
Seto announced Monday night he has scheduled a neighborhood watch block captain meeting from 6 p.m. to 8 p.m. Sept. 27 at Burns Park Elementary School, 1414 Wells St.
All block captains in the area are encouraged to attend, as well as any other interested residents. It will be the first of four such meetings taking place in the different parts of the city.
More information about the city's neighborhood watch program, including how to get a neighborhood watch started, can be found on the police department's website.
Ryan J. Stanton covers government and politics for AnnArbor.com. Reach him at ryanstanton@annarbor.com or 734-623-2529. You also can follow him on Twitter or subscribe to AnnArbor.com's email newsletters.